I'll admit to previously having less interest in Germany than in other European countries.  I'm sorry!  I feel like I need to duck and hide when I say that, but I hadn't given German(y) much thought.  As recently as June I declared that I didn't like the German language.  Perhaps, I was a little too influenced by the Eastern German pilot training buddy of Brent's who stood oh-so-close and kept spitting on me.  What I've found instead oozes charm, kindness, beauty, and surprisingly humor.
I love German!  The cadence strikes my funny bone fairly close to where the guy in Frozen in the mountain hut selling sunscreen resides.  And often words are either humorous or entertaining to say.  For instance, in order to exit the highway you take the "Ausfahrt"  — pronounced somewhere between "us fart" and "ass fart"  Try saying that with 4 ten and eleven year olds in your car without laughing. Yesterday, we had to turn around in Mr. Schmuck's driveway on our way to Austria.  The poor Schmuck! (which actually means jewelry).  And the laundry … oh the laundry was a challenge.  I'll tell you about that in just a minute.  I've found that several things are pronounced and mean the same in English.  Shoe is "Schuh" and pronounced the same.  Washing is "wasch" and pronounced "vash" and machine is "Maschine" and pronounced "machin-eh".  Many words have that "eh" at the end or maybe an "en".  Kind-eh fun-en.  :0)
I showed up last Saturday not even knowing how to count to ten.  Between our guide books, google translate and some kind English speakers we are getting along and learning.  So far our biggest disaster is toilet paper that ended up scented and decorated with flowers and some body wash that might be shampoo or shampoo that might be body wash.  The groceries to me seemed low threat because almost everything has pictures and is at least edible.  So what if your coffee milk is a little too sweet?  The laundry however was a more serious matter.
Several times on Monday I stopped by the communal washing machine and it was full.  So, I determined to wake early and haul our family's three loads down three flights of stairs, through the underground basement hall, the shower room, the indoor pool, to the laundry room located just below the office before anyone else arrived.  Despite jet lag, I made it to the machine at 6 am.  No one else was there!
Hmmm.  No one else was there – to ask for help.  Besides feeling a bit creepy sitting on a bench in the basement downstairs from the office, I couldn't read the settings on the machine!  This was serious!  One wrong selection and suddenly our clothes intended to last all year could end up pink or sized for Barbie dolls.  What to do?  I hadn't brought my phone with Google translate because, even though I had prepared it the night before thinking that I'd want it for Facebook, I couldn't see my phone in our darkened room without waking the kids.  Should I "Plegeleicht" the clothes?  How about "Extraspulen/Starken"?  Thankfully one English word shined amongst the choices:  "Dunkles/Jeans".  Whew!
"I'll wash the jeans and darks first, and then go find my phone," I thought. So, I put a 2 Euro coin in the place where coins go — that much was obvious.  I knew how to put the soap in (I have vast laundry experience.)  But then, I was stumped.  A red button and a white button both lived next to the coin slot.  Buttons are meant to be pushed?  On the machine itself was a "Start" button, a "Startvorwahl" button.  In my pre-caffeinated mind "Startvorwahl" meant start now!  A grey button and an orange button with "Tur" next to it were also on the control panel.  In the end, I'm not sure what I did other than push each one at least once until it started.  After, I started the darks I sat on the bench in the quiet dark basement for a while.  I had heard that Germans had a lot of rules and I wasn't sure what the rule was regarding leaving your laundry.  I didn't want to be rude to our hosts.  Finally, I felt weird enough sitting next to the office in the near dark that I went back through the pool room, shower room, hallway, up the stairs, to the apartment.
Everyone was still asleep, but at least I found my iPhone.  Hurray!  I now had hopes to understand the machines with my translation app.  I quietly read until it was time to sneak back out the apartment and down the stairs, through the shower room, through the pool room, and to the laundry room. Still no one was there.  Unfortunately, due to the underground location of the laundry the translation app wouldn't work — no cell service, no wifi.  Yikes.  Now I had a double problem.  I had a new load to wash without ruining and I was facing the dryer for the first load.  Here were my choices: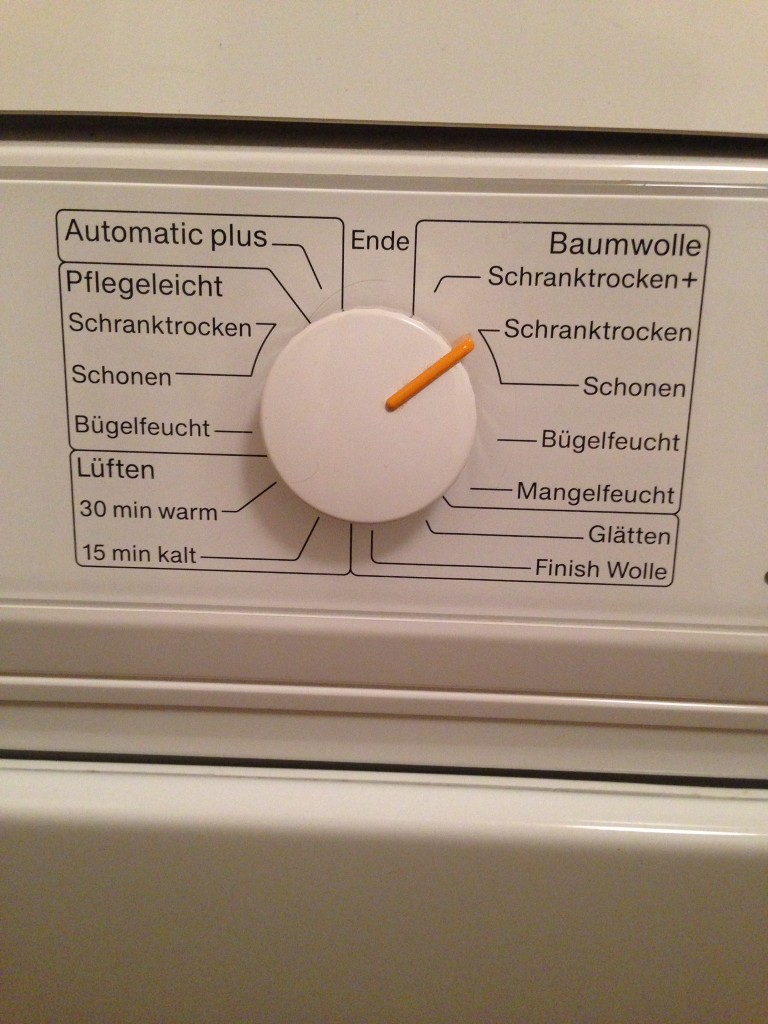 Wow.  Should I "mangle fecht" our clothes or "shrank rock" them?  Remember they were our jeans, so I couldn't choose the no heat at all option, which I guess the Luften was.  I went with "Bugelfeucht" because it was under the general category of "Baumwolle" which sounded like wool to me.  I still don't know the full translation, but from experience it leaves the clothes rather damp after running it twice.  That works, no damage done.  For the other load, I realized that it didn't really matter.  They were mainly white, so if they got hot water they would be clean and if they didn't, they would be a little less clean — a consequence I could live with.  For that load, I chose "Pflegeleicht" mainly because it was opposite Jeans/Dunkles.
Finally, my brain awoke enough to remember my phone had a camera.  I began snapping pictures of the dials and signs.  I went back through the pool room, shower room, hallway, up the stairs, to the apartment, carrying my remaining load (is it OK to leave my unwashed loads? I didn't know the rule.)  At the apartment, the family was beginning to stir!  I typed the words into Google translate on my computer as soon as I'd finished making the pot of coffee.  Oops!  One sign said I was supposed to take my street shoes off on all those trips through the indoor pool.  The bench I sat on was for — shoe removal, not waiting for your laundry loads.  When I returned, down the stairs, through the hallway, through the shower, after taking my shoes off, through the pool room, and putting my shoes back on, I was better armed for the third load, and the office was open.  Within a couple of hours we had clean clothes and nothing was ruined.
Guess what else?  I love Germany!  We are in Oberaudorf, Bavaria only 3 kilometers from the Austrian border in the midst of the Alps.  The landscape includes beautifully green, forested mountains with both deciduous and evergreen trees.  Hiking trails lead to waterfalls, mountain peaks, farms of sheep that wear bells, cattle, poultry, orchards and bee hives.  The architecture is charming and the people are kind and welcoming.  God led us to the perfect place to begin our adventure.  The small town we are in is a German vacation spot, so tourists are normal, but Americans less so.  Our hostess speaks enough English to help warn us about Austrian tollways, but we are also inundated with opportunities to practice German.  The rural location adds to our feeling of safety.  Open windows and prolific walkers of all ages abound.  The baker and grocer are about 3/4 of a mile away.  I can now count to ten in German.  The kids are motivated to speak German.  "I just want to talk to them!  Most interesting to me is the familiarity I feel with this town.  It almost feels like a mix of Texas and Oregon.  The landscape and climate are wet, cool and lush, much like my experience of the Pacific Northwest.  We've already had a few glorious days of rain.  The part that reminds me of Texas is their pride of place.  On our hike, a farmer drove by in his European little van wearing his Bavarian felt hat with feather.  Liederhosen can be seen on men and boys around town and dirndl, the traditional dresses, are on display in several shop windows.  In my version of Google culture translate, I can see some farmers sitting in a gas station in west Texas with boots on donning their wranglers and western shirts.  Yes, I'm charmed.
So, Germany, I publicly apologize for my lack of attention.  You obviously haven't been concerned.  I'm glad you are our first European stop.  Thanks for the kind welcome.