Vienna, you are a walker-friendly city of delights.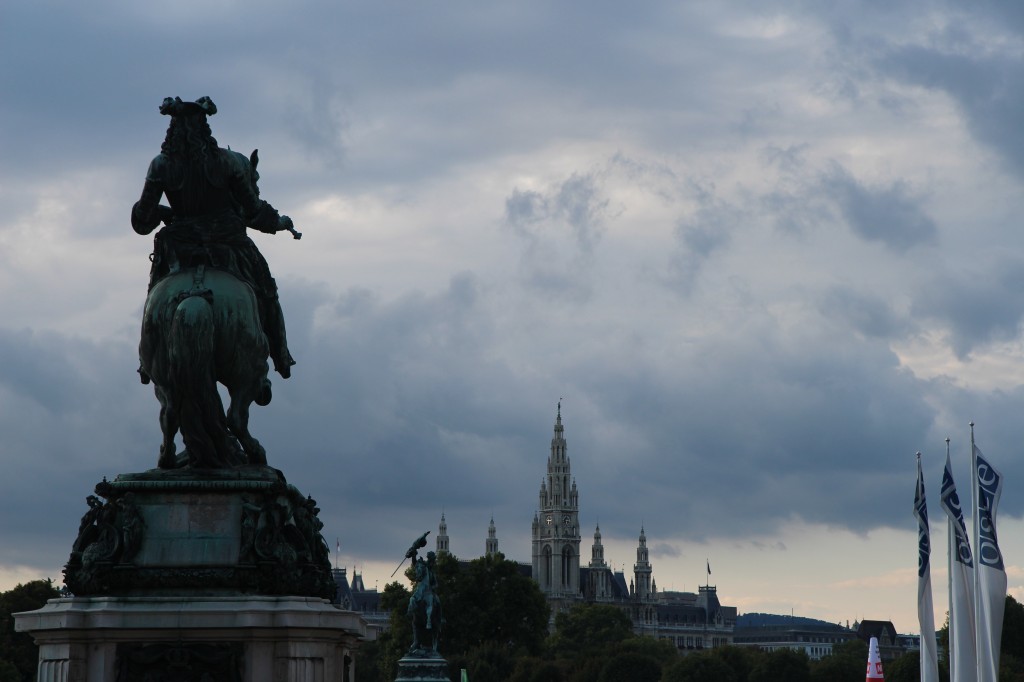 Pronounced Wien ("Veen") in German, this city has been considered the eastern frontier of "Western" Europe. Situated on the Danube, its prime location has brought it a lot of attention through its 2,500 year history.   The city was threatened during Roman times by Germanic invaders and by Magyars (Hungarians) in the 10th century.  Mongols in the 13th century.  Hungarians in 1485.  The Ottomans besieged and attacked in 1529, then again in 1683 after a two-month siege.   Nearly 200,000 Ottomans were repelled in those battles.  In the 19th century, the Hapsburgs ruled during Vienna's glory days. The Soviets captured the city in 1945.  Somehow this city has remained intact and fascinating.   This grand city reigned 640 years as the head of the influential Austro-Hungarian empire.  Not accidentally, the most impressive buildings were constructed after the Ottoman threat had faded.
Classical music is still everywhere here.  You hear it on the streets and in coffee houses.  Salesmen in powdered-wigs pitch their respective concerts in front of every tourist site.  It is a city of culture.  Among other great artists and thinkers, Vienna was home to Beethoven, Mozart, Schubert, Strauss, Haydn and to philosophers Freud and Gödel. 
We took the Rick Steves tram tour around the Ringstrasse around the old city.  The Ringstrasse is the old city wall that was torn down to make way for a wide thoroughfare.  A ruler created these wide streets as a way to prevent any potential revolutionaries from being able to barricade off city streets as they had in Paris during the French Revolution. At least we pedestrians can benefit from that royal paranoia.  The tram tour quickly introduces you to sights in the old center and the boys loved hearing about the sights from the guidebook then seeing them firsthand moments later.  The trams encircle the old city center that is free of skyscrapers and full of pedestrians and parks. 
We've noticed several Americans walking around clutching Rick Steves books and find ourselves among them.  While not covering every base, we've found his advice is often right-on.   We will go places we've seen in a Rick Steves show and the kids will say, "Imagine it, Rick Steves was right here!"
I've also been amazed at the prevalence of Trip Advisor in Europe.  In the States, I'll look at hotel recommendations on the site but I don't recall seeing "Trip Advisor recommended" stickers all over their front doors as we do here.  Businesses will urge you to review them on the website.  If you are looking at things to do in Europe, just look up a particular city in Trip Advisor—you'll be amazed at the up-to-date "wikipedia" of travelers' knowledge you find. 
The opera house was closed the day we tried to get in for a tour but no worries it just gave us more time to enjoy St Stephen's cathedral (over 450 feet high).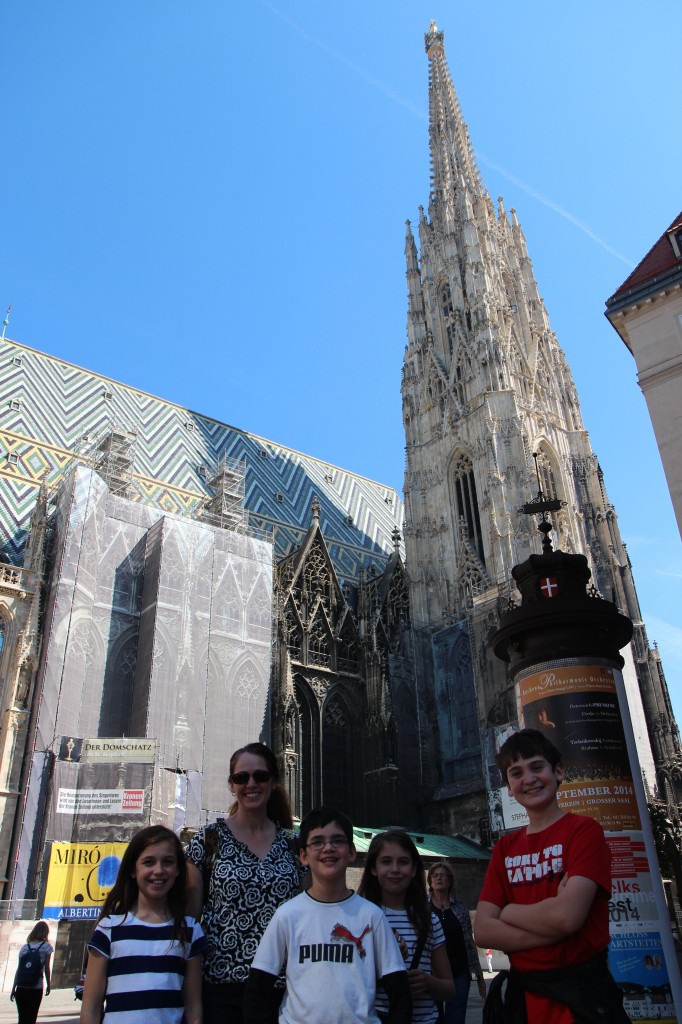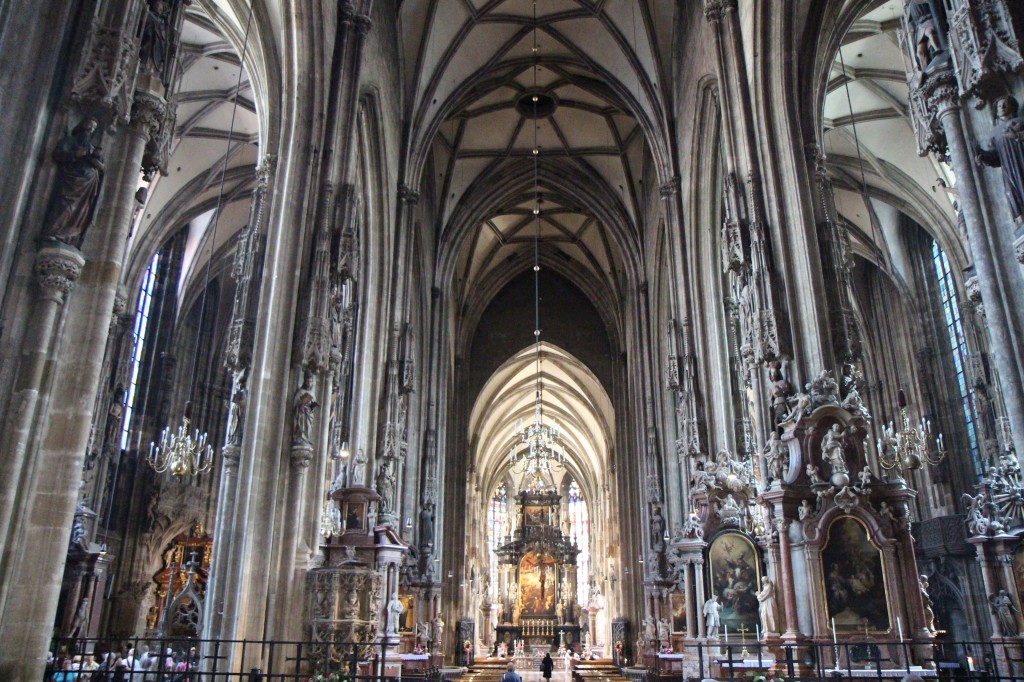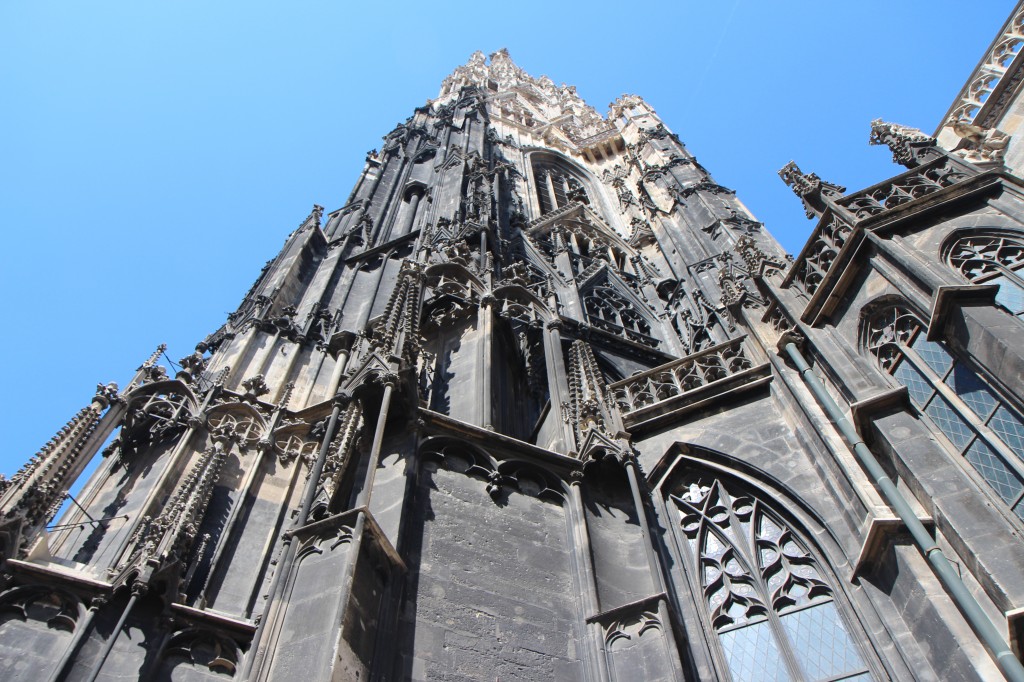 We climbed its South Tower's 370 steps to get a view.  It's an impossibly narrow climb at some points where you press yourself into the stone to allow people to pass.  But none of it stops the souvenir shop at the top!  The church here is the third one on this spot and this structure was constructed from 1300 to 1450.  Vienna was only 10,000 people then but the builders were competing with Prague's St Vittus cathedral.  Such a large church (larger than Prague's) qualifies as a cathedral which helped convince authorities that Vienna ranked a bishop.  This brought prestige to Vienna and enabled it to replace Prague as the seat of the Holy Roman Empire.  The cathedral was heavily damaged in 1945 as the Soviets wrested the city from the Nazis. A fire raged for two days.  But the citizens began a financial out-pouring and the roof was rebuilt by 1952. 
Views from the top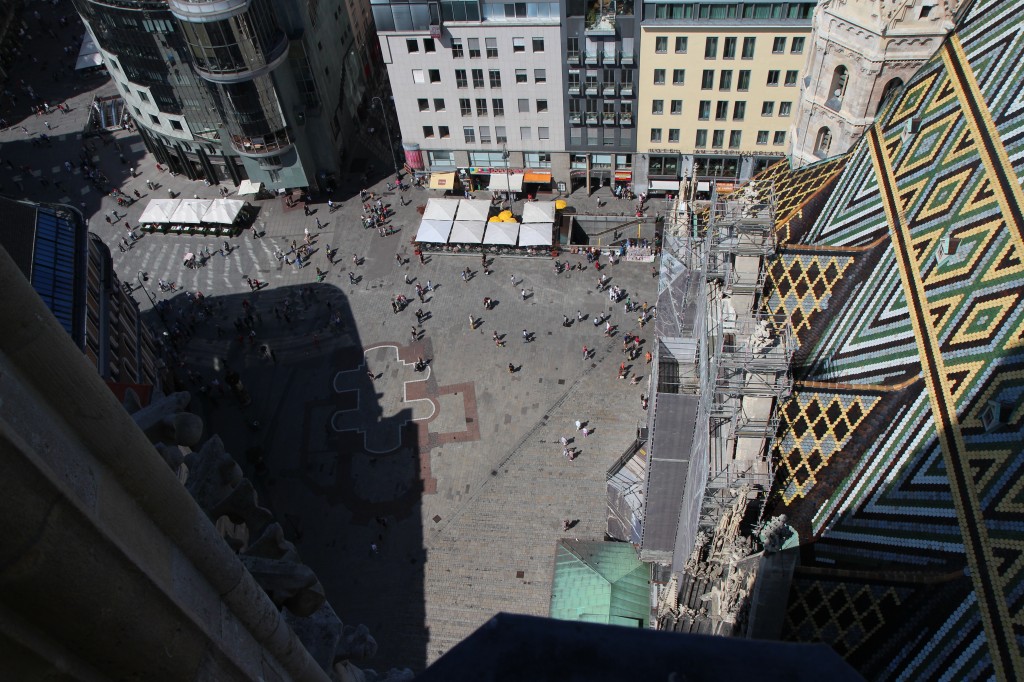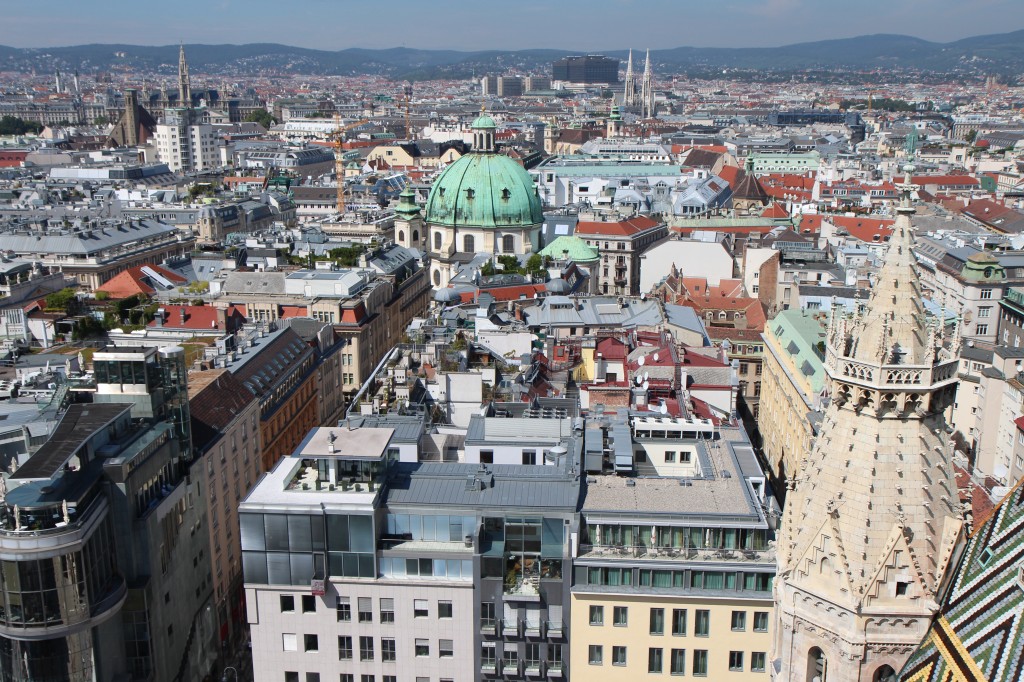 The House of Music gives you an interactive experience through the dynamic musical heritage of Vienna.  Visitors get the chance to conduct the virtual Vienna Symphony.  It is a lot harder than it looks.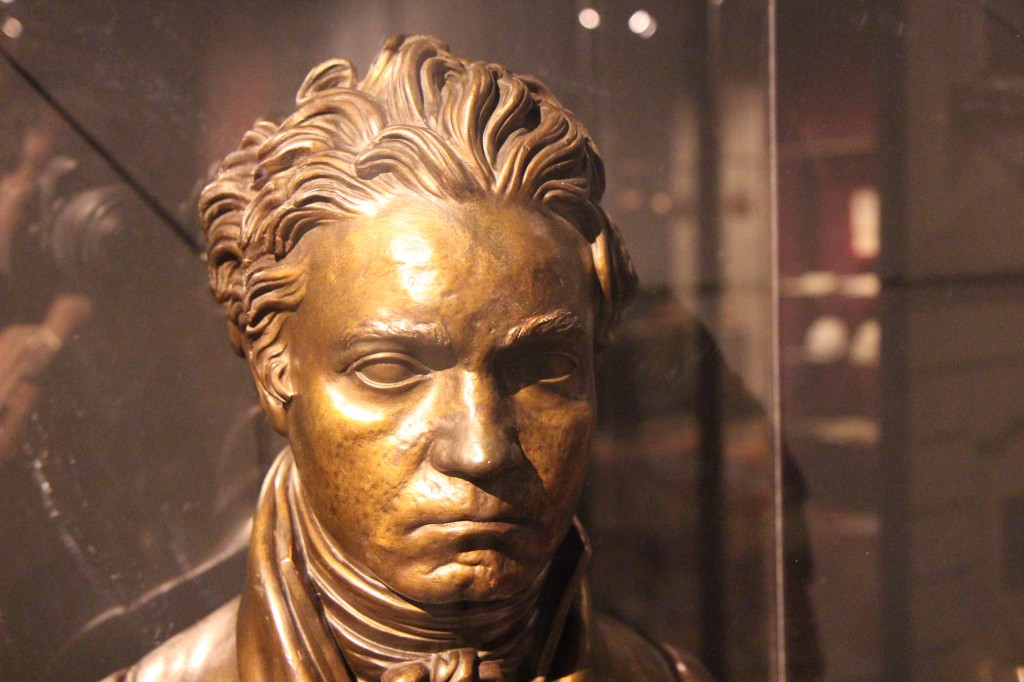 Beethoven (1770-1827) moved over 40 times within Vienna because he was a terrible tenant.  Due to his declining hearing, he did end up sawing the legs of his pianos so he could put them on the floor to feel the music.  He dedicated a musical piece to Napoleon then tried to rescind the dedication after Napoleon crowned himself Emperor of France.  Beethoven even penned the famous love letter to his now-unknown "immortal beloved".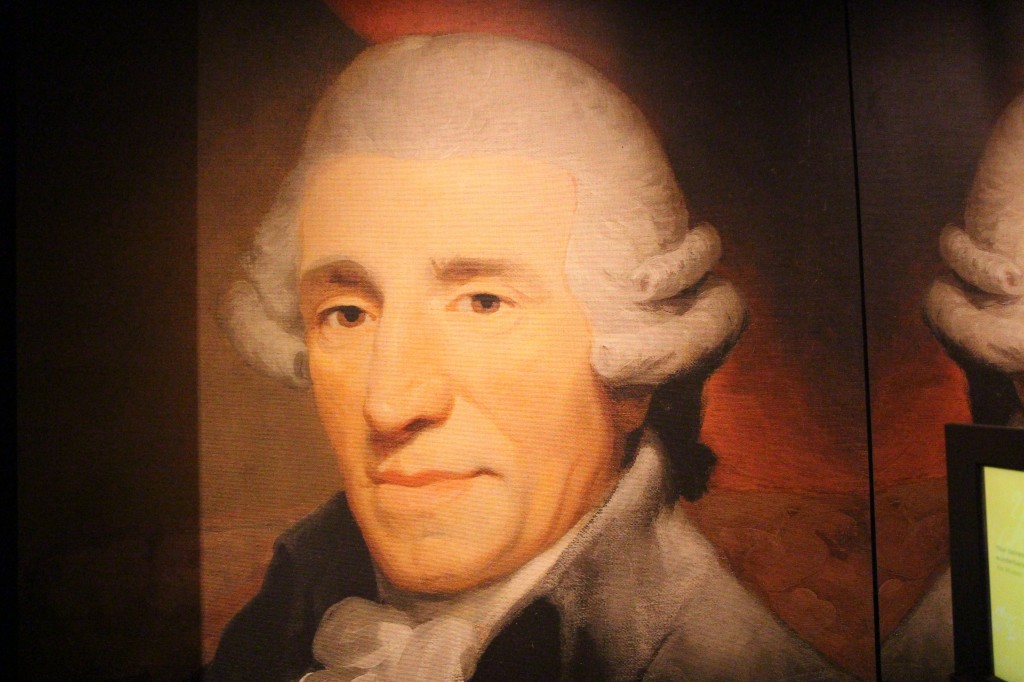 Joseph Haydn (1732-1809) was a friend of Mozart and a teacher of Beethoven's.  He was a prolific court composer and elite customers paid him to write musical pieces on the side.  He would sell the same piece to different patrons or make very slight changes to their "original", personalized musical pieces to increase his revenues. 
Franz Schubert (1797-1828) always wore glasses, even in bed.  His friends thought him funny-looking and quite portly.  He did not own a piano, so his friends held parlor parties to be able to hear his genius. 
Johann Strauss II (1825-1899), the Waltz King, has a golden statue just outside the Ringstrasse in Vienna.  He was a rock star in his day and once laid on the floor of a train before a performance and refused to move until securing thousands in fees.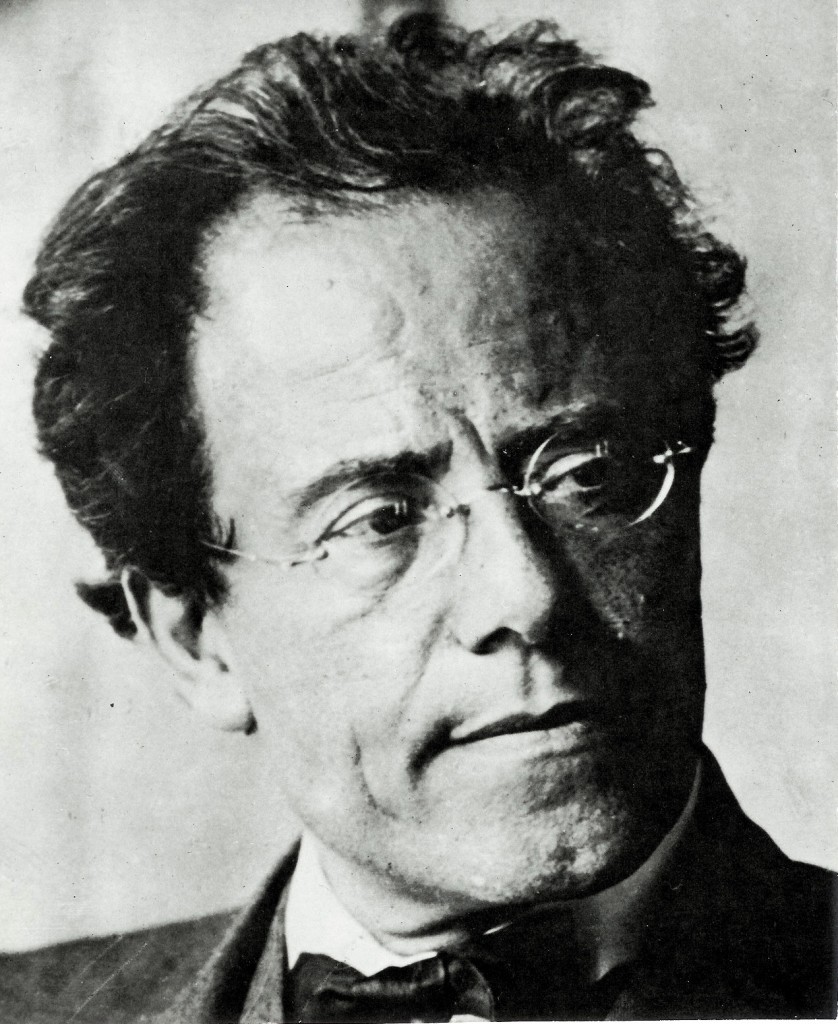 Gustav Mahler (1860-1911) was the conductor of the Vienna Opera for ten years then become so fed up with opera politics that he moved to New York to work there.   A Jew, he had endured open hostility and anti-Semitism from the press.  He enjoyed hiking and the outdoors among other hobbies.  Each of these famous musicians worked impressively long days teaching, writing, conducting and shoring up financial support.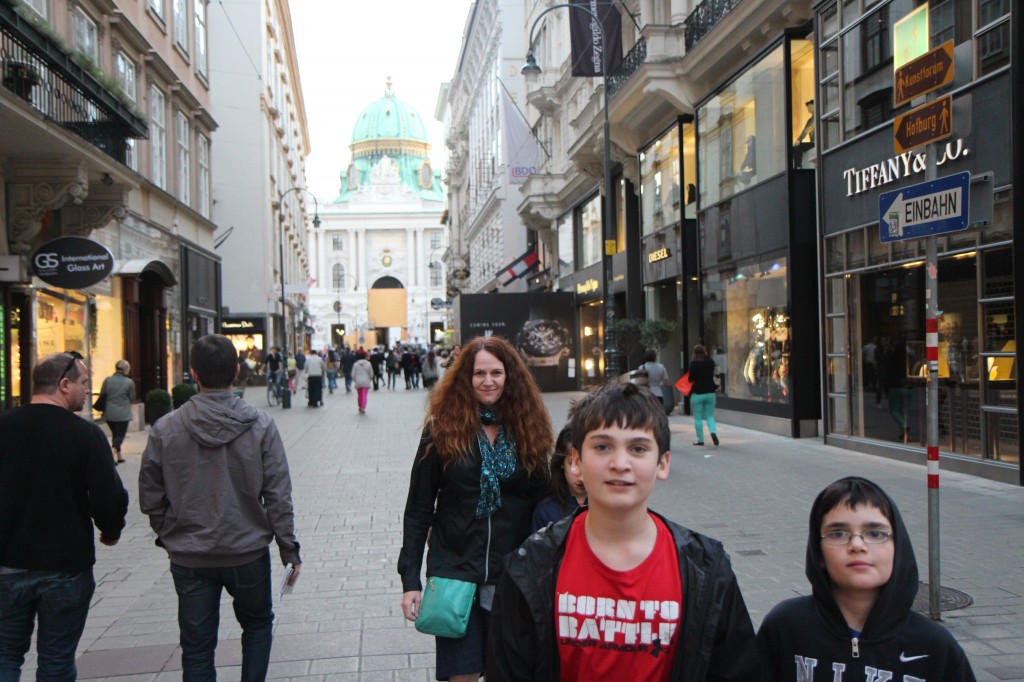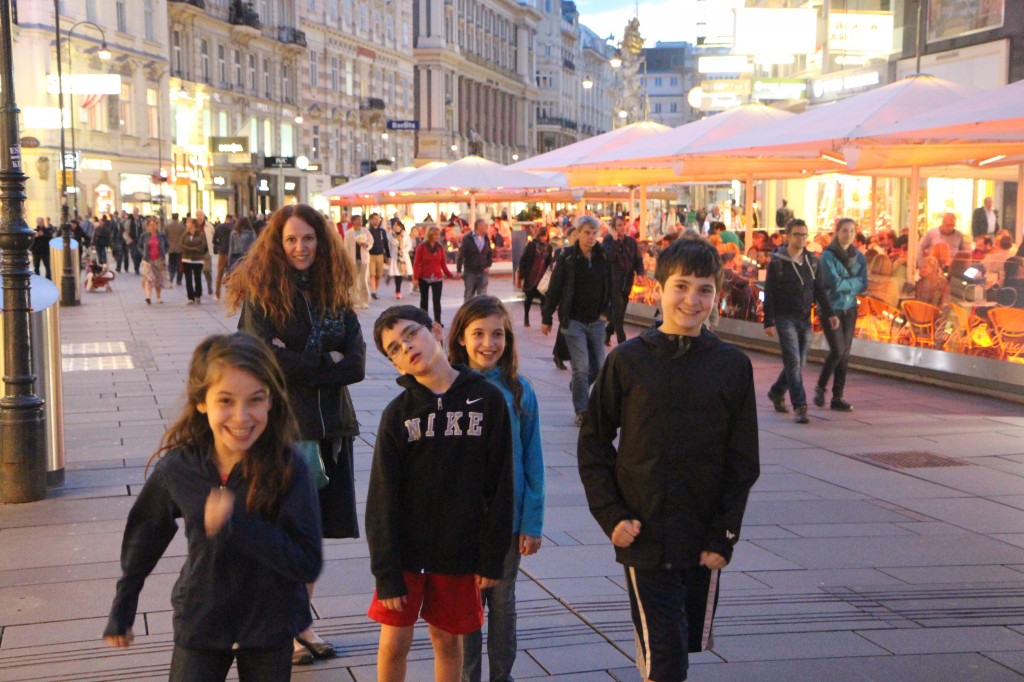 The Graben has many of Vienna's prime retailers and is near the Spanish Riding School in the Hofburg Palace.  Attempting to follow our budget and do our normal picnic lunch, we grabbed lunch at a very upscale (oops) grocer on the Graben. Graben means "ditch" and it was the moat for the Roman military camp back in the day.  Later the moat transformed into a three-lane busy street then was torn out in the 1970s to make way for this pedestrian walkway.  We also picked up a few tasty treats from the Demel bakery.  People jostle for views of the delights in the bustling bakery window.   I attempted to order a few items and one of the busy ladies behind the counter asked me if it was for the children.  This surprised me.  Then she explained they were alcoholic—I adjusted my choices.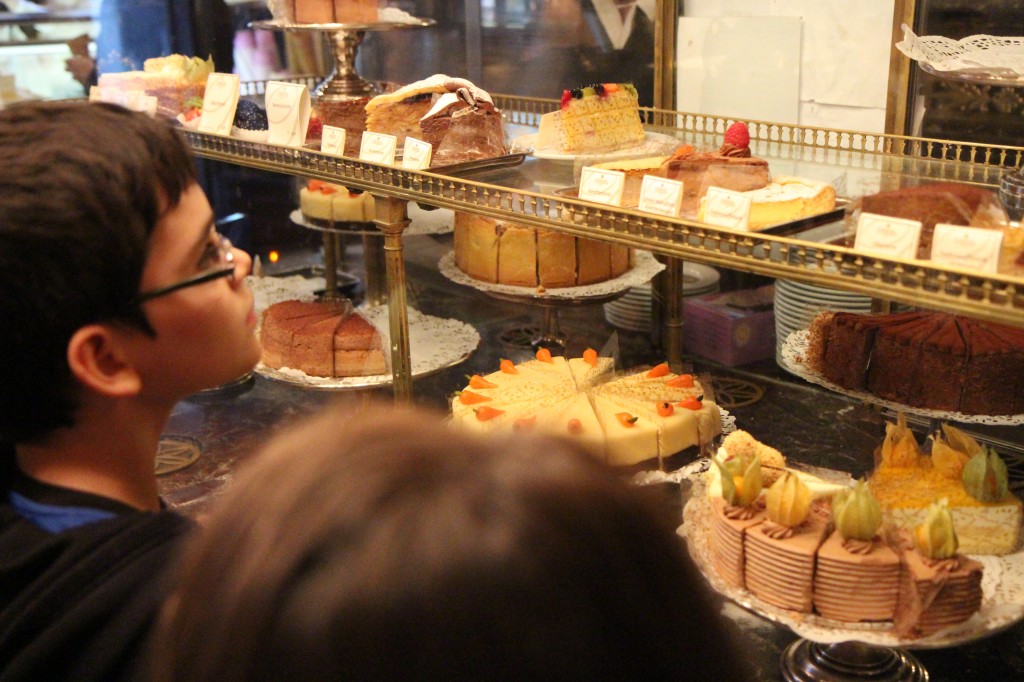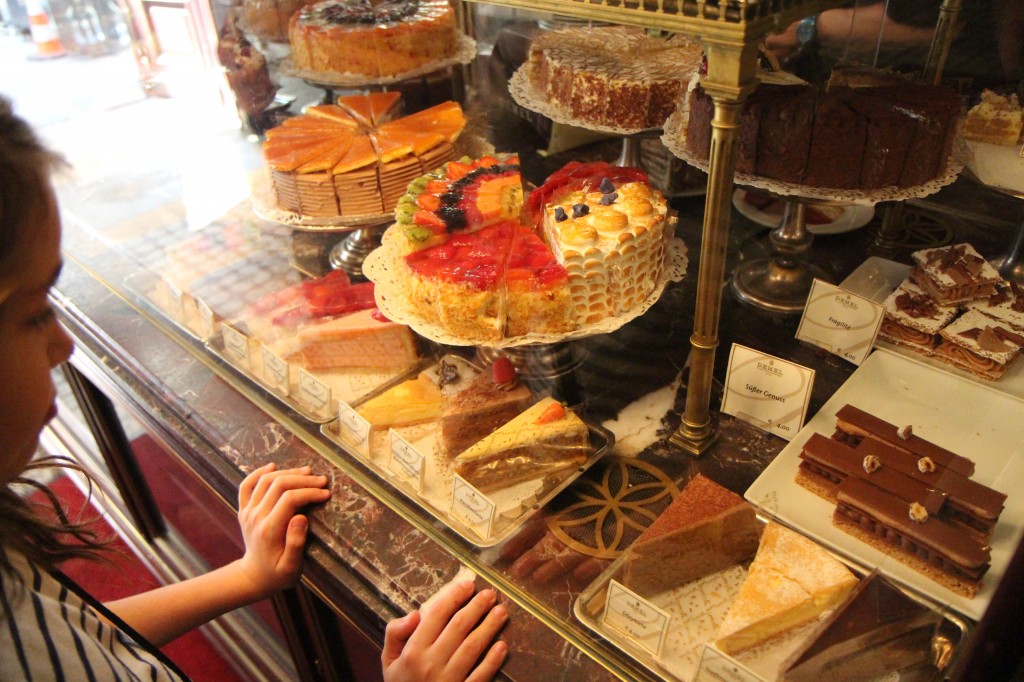 Just off the Graben, we took in a free organ concert at the striking St Peter's baroque church.  We walked in as quietly as elementary-school possible but the wooden pews creaked as we eased into them.  The organist and trumpet player played from high and behind us in the organ loft as we faced the altar.  The stunning bronze sculpture below displays St John Nepomuk at the point of no return as he is thrown to his death from a bridge.  A Czech priest, St John had defied King Wenceslas so he was tossed from the Charles Bridge in Prague.  He had taken the confession of the queen and would not relent to the king's demands that he reveal the sins she'd confessed.  If you look at the picture you can see the clubs of the men as they beat St John.  
Another day we enjoyed a local festival full of food and a tasty beer.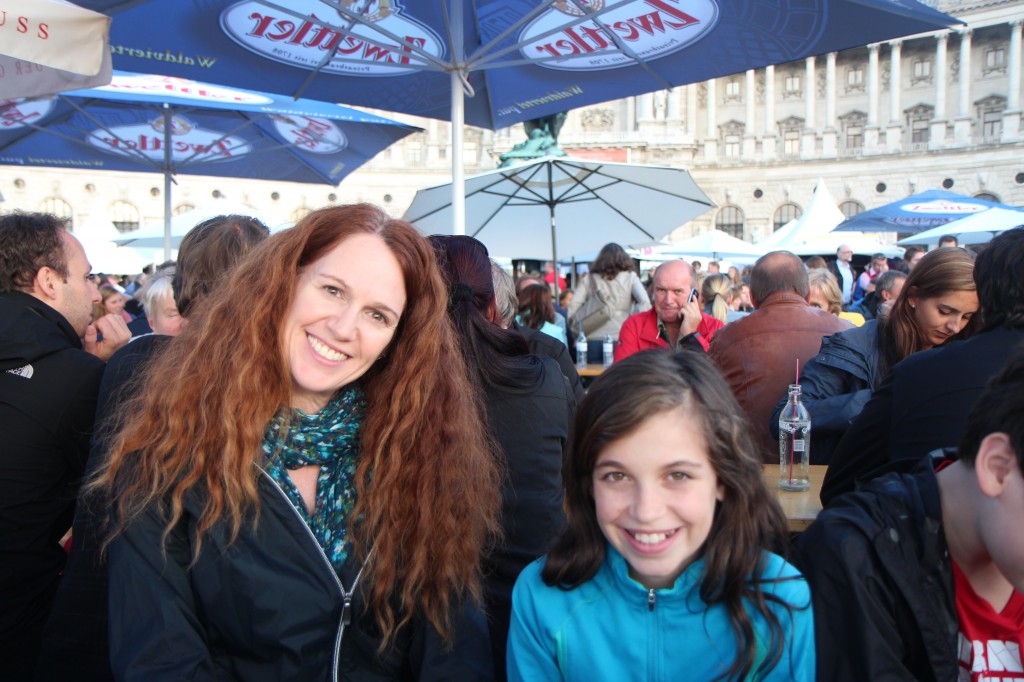 Ana really getting into Viennese beer…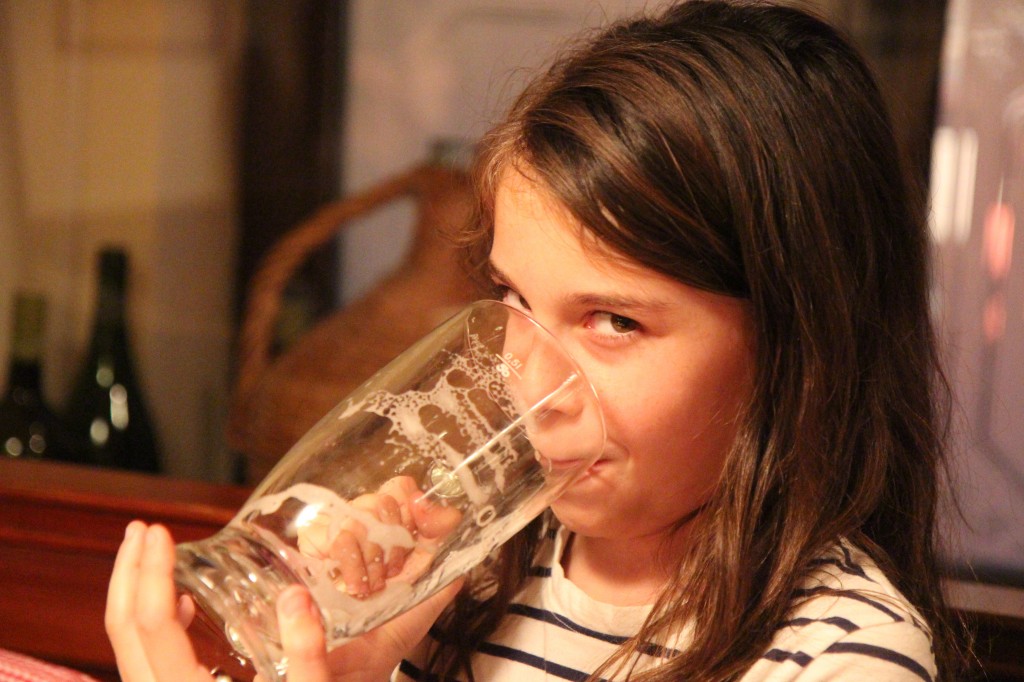 Walking back to our tram one night, our route was blocked by this scene of streets blocked off and onlookers piled up against the barriers.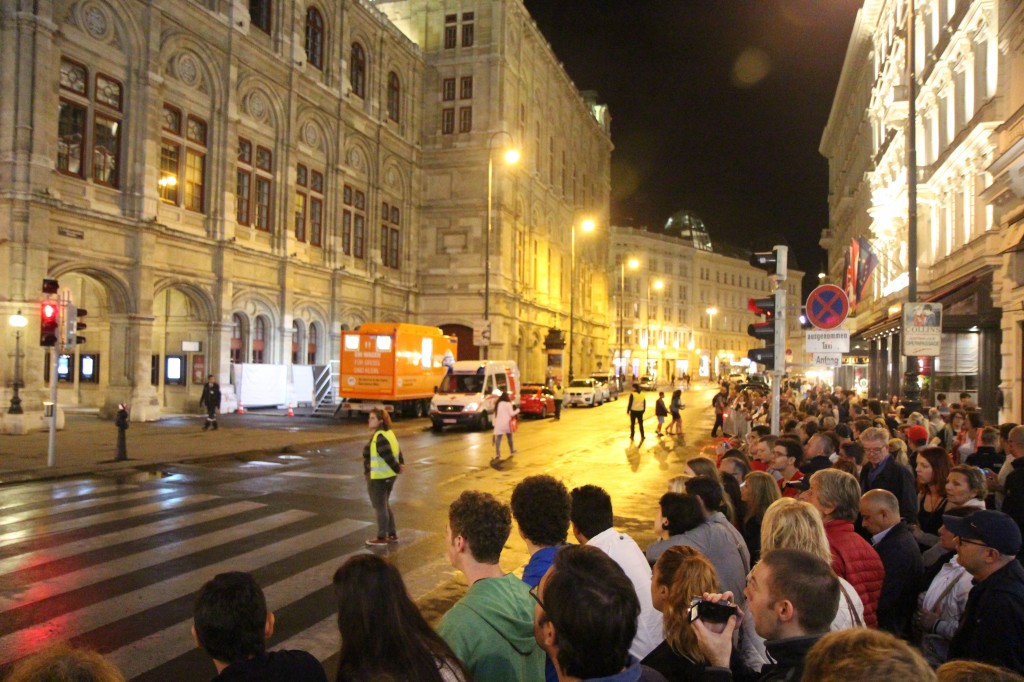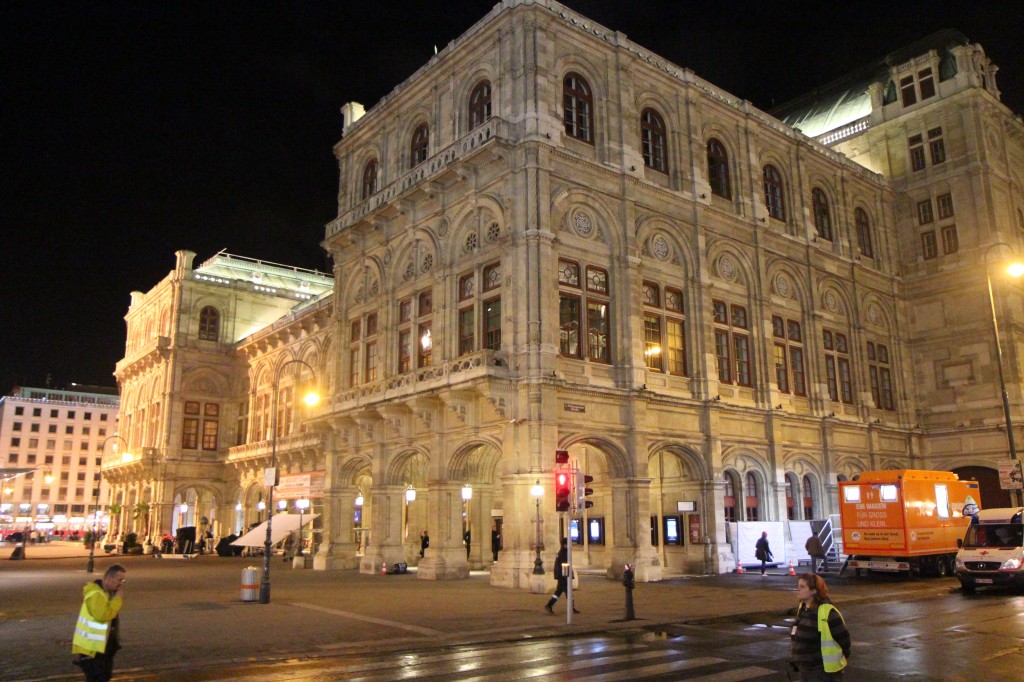 The Mission Impossible 5 crew was filming in Vienna.  We could even see Tom Cruise and his costar up on the Vienna Opera House roof.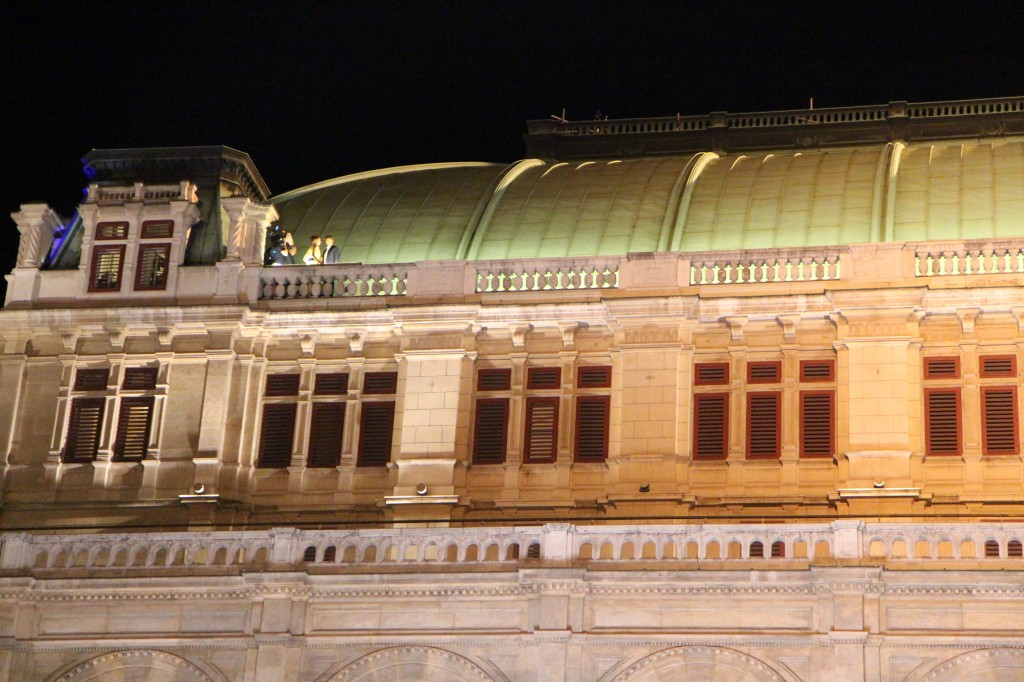 Of course, our kids would have been far more impressed had it been Rick Steves.  I'm not sure they've seen much of Tom Cruise on the screen.  We are really going to have to keep our travel plans under tighter wraps because we've read the MI5 crew is also going to London to film.  They must be following us. 
Vienna has also been great for us because we are working on our German skills.  I am better now at communicating to any deli lady which meats and cheeses I want.  That probably really means I point even more emphatically and grunt even louder.  Lisa found the Germanized series on YouTube and we are also podcasting "Coffee Break German".  The Mesquits can often be found driving around Europe and practicing phrases like, "Wie geht es?" and "Ich heiße Camille".  They make Coffee Break French and Spanish and who knows how many other languages.  We also love us some Adventures in Odyssey podcasts. 
Our entry in the contest for longest word in the German language!