We checked out of the lovely two-bathroom Budapest apartment and backed the car gently out of the tight underground parking spot.  Each time we vacate a place, we put down one seat in the back and carefully load the Tetris of bags into their choreographed slots.  Someone had parked quite close on our right and before I can notice a small person has climbed in and started building a nest at their seat.  As this peep opens the door, it just touches our neighbor's paint and leaves a small mark.  My fault for not foreseeing this and moving the vehicle right away to another spot for loading.  We make amends as best we can and keep moving forward.
As we load, the negotiations build to a crescendo between the children over seat location.  Will it be in the middle with a view of the road or one of the sides with access to the door cupholder?  Or in the back wedged beside the bags but all by yourself?
Where are the UN peacekeepers when you need them?
After a few patterns of these discussions emerge, we decide on a rotating order for seat-picking.    Peace.
At least, the plastic just-in-case bags are prepositioned at their seats!  And we are all set for our road trip to Poland.
Many of our drives have been hampered by construction-narrowed lanes choking travel times and slowed travel days so I understand where they're coming from.  We blaze north through rural Slovakia.  At one point, we climb through a mountain town with a ski resort one step up from the mom and pop ones we used to frequent in Montana.  Small towns slide by in the windshield.  The fronts of many houses are built right up to within yards of the rural "highway".  Older women with their hair in a wrap walk back from the grocery store loaded down with their purchases.
We cross the border into Poland and see the same small towns.   It is some kind of holiday here and people are out on bikes and some on horses.  The girls are enthralled with the horses.
The shallow, green valleys cupping the road are dotted with houses and lazy smoke plumes loitering around chimneys.  Are they heating their homes with wood or coal?  The weather is still warm.  With the lack of billboards or the bright lights of business, we seem to have driven into a time machine set on one hundred years ago.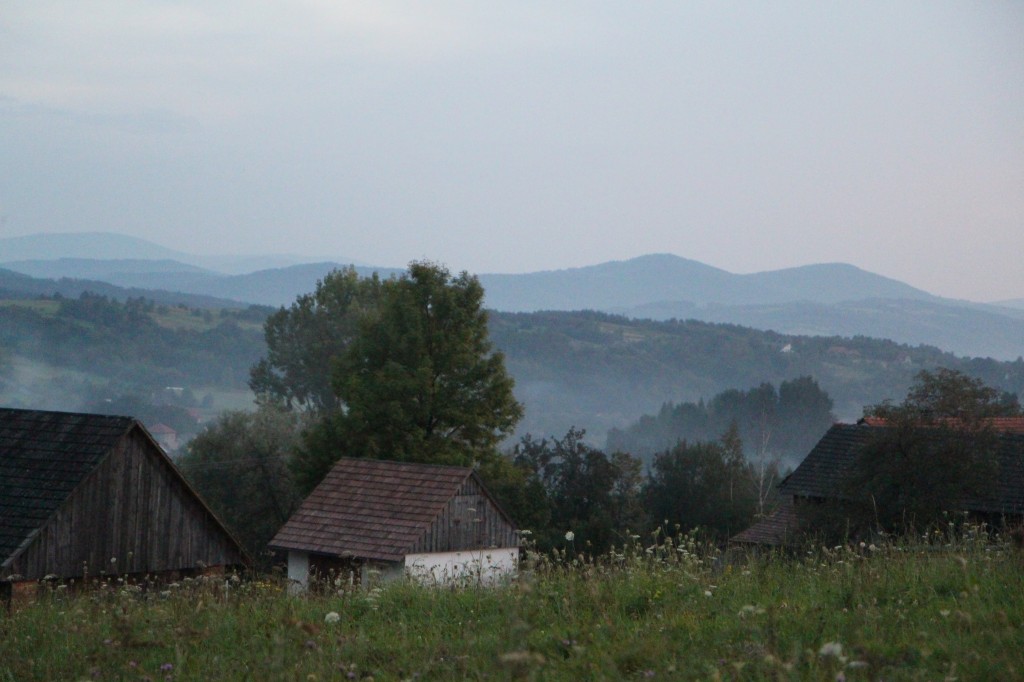 We cannot seem to find an actual highway.  We are a long way off from any autobahn now.  What the roads don't have in speed they further challenge us by frost-heaved pavement and potholes in the smallest towns.
A podcast on Easter European countries had singled out Poland for its religiosity and its friendly people.  When the communists ruled behind the Iron Curtain church attendance was a kind of protest vote as well as spiritual worship.  The Soviets did not dare mess with the church in Poland because they knew the Poles would not stand for it.  In other nations in the Soviet sphere, church membership met with declines as the communist masters discouraged and directly opposed the church.  We encounter the friendly Poles as soon as we cross the border.  At one rest stop, the lady manning the bathrooms is very friendly and smiley.  We've already become accustomed to having to pay someone to get into the rest stop bathrooms.  Of course, they call them toilets here or WC's.  When I've slipped and asked for a restroom I am met with a quizzical look.
In our continual quest for funny items you come across in travel, we spot a girl at the same rest stop taking a break outside their tour bus.  Her shirt screams in huge letters, "My Boyfriend is out of town."
The car's GPS software is slightly outdated but has served us very well.  We could easily get a SIM card for each nation to ensure data on the move but we've found the GPS sufficient.  As the sun goes down, the GPS leads us down progressively smaller roads.  Then onto a gravel road.  Then a dirt road.  Are we still headed the right direction?  Is Poland really this rural?  There's a house right there so maybe this is the right path?  There are no lights on in the house, so maybe they're not home?  It is dark out here.  The dirt road and its foliage lead us down a tighter "path" with huge, mucky carveouts undertire. Discretion is the better part of valor, or something like that.  Time to back out of here and call our host.
With directions from him, we meet up thirty minutes later in the "downtown" of Stryszów ("Shtree-show-ve").  He tells us that everyone's GPS takes them astray on the way in.  The only person who has made it without a rendezvous was using an actual zoomed-in map.  A-ha, the limits of technology.
He also tells us that the dirt road of darkness we'd so thoroughly enjoyed used to lead drivers to the house.  Now, the roads are deserted in that area because work crews are digging and progressively flooding the area to construct a massive lake.  Nice.  Lisa is convinced we were just about to drive right into the middle of the world's deepest lake.  I try to tell her that I had it all under control.  I'm pretty sure she was convinced…
Downtown is a road with a petrol station at either end, two tiny grocery stores and a few bars.  A sign points up a hill to something called an "Ekocentrum" and is your only clue there's a road hiding amongst the bushes.  He leads us up that one-lane road masquerading as a two-lane.  Several tight turns, a railroad crossing, and a terrified cat crossing later and we turn off our engine to join the inky silence of our farm house.  Every unloading noise sounds ear-splittingly loud out here.
Our host is a friendly young man in his 20s with great English.  He lives and works a few towns over and his business requires him to deal in English nearly every day.  The Ekocentrum is his mother's vision and you sense this rental apartment is his business opportunity.  He is eager to get us bedded down for the night and to see that we are comfortable.
The downstairs room's walls proudly display pictures of people planting and harvesting.  Prince Charles once visited this Ekocentrum.  The upstairs holds a narrow bed for each person.
Our host quickly shows us around the new digs.  The half-the-size-of-a-beer-fridge fridge is unplugged and shares an outlet with the two-burner hot plate and the electric tea pot.  Someone will be odd man out at this outlet at meal prep times.  Small rugs cover the industrial, rough-carpeted floors.
The bathroom has been renovated to include a shower the boys term as the "Tron" shower.  The room still holds an ancient low stone wall.  There are many signs impressing on us the importance of properly recycling our food waste and about 17 small, recycling cans.  This place was very inexpensive to book but I start trying to mentally visualize the pictures from the website.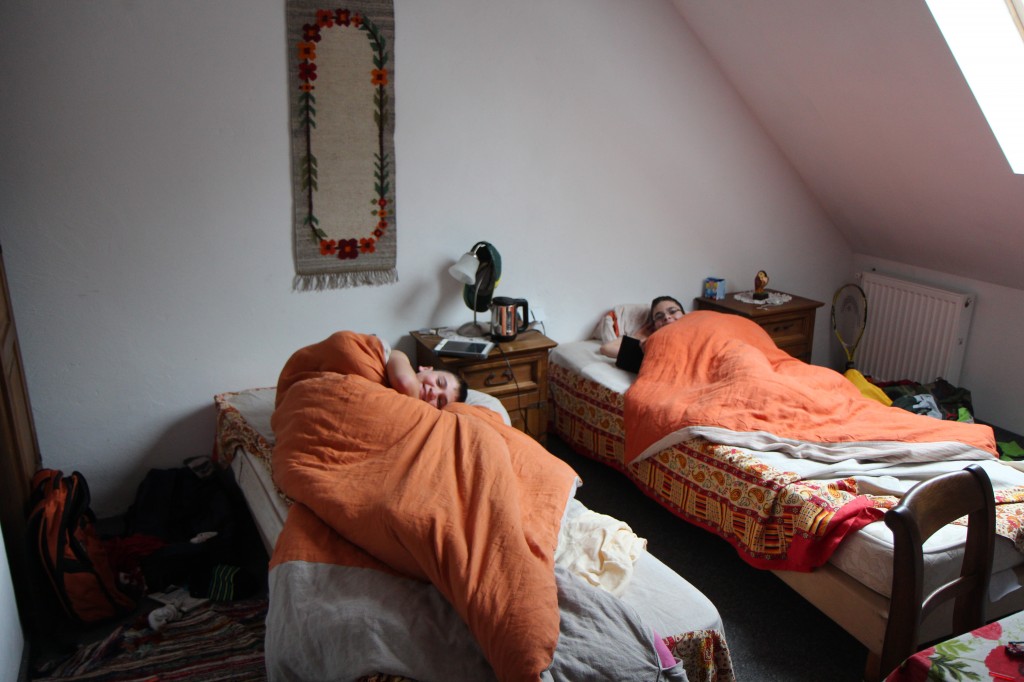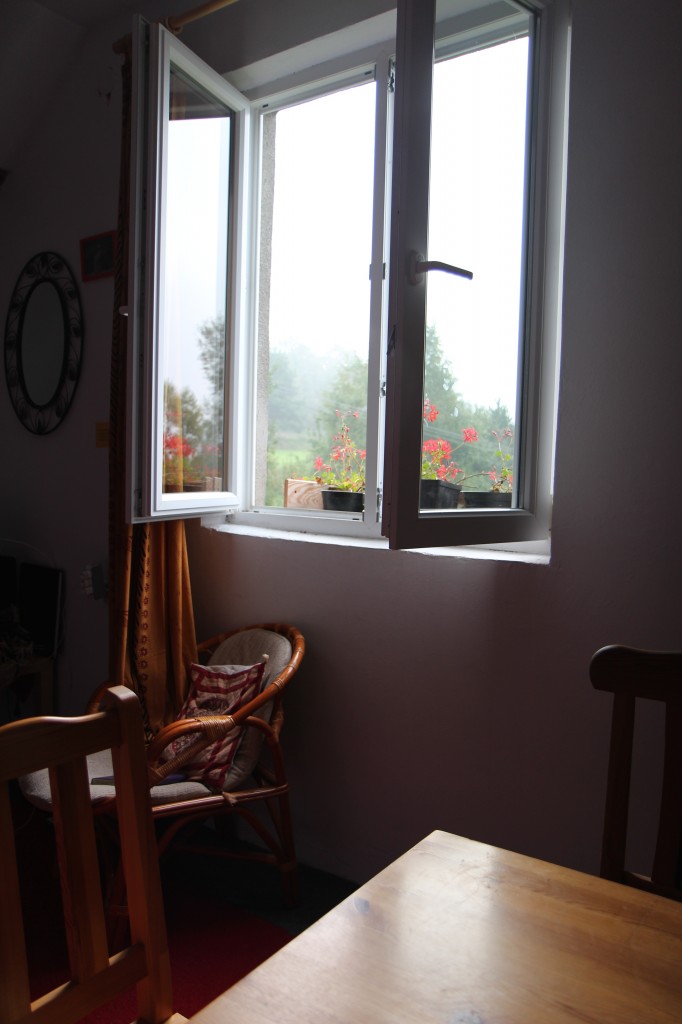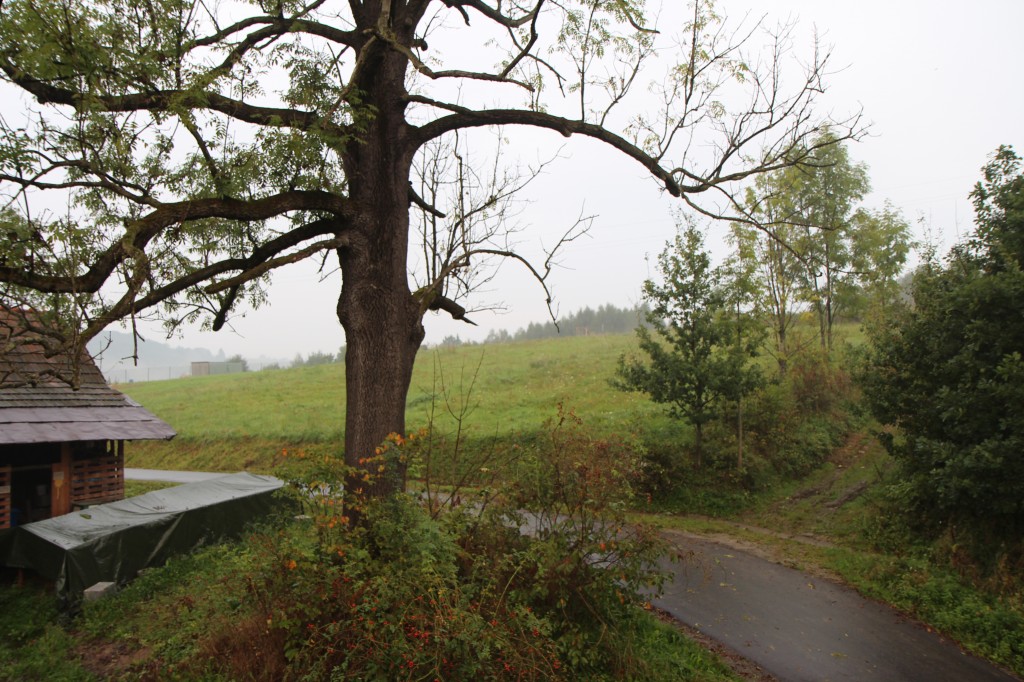 [the view from our bedroom and the narrow road leading up to the house]
It is not till he leaves that we notice the sign saying "Boil water before drinking."
Now, what exactly does that mean?  Is it no water on the toothbrush á la  camping?  Can you wash dishes in the water?  If you open your mouth in the shower will you explode?  As Americans, a blackout is uncomfortable after a time but if the water supply goes off for a second we stop singing campfire songs around those candles…
We are so used to the good life.  I unconsciously begin to write my mental Better Business Bureau complaint.  How could he not have told us about the water?  Is there a global BBB, and can I write directly to the International Criminal Court at The Hague?
But once we do a quick internet search we learn that people often do not drink the water in this part of Poland.  One reason might be that the Soviets punished the independent free-thinkers of the Krakow area by building a heavy industrial site nearby.  The area became polluted with their production of goods to feed the centrally-planned economy.  If that is what you've grown up in, does it occur to you to notify people over a website that you need to boil the water?  I'm not sure but I reluctantly mentally holster my global BBB complaint…
Travel is just what I need to help me examine and adjust my own expectations.  Of course, we are ridiculously blessed and yet I lose sight of that fact all the time.  What a blessing to be out here in the quiet.  God has surely given me more than I deserve.
The next day I drive down the steep hill to the small town's grocery store.  I manage to embarrass myself by asking for deli meat in English and German and still not be understood.  Pointing and holding up fingers saves the day again.  The workers are kind and patient with me.  Not a whole lot of English going on out here.  We have learned if you want to maximize your chances of finding an English speaker find someone young.  If you grew up behind the Iron Curtain, you probably didn't earn a lot of points with the communists by harboring a secret love for the West.
The grocery store is notable for a couple of reasons.  We've recently been in Germany so I'm shocked that the deli does not hold 87 different kinds of sausages.  And the shelves behind the counter grab my eye.  Shelves of hard liquor run nearly floor to ceiling and there are at least four rows of more kinds of vodka than I've ever seen.
The kids wander out and meet the alpacas and we are privileged to meet our downstairs neighbors.  They are the kindest couple and quite young.  She is Macedonian and among other things, helps care for the animals.  He works in a nearby town doing IT and is Dutch.  They graciously show us around the Ekocentrum next to our farmhouse.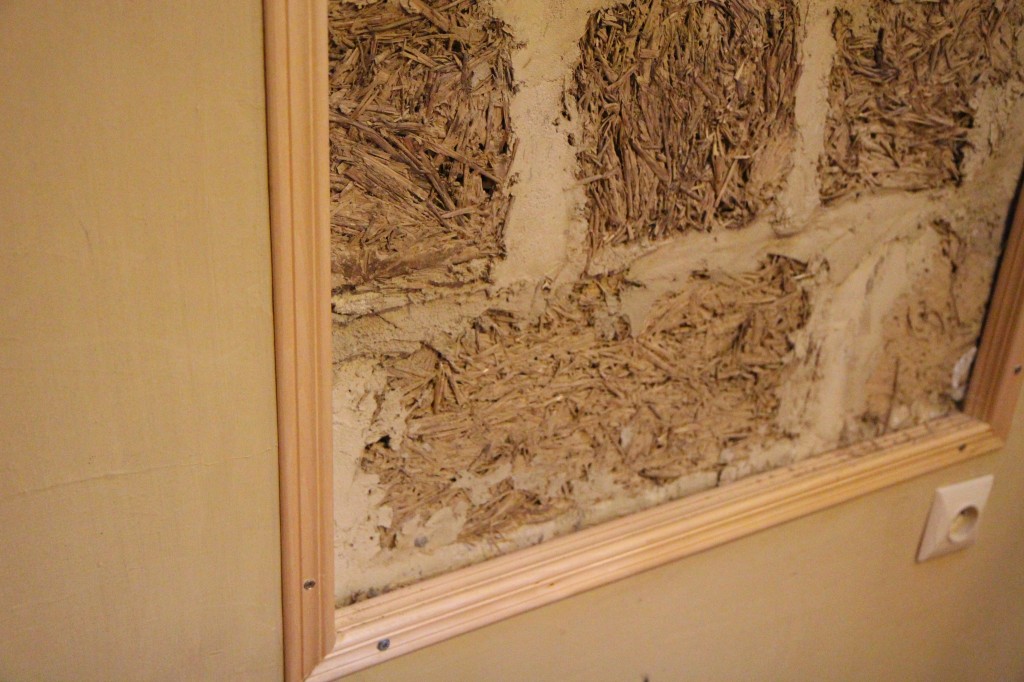 The Ekocentrum is an ecological center for sustainable living and a kind of display case for inexpensive housing built from sod.  The sod is used to efficiently insulate the thick walls.  Overall, the house looks like any other small farm house.  Just one of the amazing things is that these places can be constructed for about $5,000.
The couple have lived here for a few years.  I ask if she is from Skopje and she laughs good-naturedly at how I pronounce it.  She says the Americans always say "Skop-gee" when it is actually "Skop-yuh".
They help the kids feed the alpacas.  We corner chickens and help get them into their pen.  The kids love the sheep and ducks.  They teach us to identify and avoid the stinging nettles.  We see the thoughtful method of natural water filtration via cascading planter boxes.  We'd booked this place to be on a farm and get a different slice of life from the city and we are seeing it.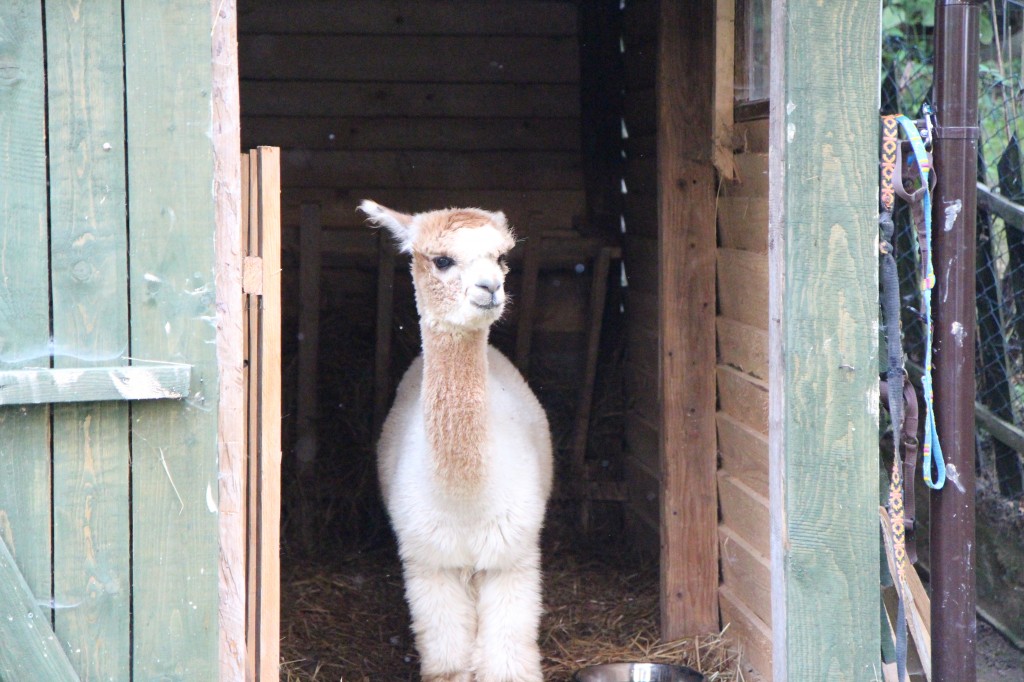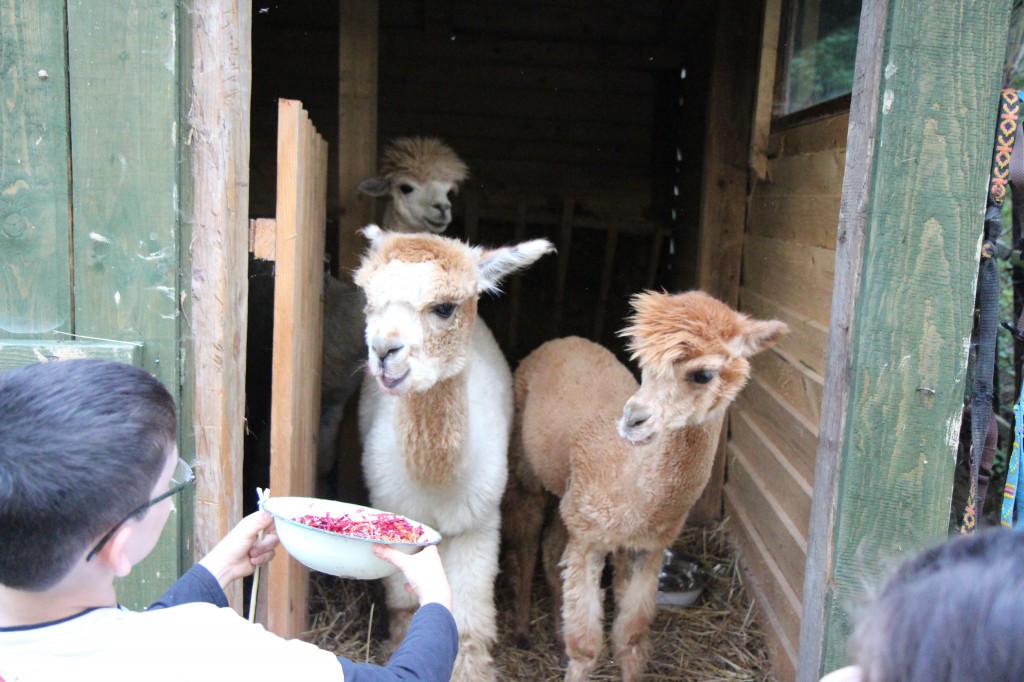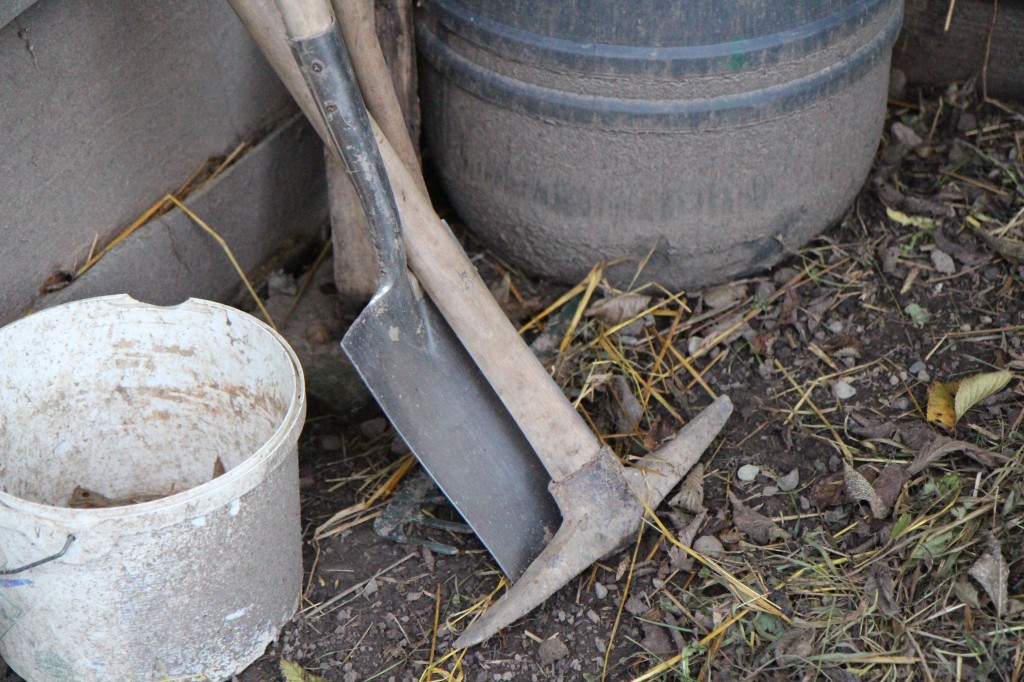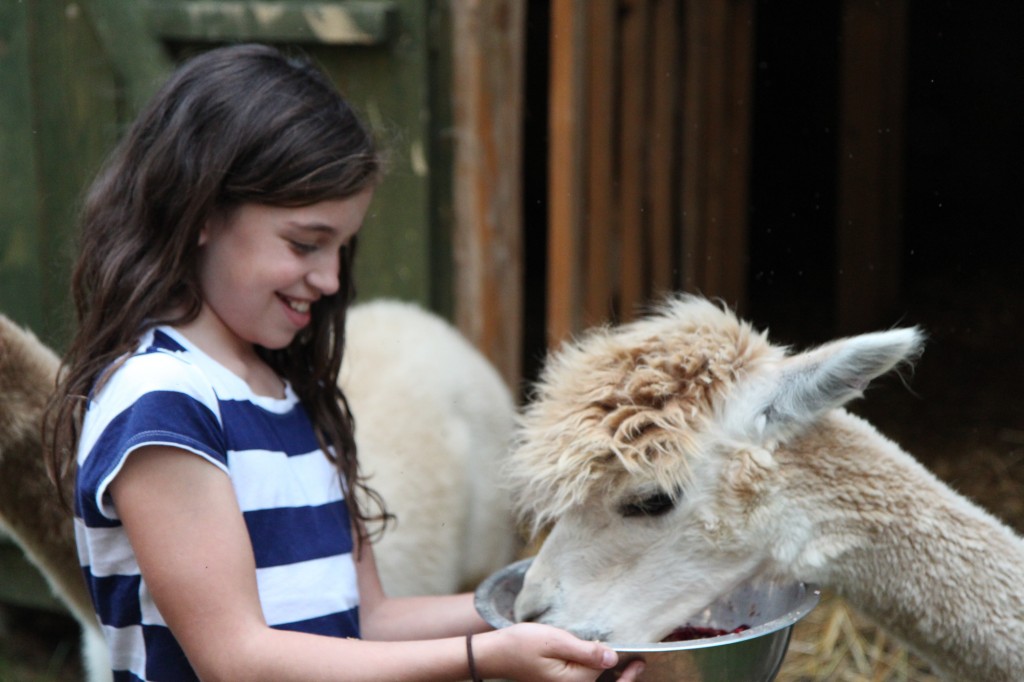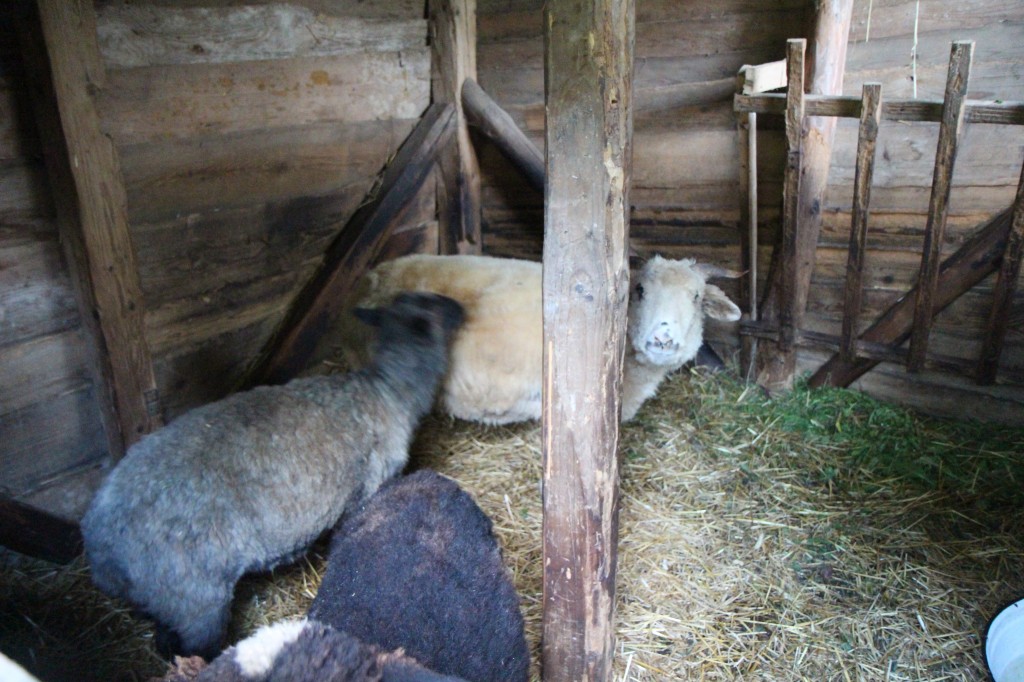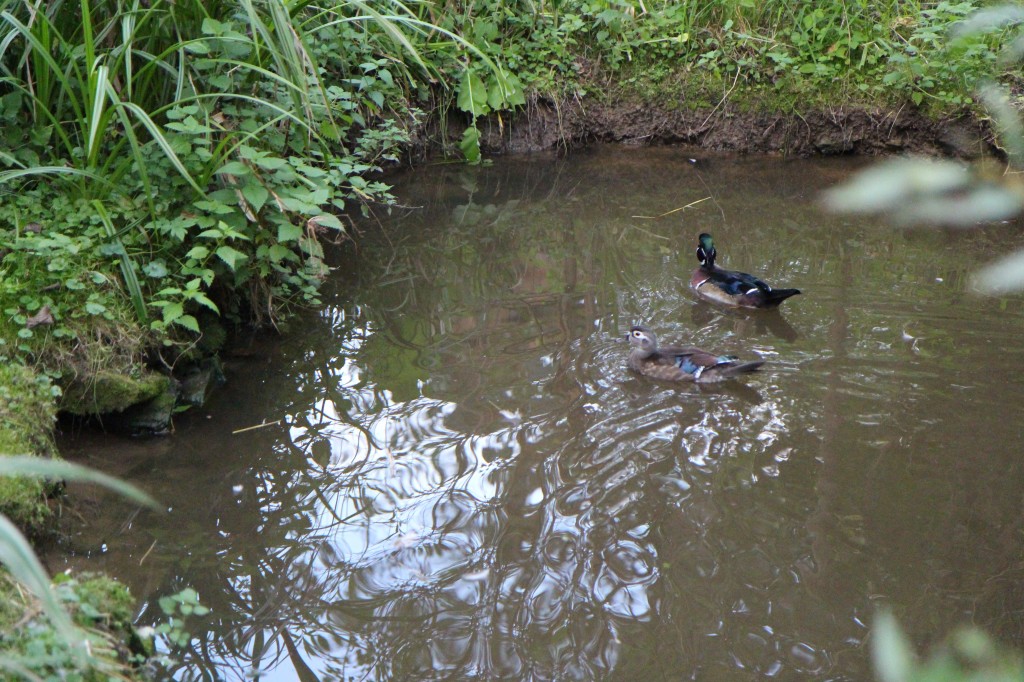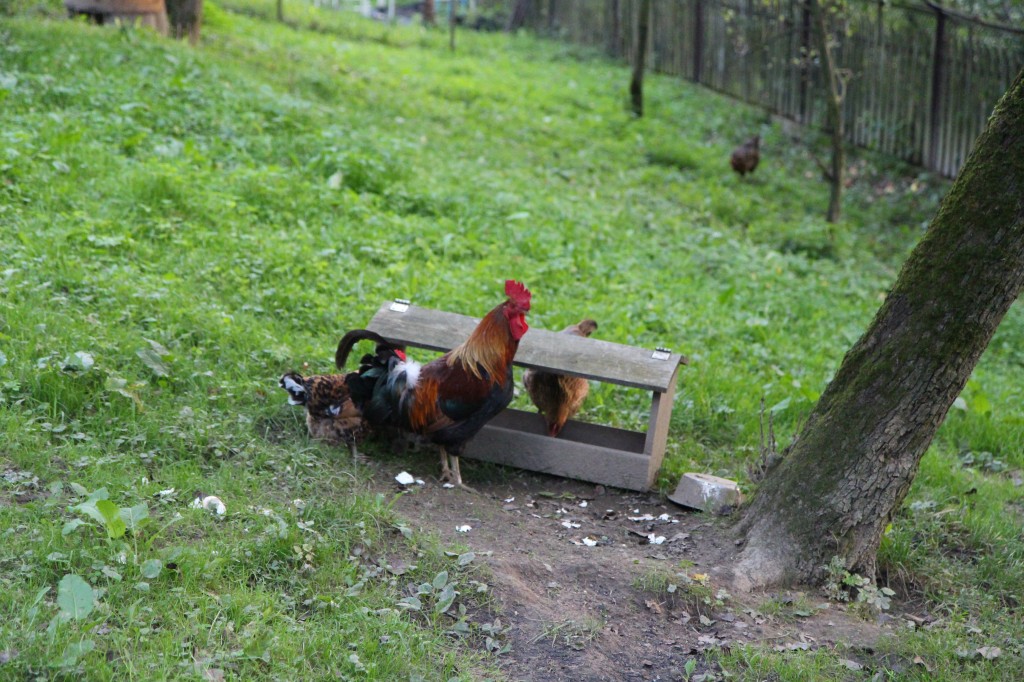 They confirm for us, the smoke we witness rising from homes is from the coal stoves of people's kitchens.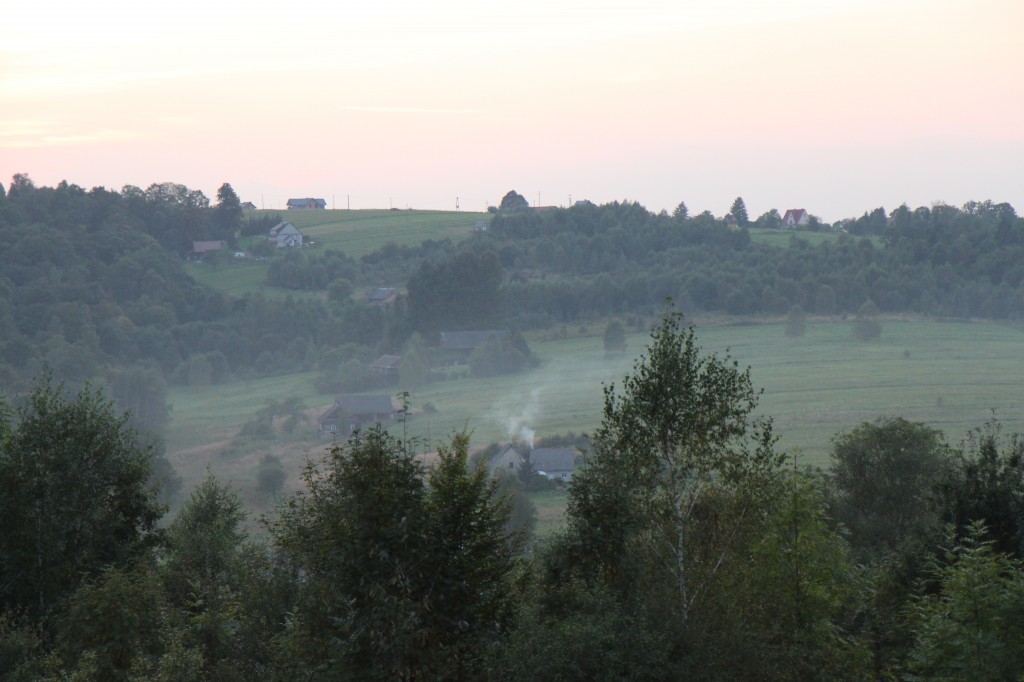 They even take us on a short walk to pick berries and get a view of the hillside.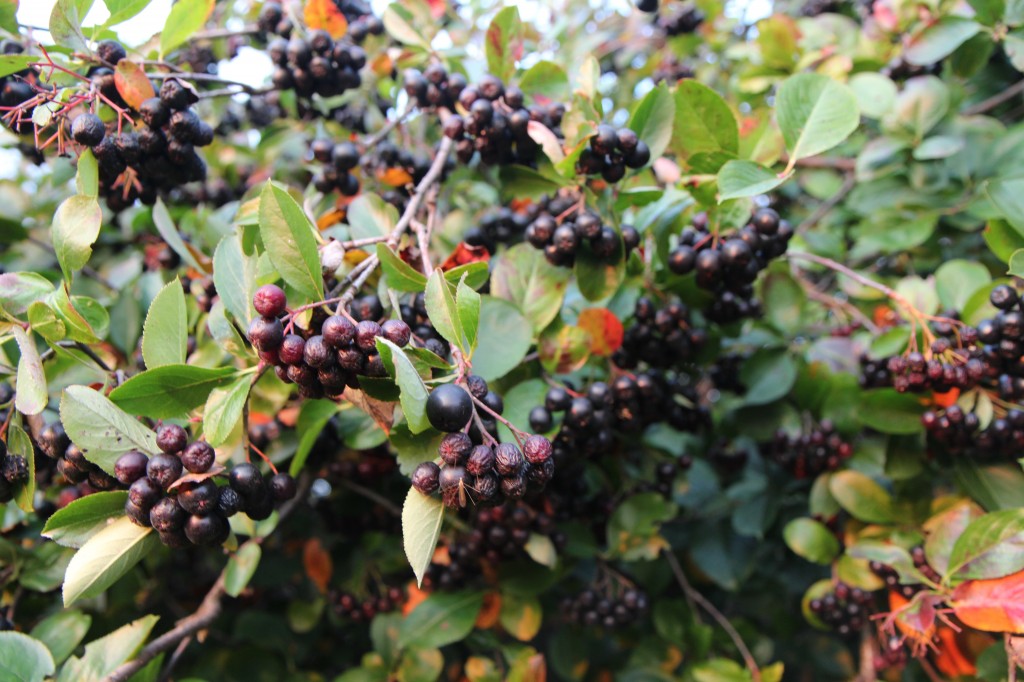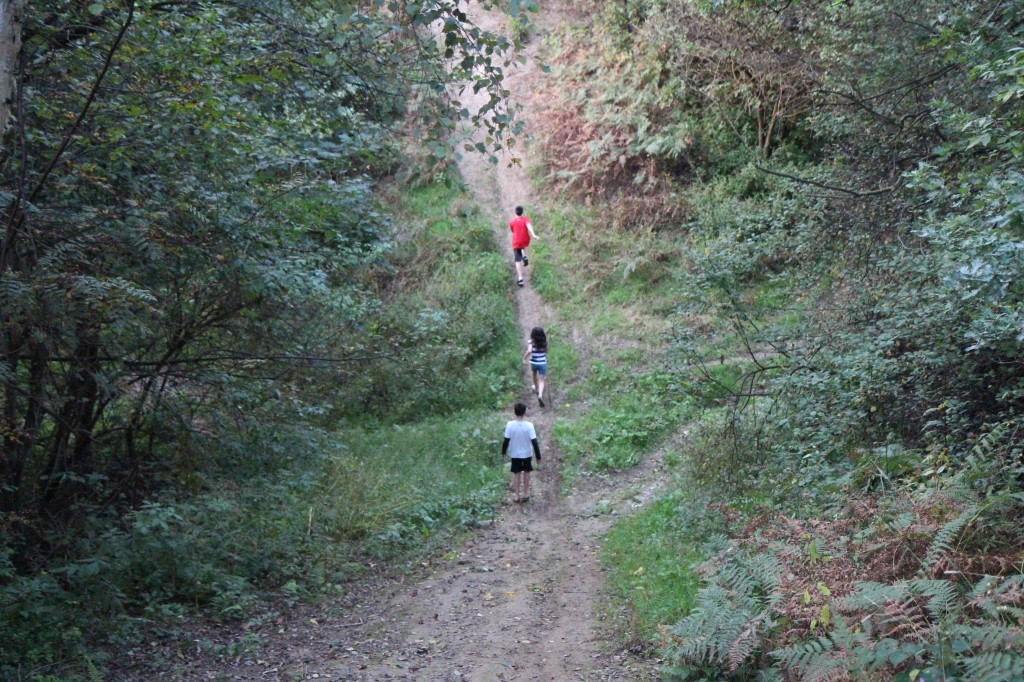 They intentionally live at a slower pace in a smaller place.  They are warm, generous with their time and hearts and a joy to be around.  The evening light melts away over the bushes as we stand out in the road outside the farm house.   The stars are already out.  We finally say our good nights and head to our different floors of the same house.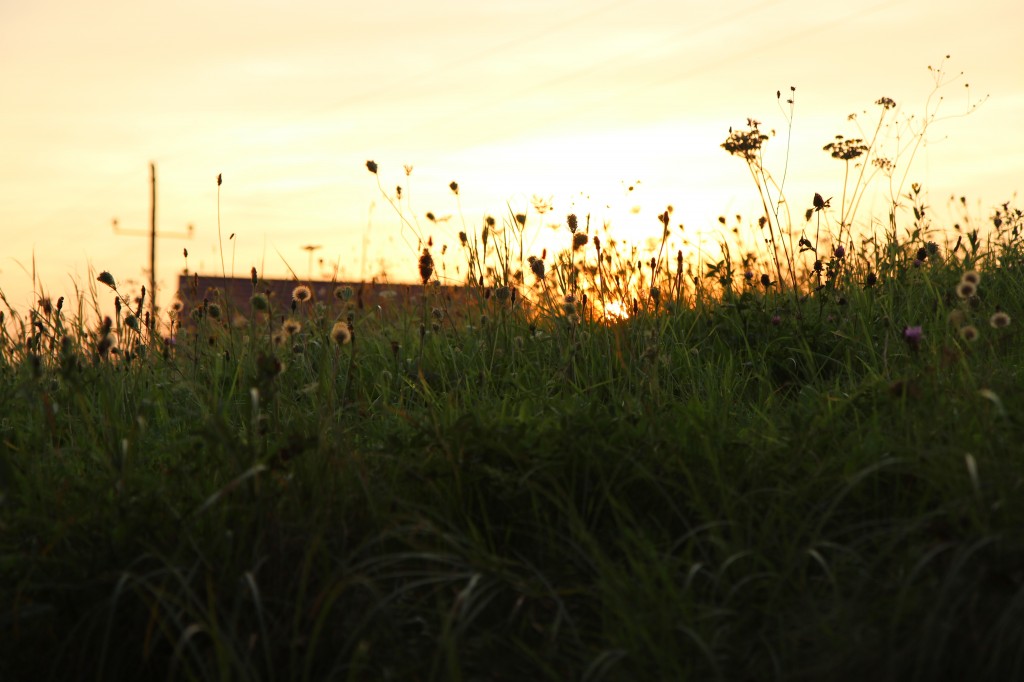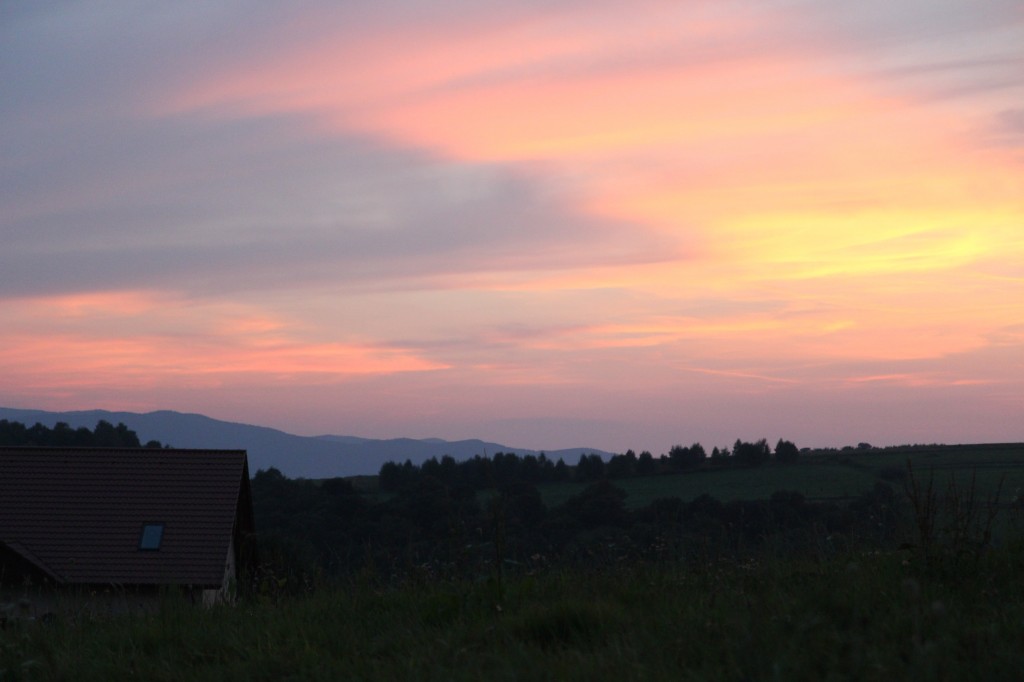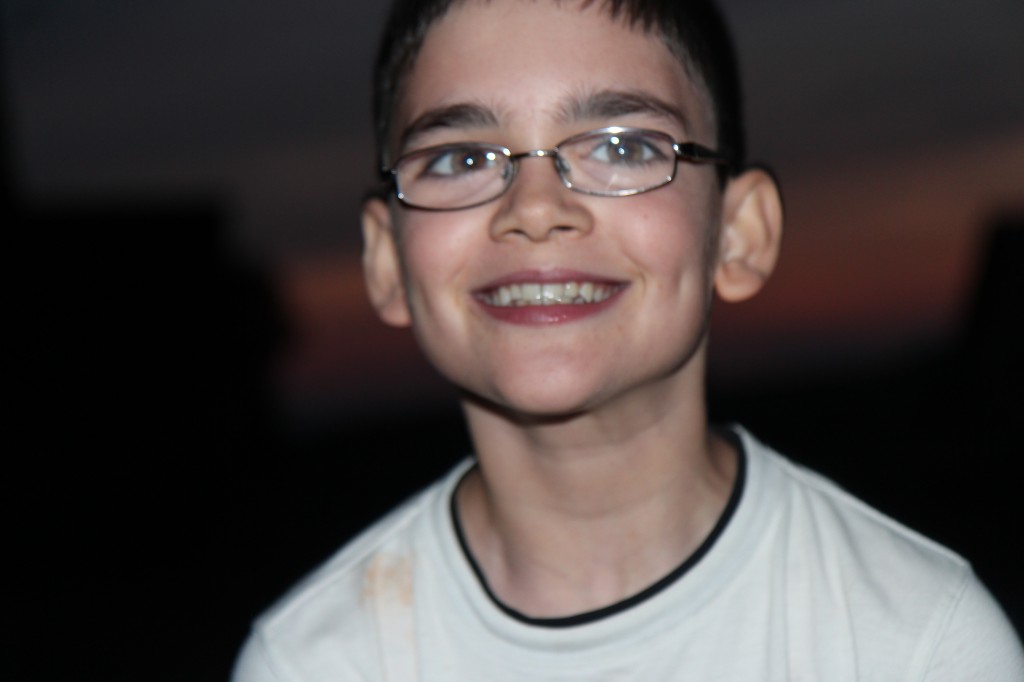 We sleep well and wake in the morning to the crows of a rooster.