So that's Luke's view of the Tate Modern museum.  And, haven't we all experienced some semblance of that emotion?  We took in modern art masterpieces but the best part for us was likely the hot chocolate in the museum cafe, the wonderful Midwest couple we met there and the view of the Millennium Bridge.  "Mom, that's the bridge from Harry Potter!"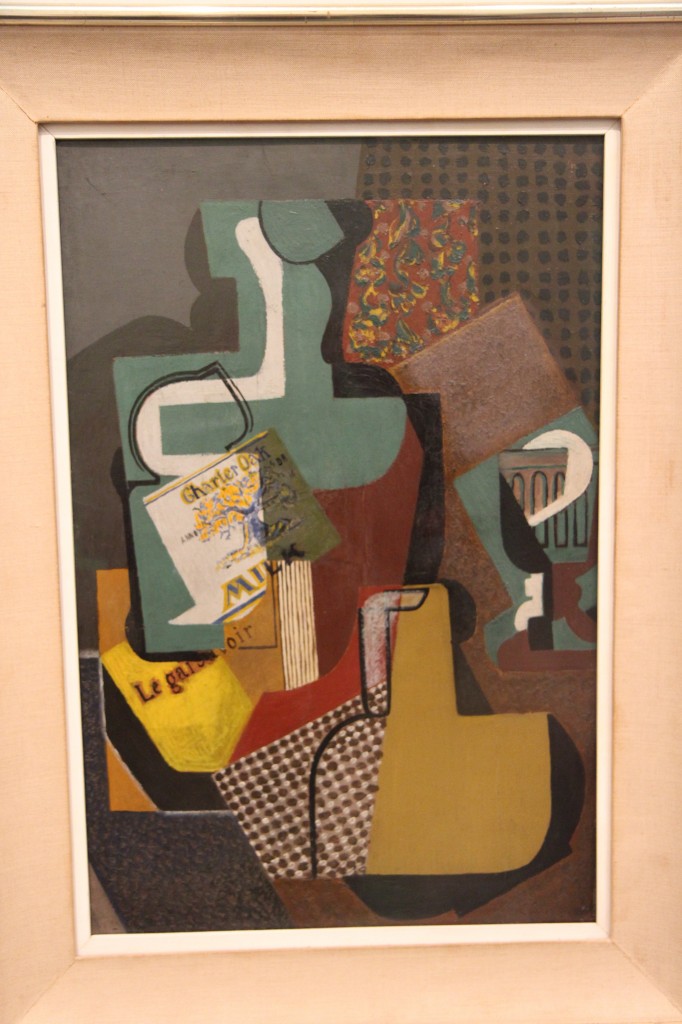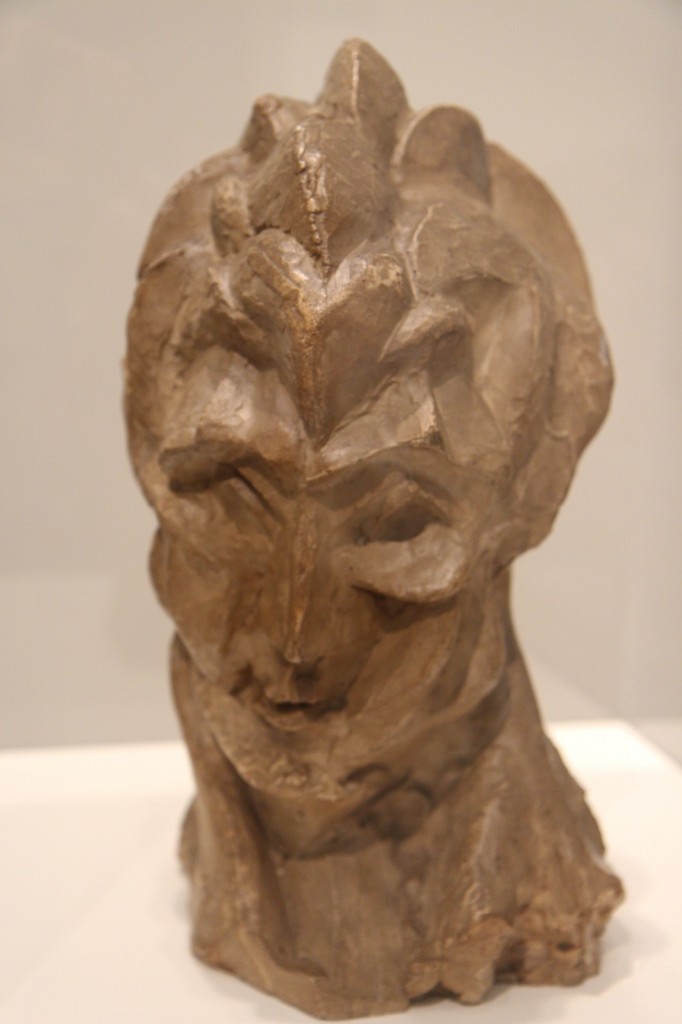 [Diego Rivera picture and sculpture] 
A few times I had the chance to feel a bit like Clark Griswold from European Vacation. 
Kids-"Dad, why are they not wearing any clothes in that picture?"
Me-"And…how about we walk this way children, to this other room.  Look, a baby wolf!"
OK, I know that was mixing '80s movie references, probably even worse than mixing metaphors.
Actually, the kids are getting quite used to the classic nude sculptures.  Not sure if that's the sign of a kind of cultural immersion occurring or part of my contest entry for most traumatizing Dad of the year…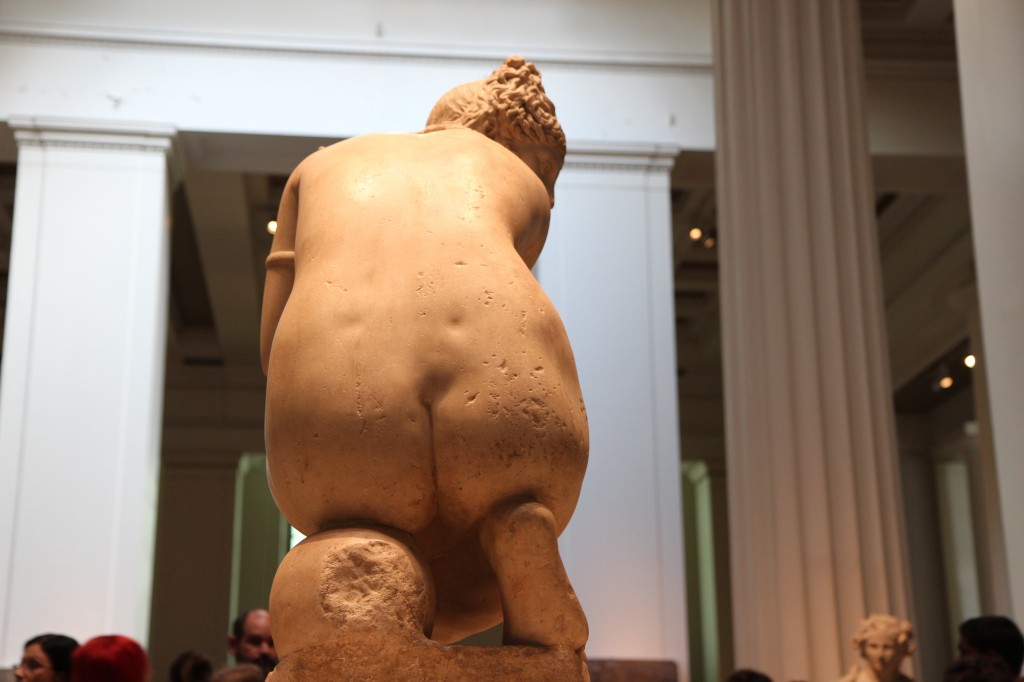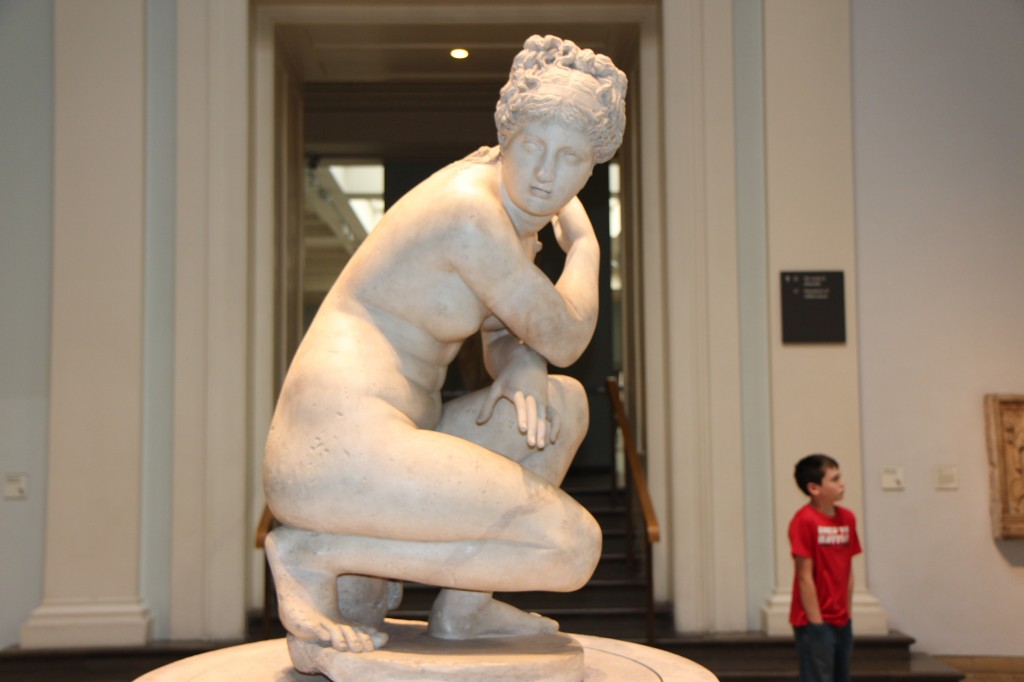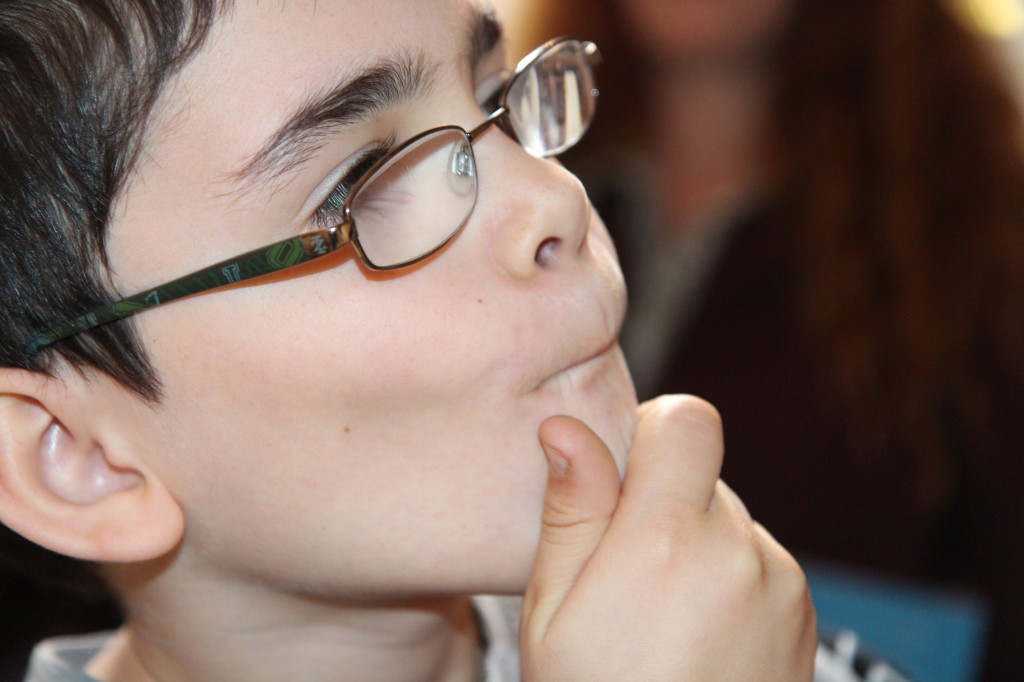 The Tate Modern displays its treasures inside a former power plant right on the Thames River.  The cavernous interior doubles as a great place to hassle your brother.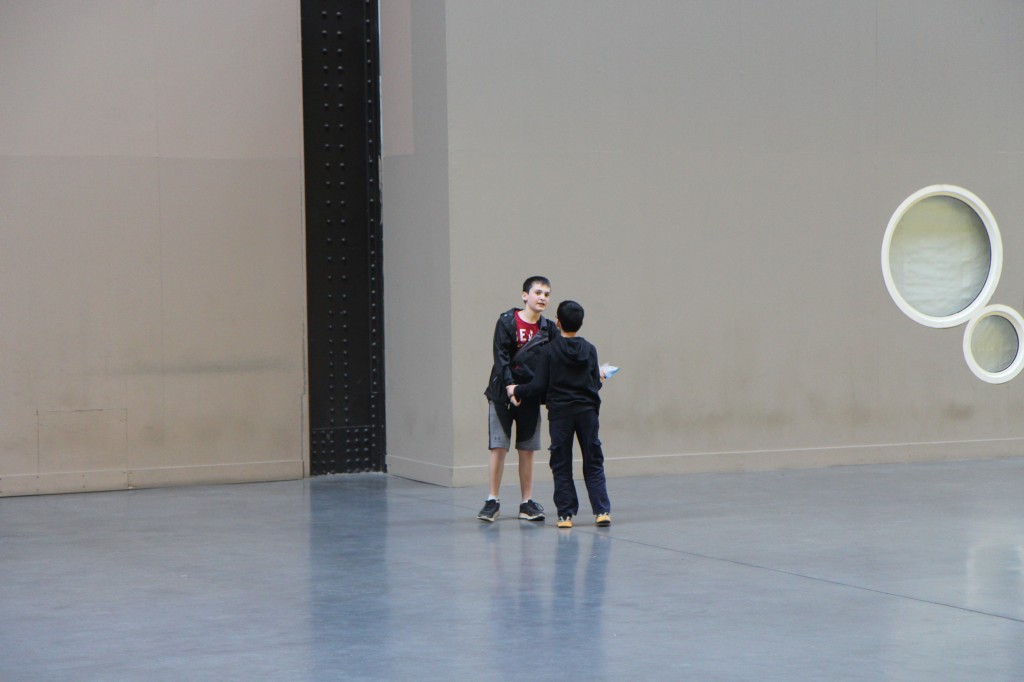 We enjoyed a wonderful walk along the waterfront and past Shakespeare's Globe Theatre.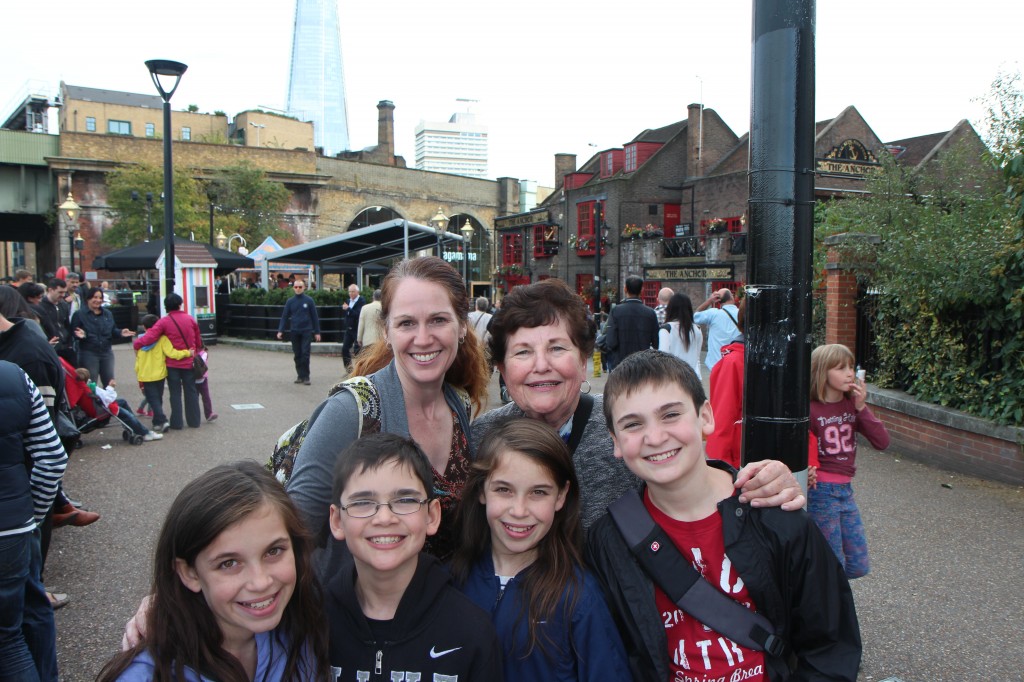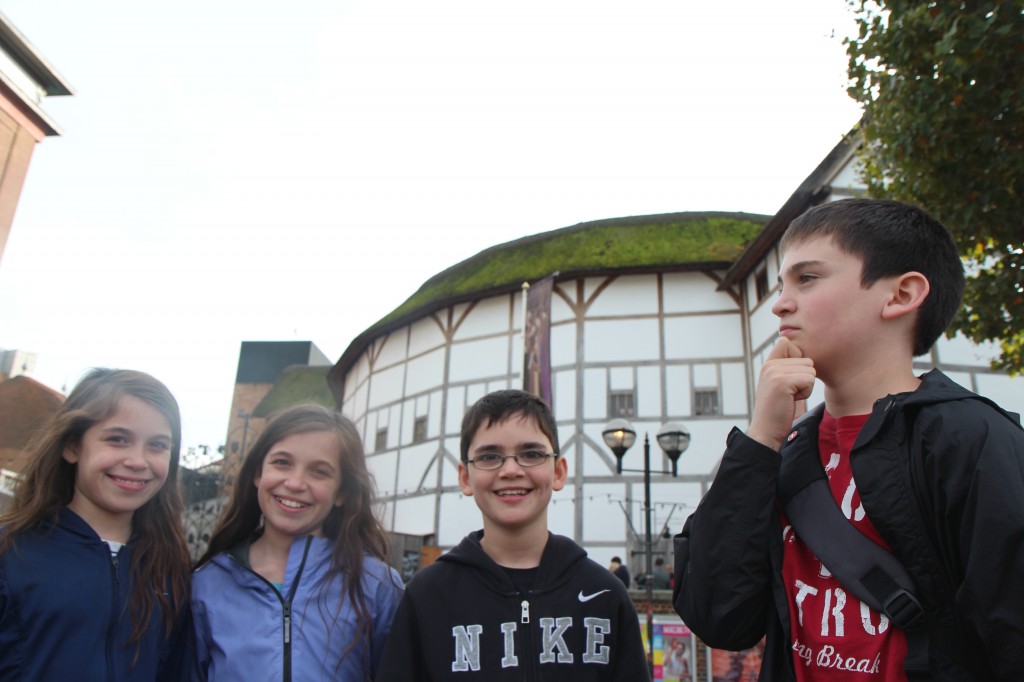 [Shakepeares' circular Globe theater]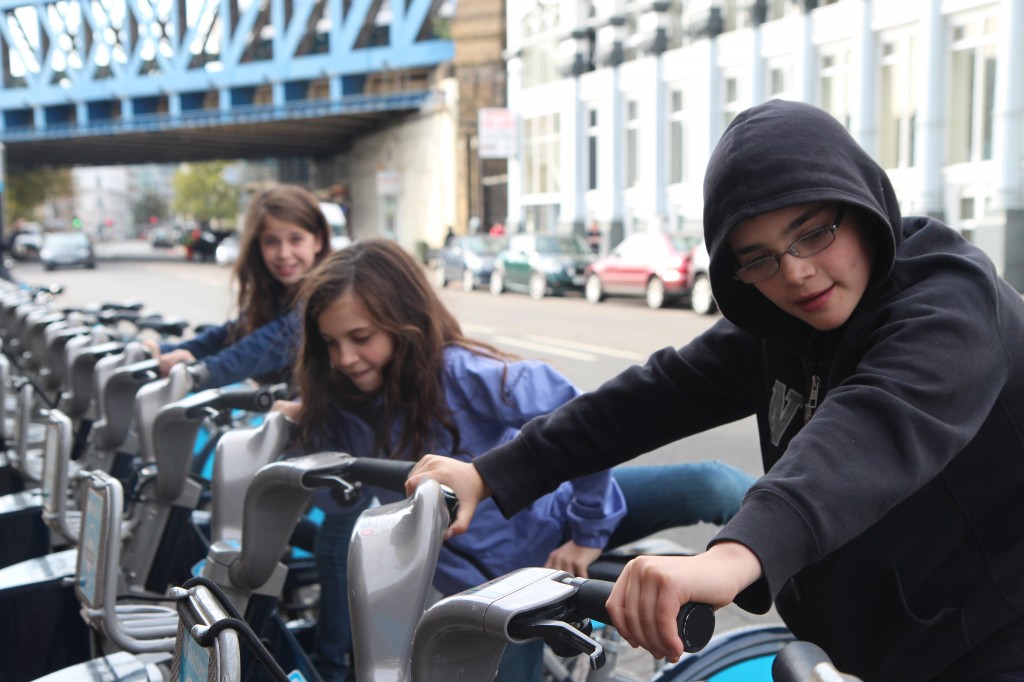 [Will is likely thinking, "If only we could reach the ground so we could ride these rental bikes."]
"Minoans and Myceneans"—this especially goes out to our Classical Conversations brethren. Classical Conversations is a cooperative educational group that meets weekly.  Tutors teach the kids in subjects then the rest of the week the families homeschool the kids in the curriculum.  This methodology is classical in nature and encompasses a Christian worldview.  The students must master impressive amount of memory work and study math, Latin, science, music, grammar, history, and geography.
The young scholars learn a wonderful context for history as they memorize a "timeline" song of historical events.  The song takes about 12 minutes just to recite.   I think the context they are getting for history through Classical Conversations will serve them well. 
Thus, the kids pounced on several items in the British Museum—"that's from a timeline card."  You see, the various historical timeline events are often represented by pictures of ancient art or archaeological finds on their study cards.  Our little students have spent so long staring at these pictures that it is a thrill to see the items in the flesh here in London.
The timeline song nearly starts out with "Minoans and Myceneans", and as we begin to tour here is a piece of history from a timeline card.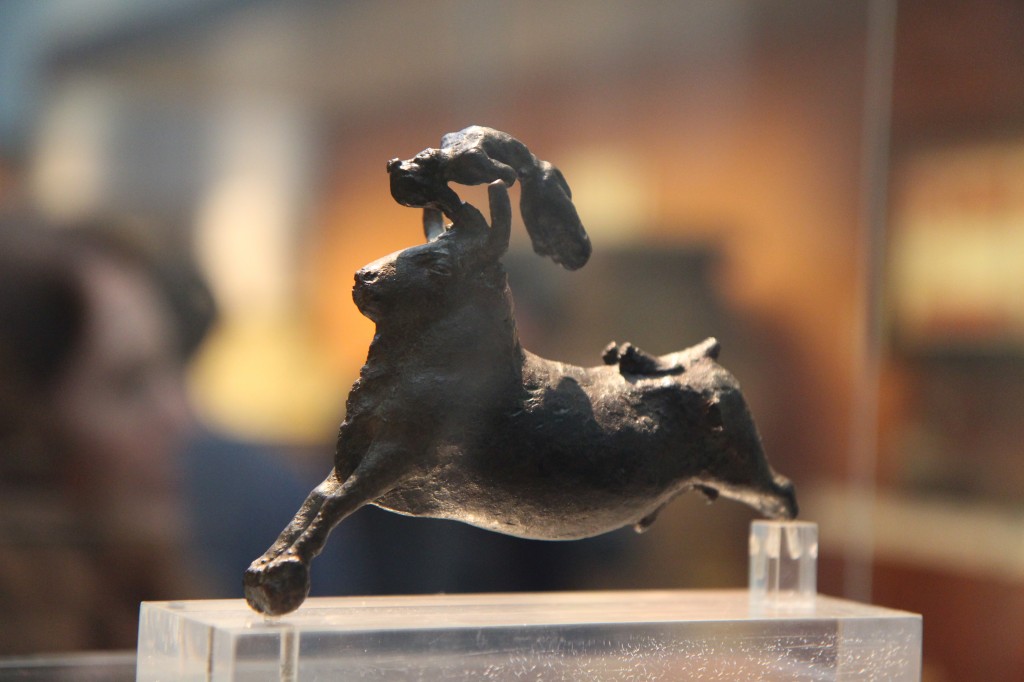 I would have walked right past it but the kids yell out as if we've seen some kind of celebrity.  This tiny bronze sculpture of a bull and acrobat from Crete weighs in at about 3500 years old. 
Huge, bearded, winged lion creatures from Assyria.  Useful for impressing your houseguests.  Hittite objects.  Egyptian sun gods.  Everywhere you turn it's biblical and Near East archeology resurrecting ancient days to life before your eyes.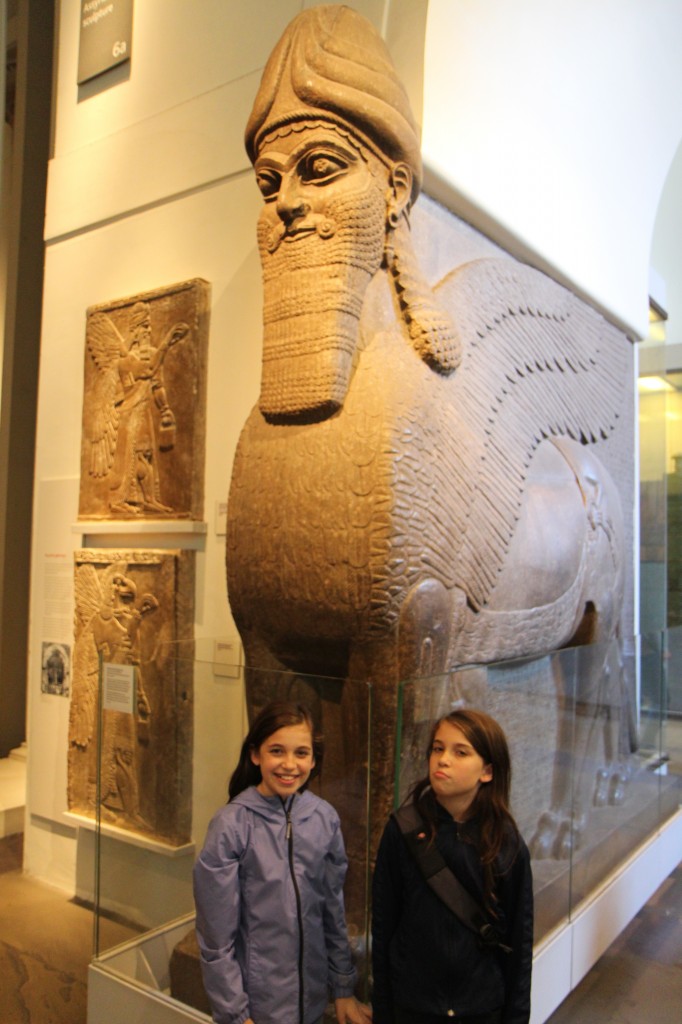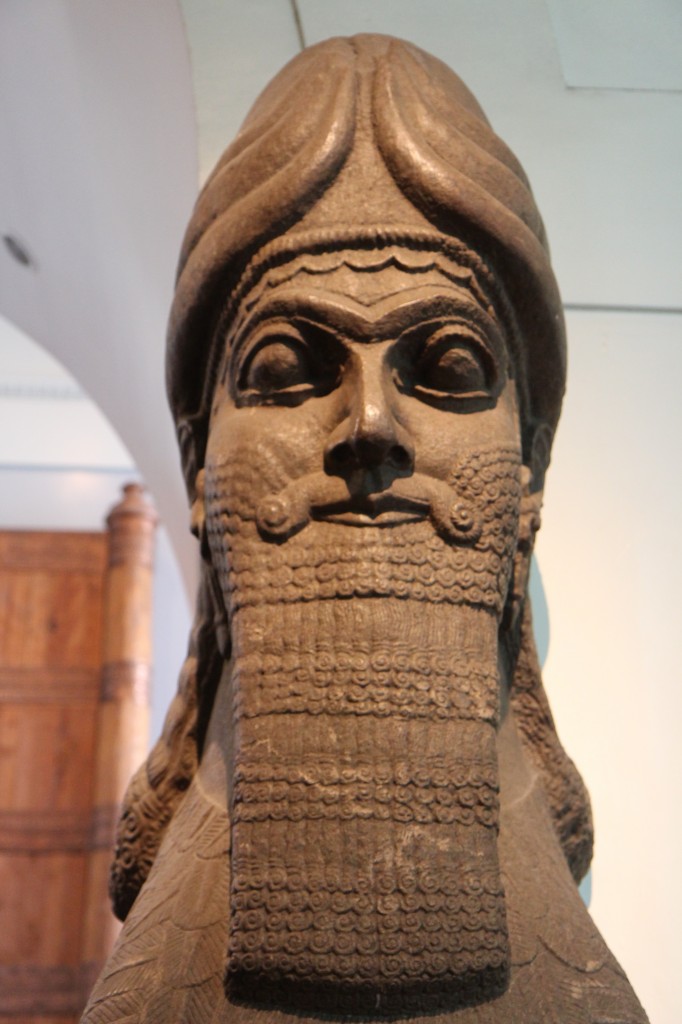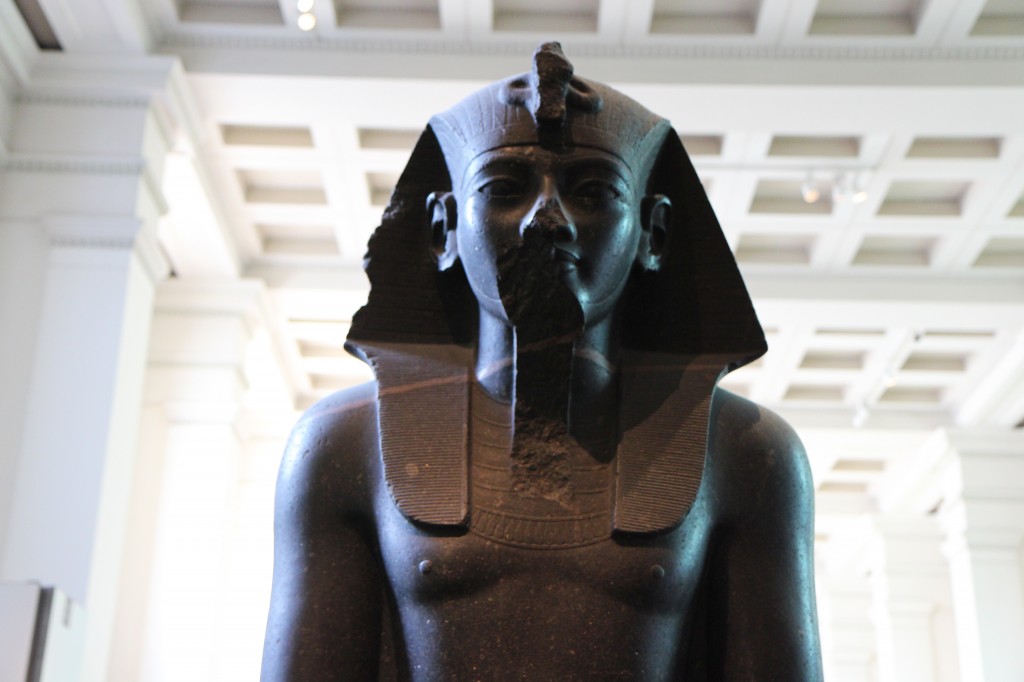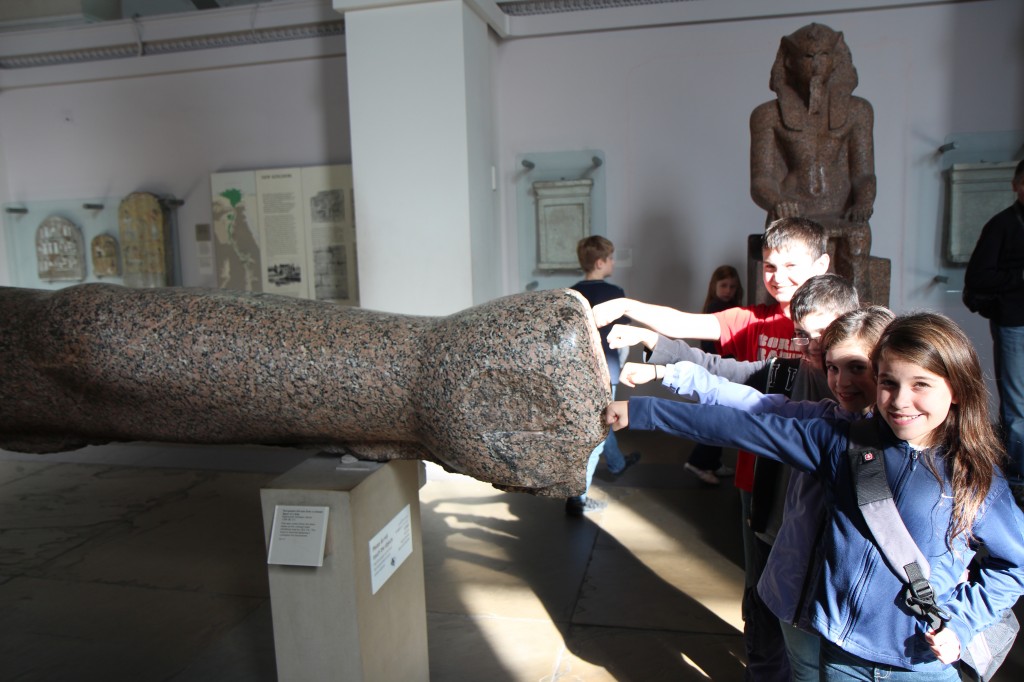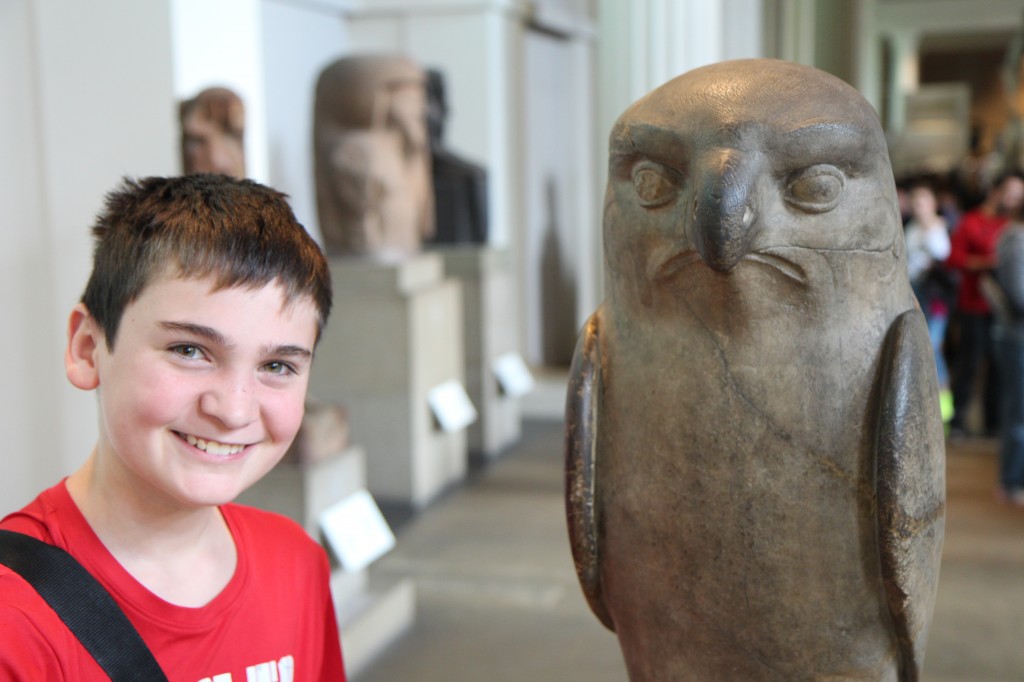 Want to see actual mummies and learn how they were made?  This is the place.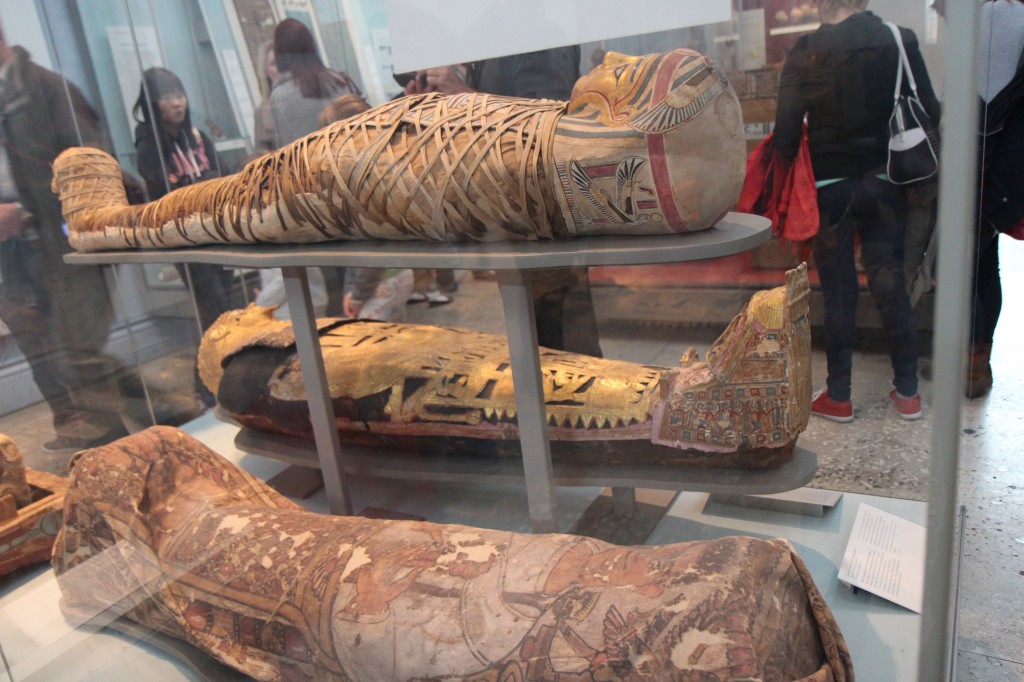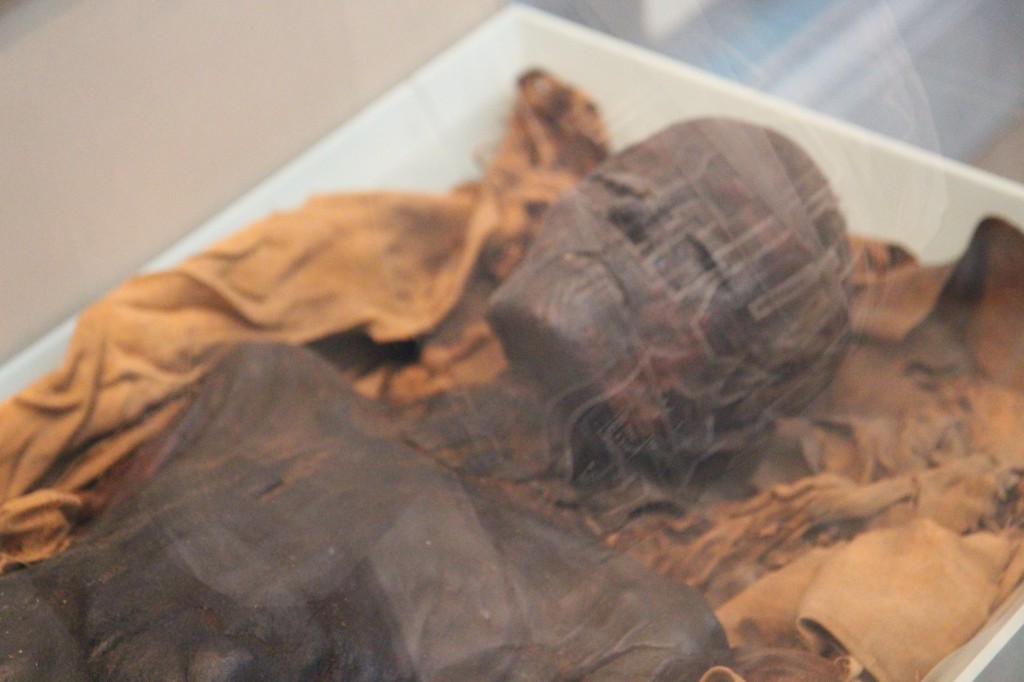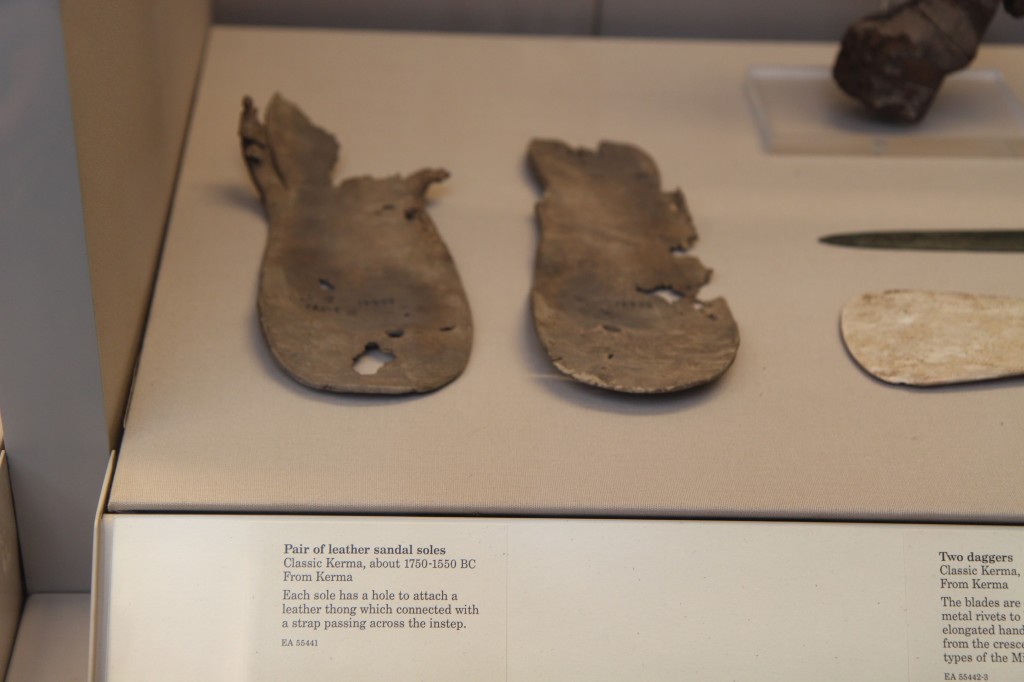 The Elgin Marbles that graced the Parthenon in Athens.  So many works of beauty that make you scratch your head— "Now, why is this treasure here in London?"  But it was a different time and in defense of the British it is hard to imagine many of these priceless watermarks of civilization surviving the past as well in their native environments.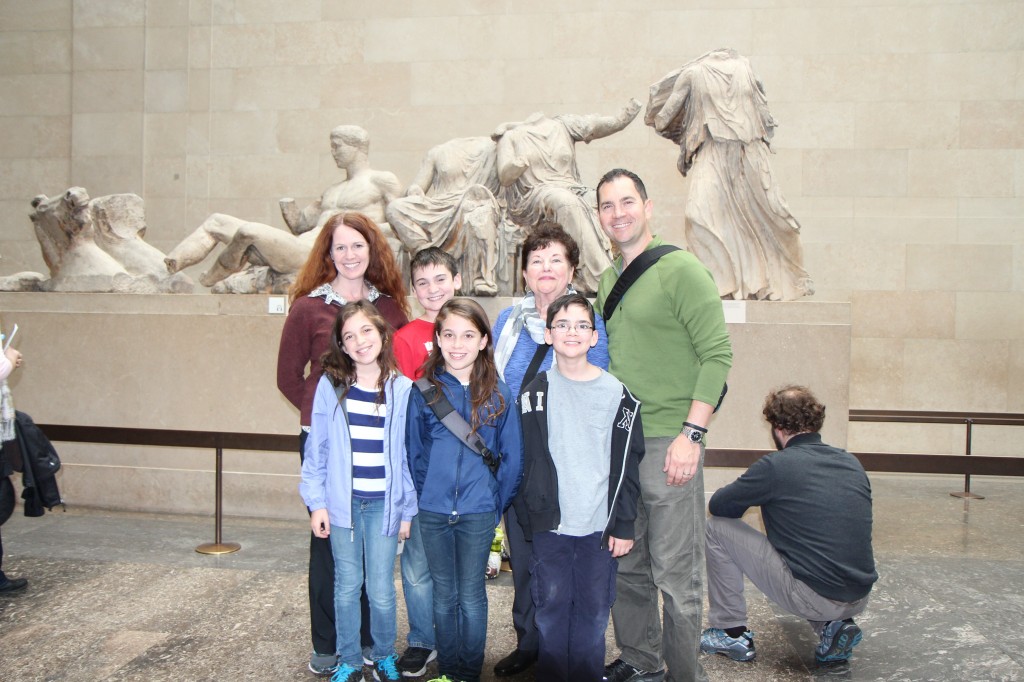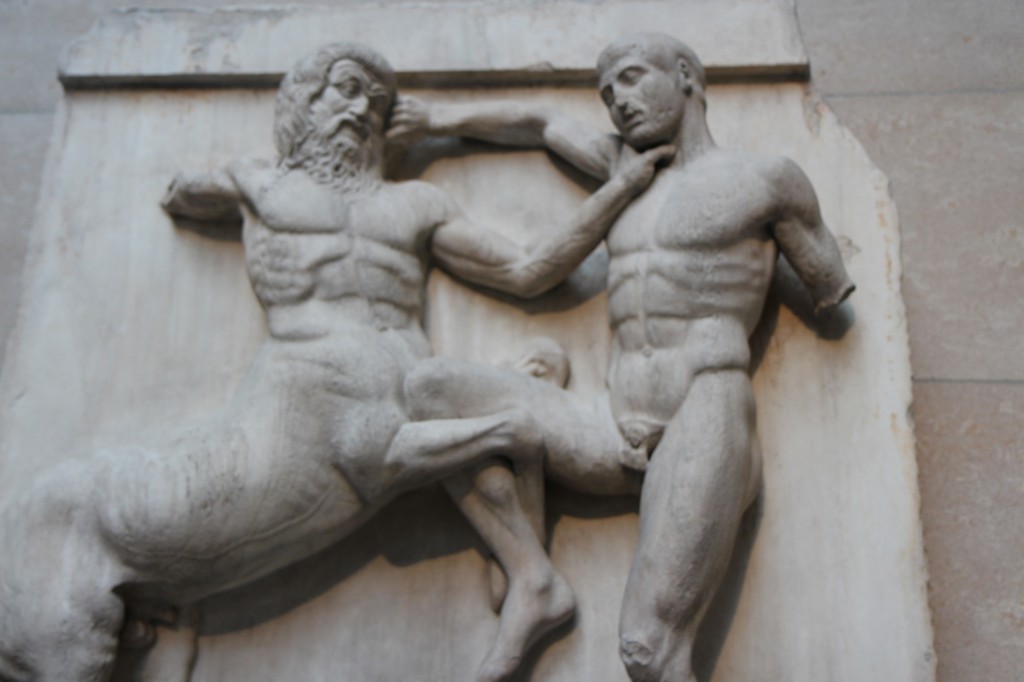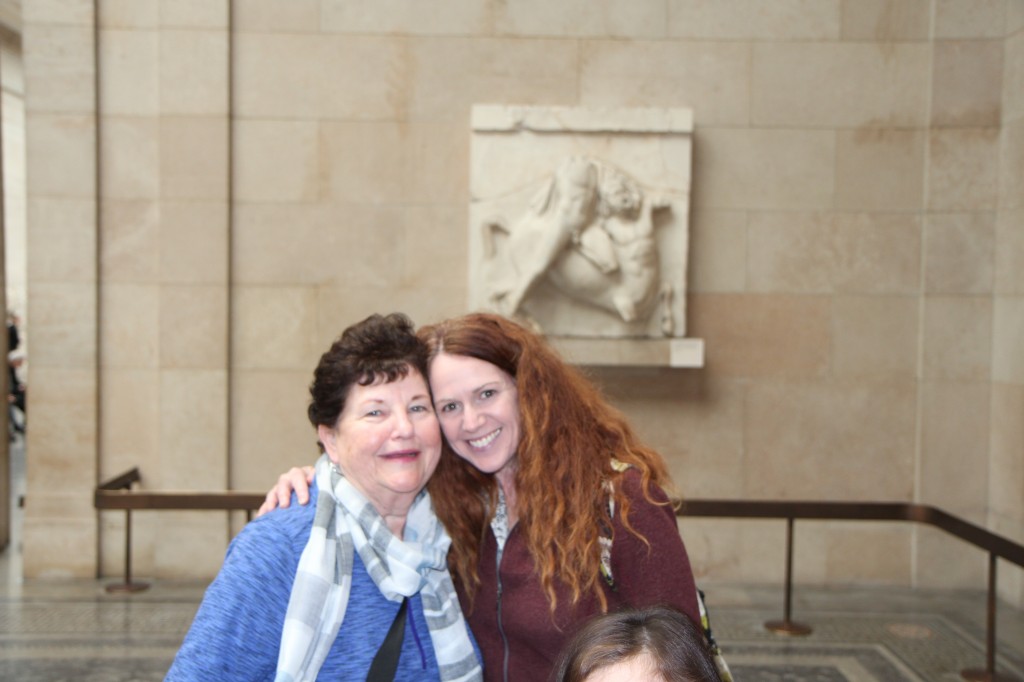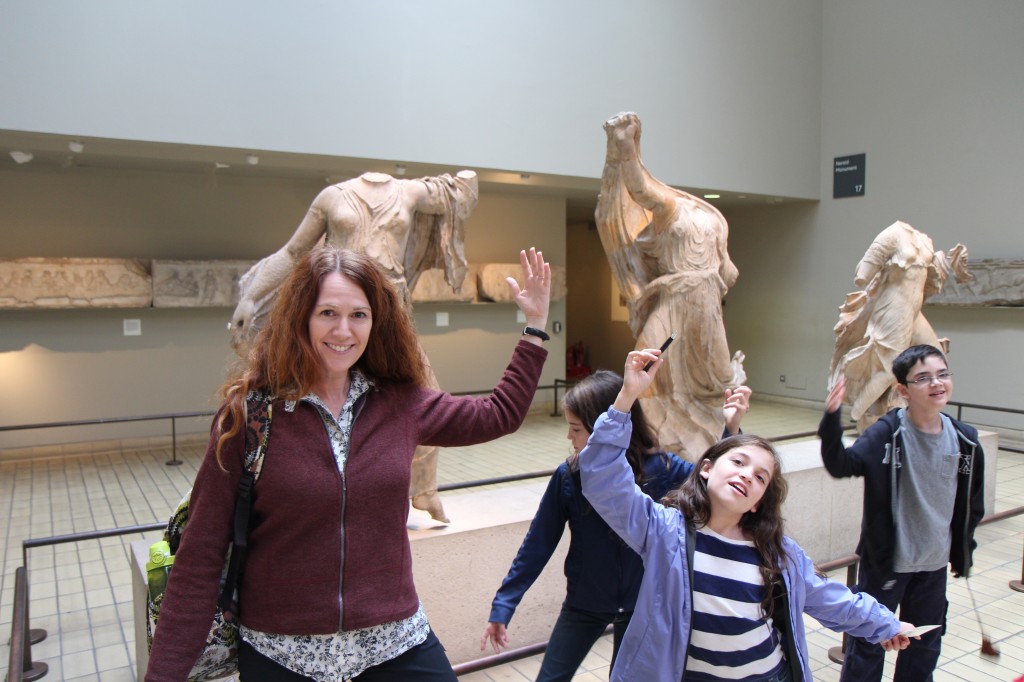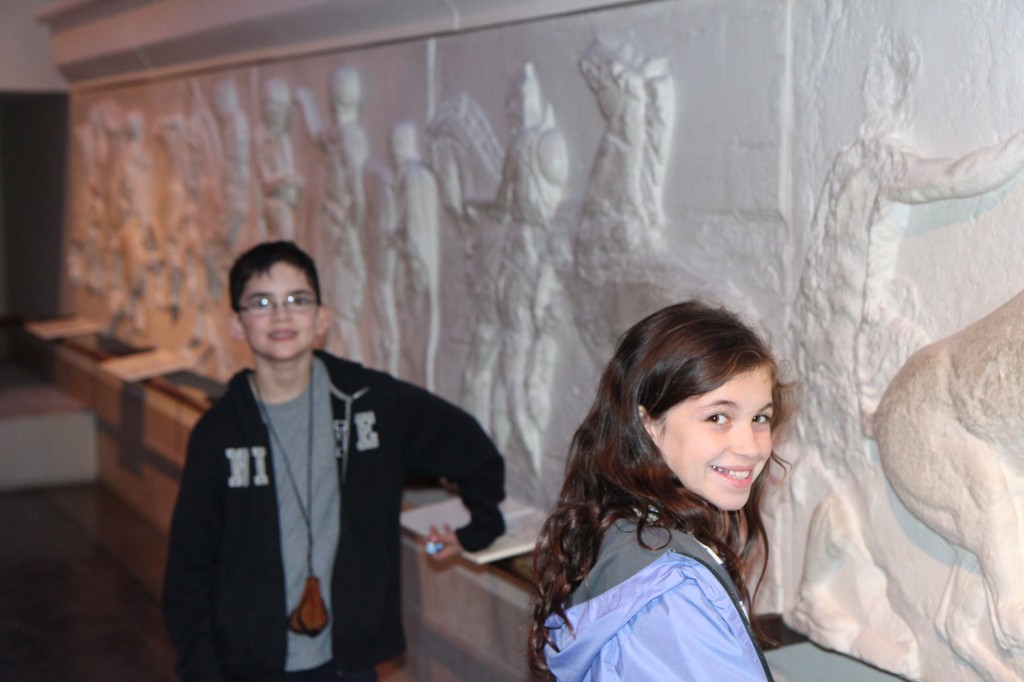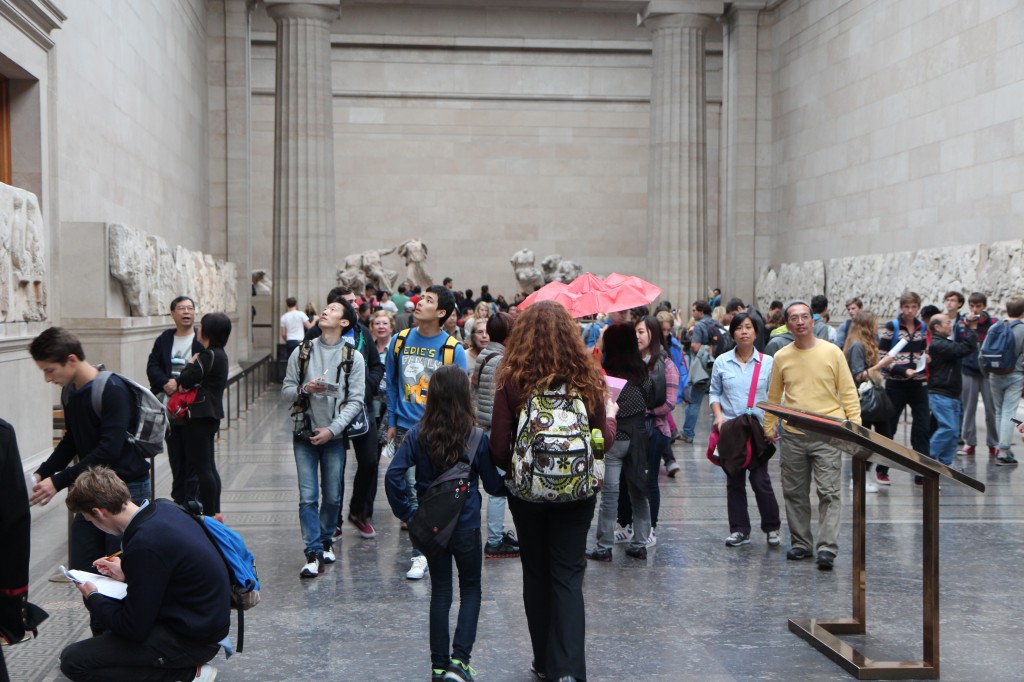 The British Museum just overwhelms the visitor.  It's the kind of place you can return to again and again.  And no doubt, we must have sleuthed our way around on four different visits. We would grab the family 'scavenger hunt' cards from the desk and go exploring through a narrow slice of the museum to keep it manageable. 
A courtyard of yesterday now sports a bright ceiling done for the Queen's Jubilee; transforming an outdoor space into what must be the world's biggest skylit chamber.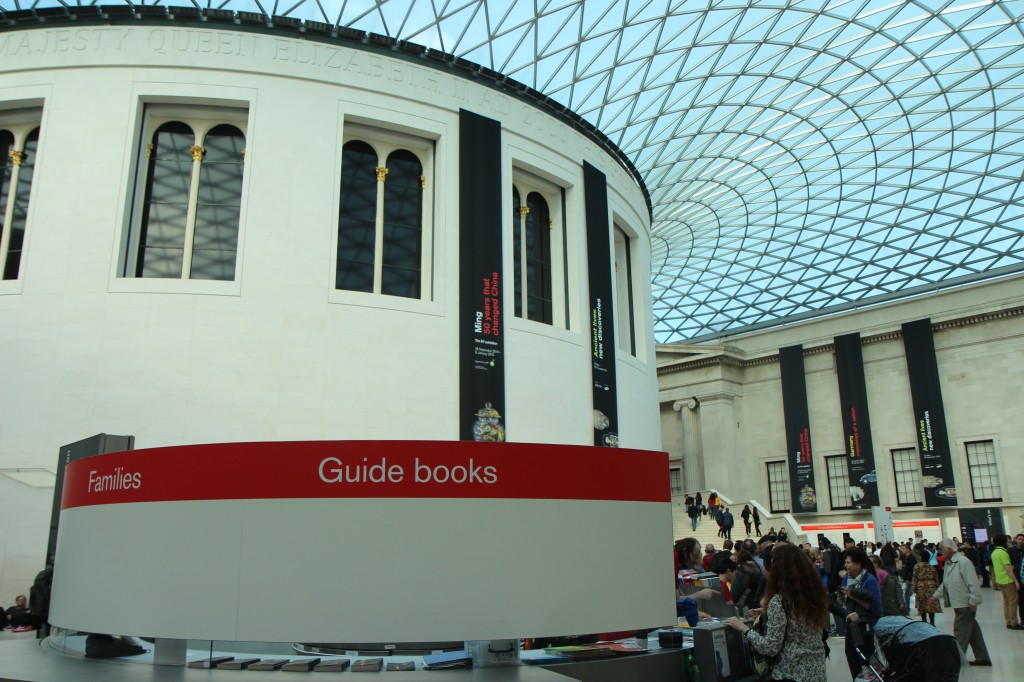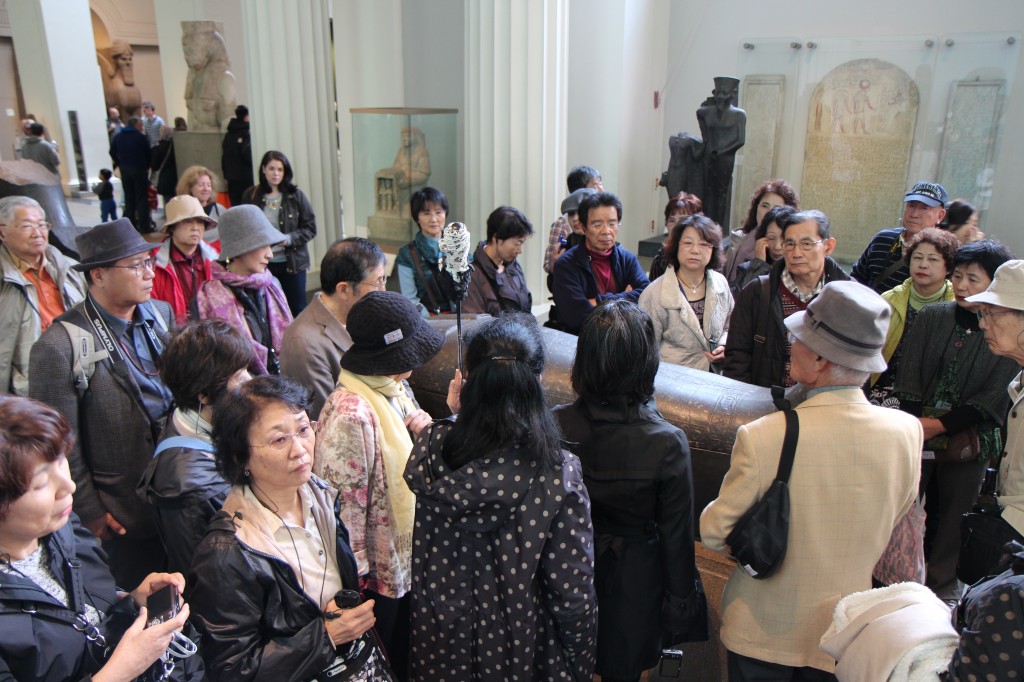 [A Chinese tour group surrounds a huge artifact]
We've wrestled with the various languages we've encountered and yet English is nearly always the accepted second language here in Europe.  If you can't enjoy the guided tour in German for example then there may be English guided tours twice a day.  But not so much for other languages.  Large Chinese and Japanese tour groups unfold out of gigantic tour buses.  They must have to be sure to reserve a tour spot to ensure they can get the information in their native language.  We feel fortunate to speak English.  
The Rosetta Stone still blows me away.  I remember it in the same spot as when I first visited here 16 years ago.  Incredible to witness the 'answer key' that first allowed scholars to decipher hieroglyphics.  The decree issued in 196 BC and written in three languages-ancient Egyptian hieroglyphs, Demotic script and Ancient Greek – gave scholars the ability to unlock the meanings of the symbols.  Kinda like discovering your sister's decoding key to her and her friends' secret code.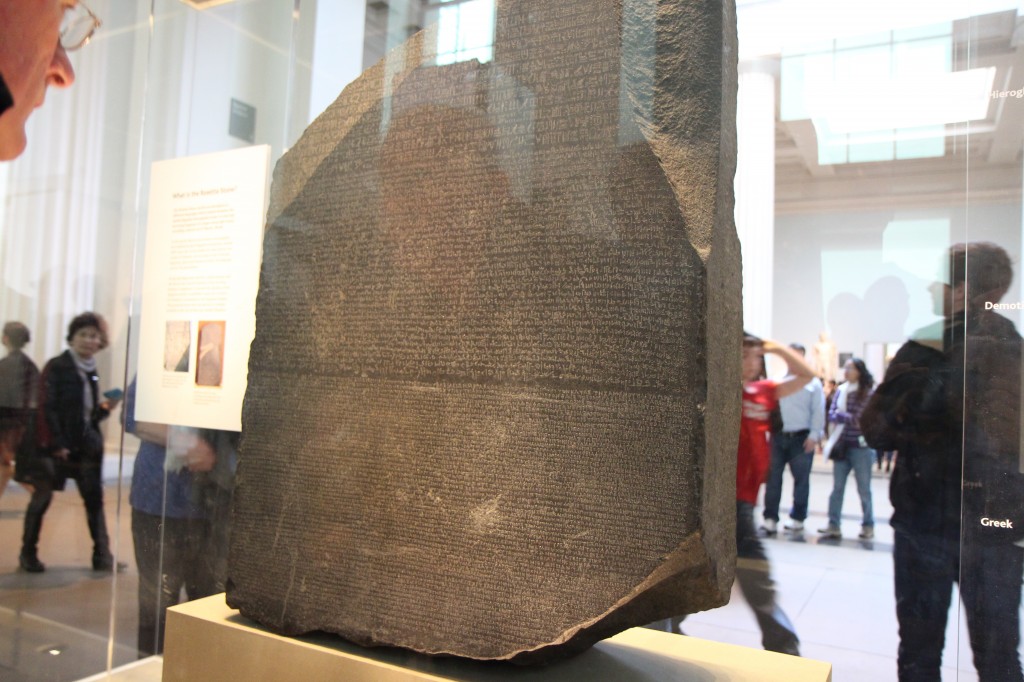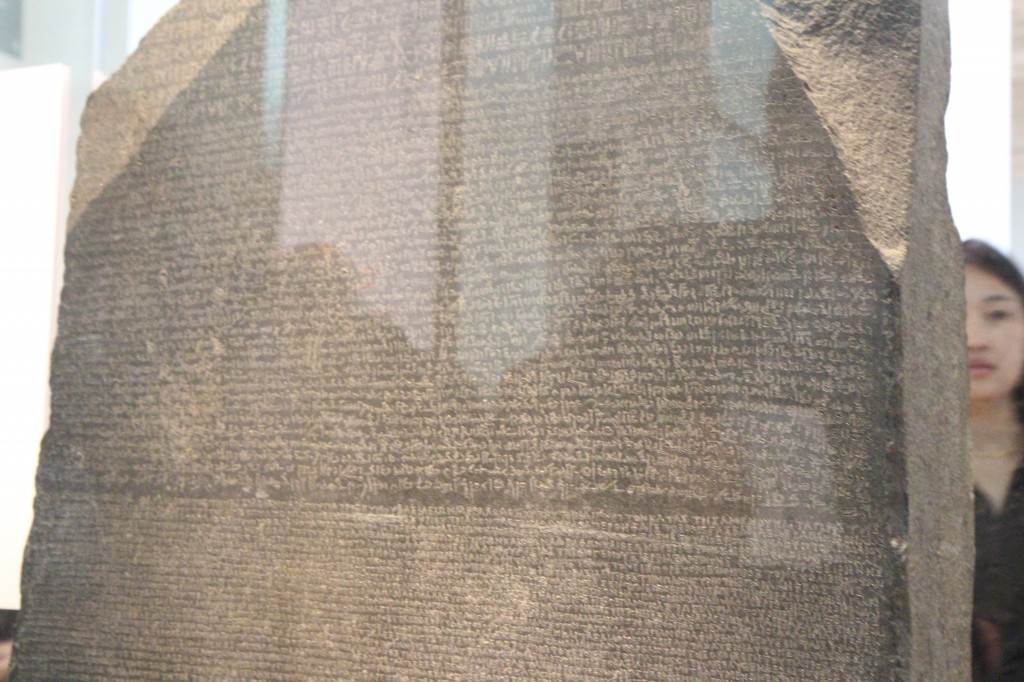 Below, just a couple of fun ones…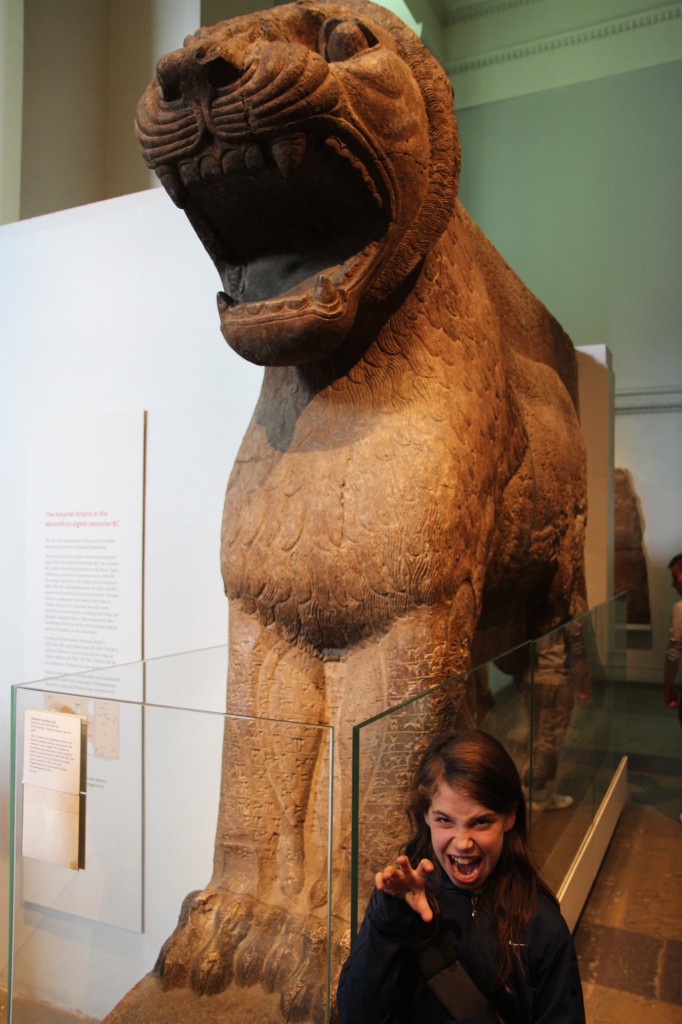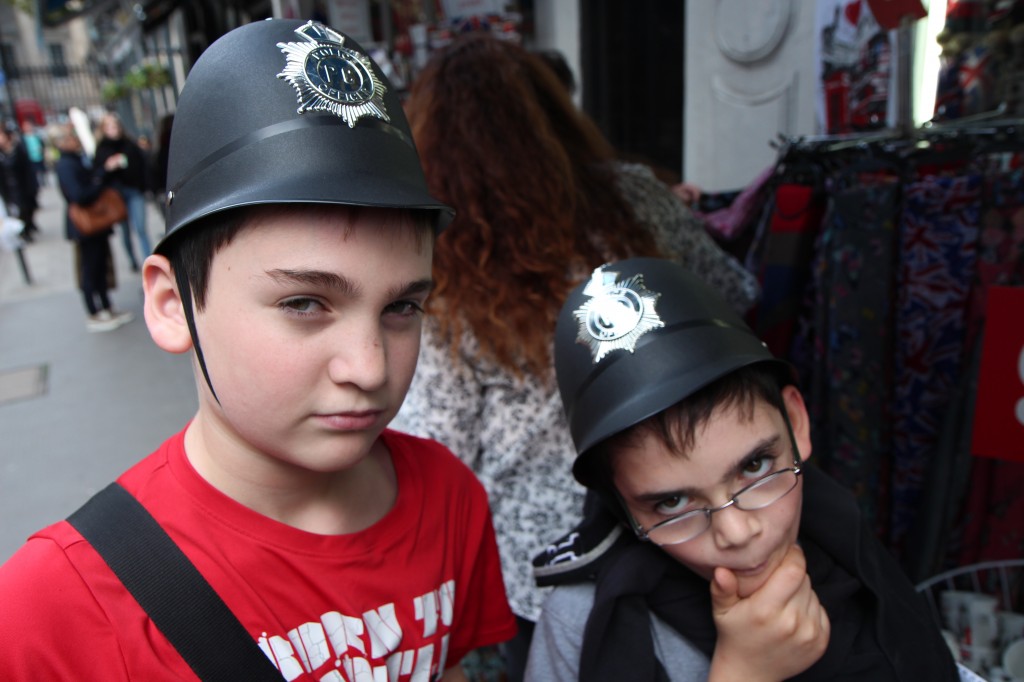 ——————————-
Please forgive the blogging gap.  We were blessed to get a few days in with our wonderful family we house sat for as they returned to France then we had several quick moves across France.  Travel days always challenge us with long hours and logistics.  Then the wildness of arriving into a Paris on edge during the most significant attack on French soil in 50 years.