We kept running into people who ask us, "how did you discover this place?"  It seems as if we hit the jackpot in this little Scottish town.  I choose to take this as an expression of surprise that we non-locals are in such a cool place and not that they're horrified that we tourists stumbled upon such goodness and how can they get us to leave sooner.  I'm sure that's how they mean it…  We did hear the same thing in that small town in Bavaria. 
Exploring the side streets, we stumble across a series of murals in a pedestrian cut-through of Robert Louis Stevenson and his grandfather, Robert Stevenson.  What?  The elder Stevenson gained fame and respect through the many lighthouses he constructed along the Scottish coast.  His grandson did so through his excellent, enduring novels.  But what is the connection to North Berwick?  As we stood there considering the mural and wondering aloud if he was from here, a man walking by overheard us, "Yes, he spent summers here and the island over there was the inspiration for Treasure Island.  Google it."  The helpful local managed all this without even slowing his gait.  We played the part of the slack-jawed, amazed tourists.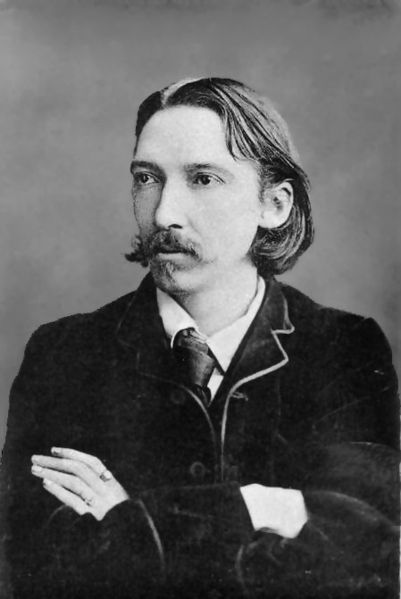 This is gold to us because in our frequent nightly readings to the small people, Treasure Island has been a memorable favorite. 
Sure enough, Google reveals Stevenson spent family holidays here.  He later traumatized his father by choosing writing over the family business of lighthouse design.  His father asked him to study law as a backup plan.  He would write that seeing the lighthouses along the coast made him think of his family and the work his grandfather and father had done.   Stevenson had a strong connection to the town and was inspired by it to write Kidnapped and Catriona.  He climbed the prominent hill—the Law—with his cousins and played smugglers and pirates in a small cave at a point near the sea.  Years later he described the town as, "A fishing village with drying nets, scolding wives, the smell of fish and seaweed and the blowing sands."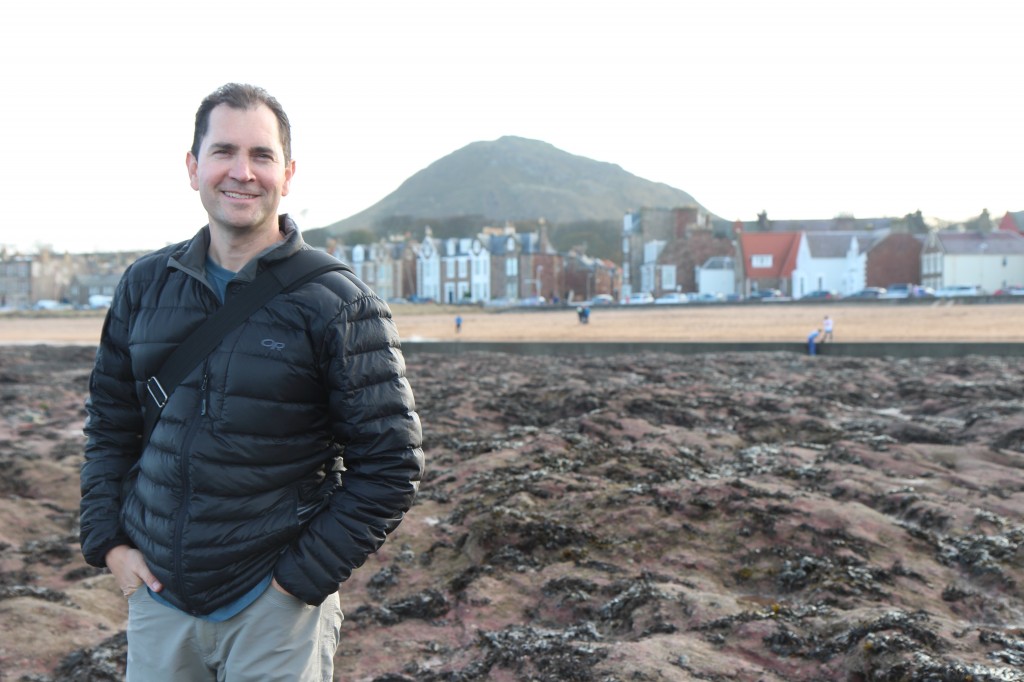 [please look past the funny-looking guy in the foreground to the beautiful Law in the background]
The train scrolls through delightful town names on the way to North Berwick from Edinburgh; Musselburgh, Wallyford, Prestonpans, Longniddry, Drem, North Berwick.  Music to my ears and almost makes you long for a wee dram and a mighty"Scotland the Brave" on the pipes. 
Can you tell one of my favorite comedies is "So I Married An Axe Murderer"?
It's hard to forget, "We have a piper down" and "Charlie tells me you're a bewcha…Do you link your own sausage?" 
Our flat above the store works well for school, and as Will's platform for launching paratroopers (and unlucky Star Wars figures) onto the street.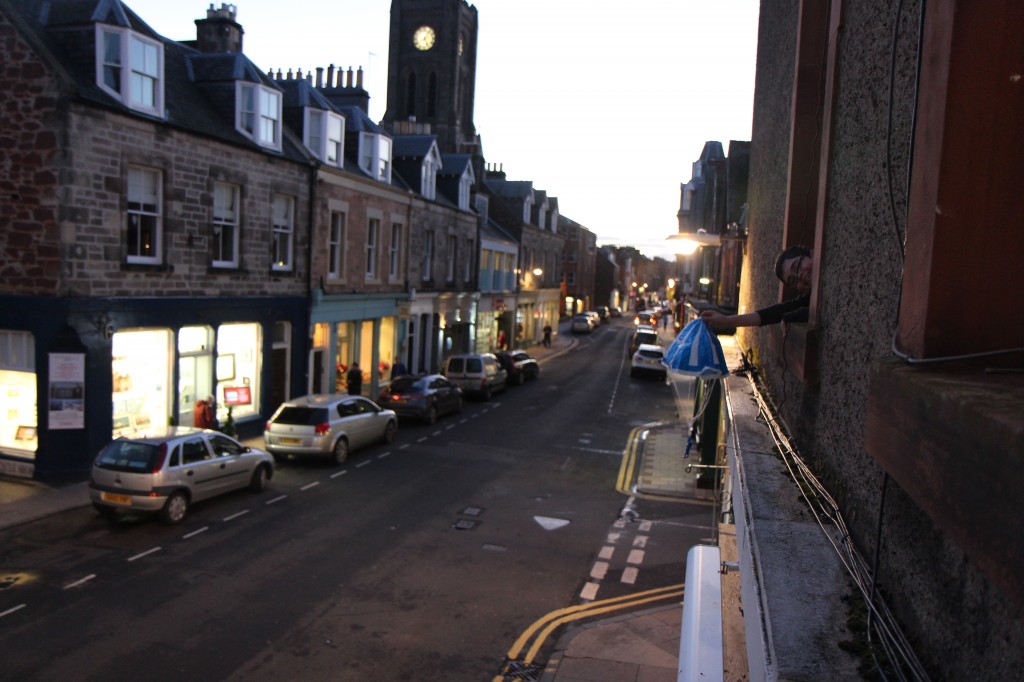 [look closely for Will holding the parachute out the window.  I hope this is not covered in the apartment's covenant's and restrictions.]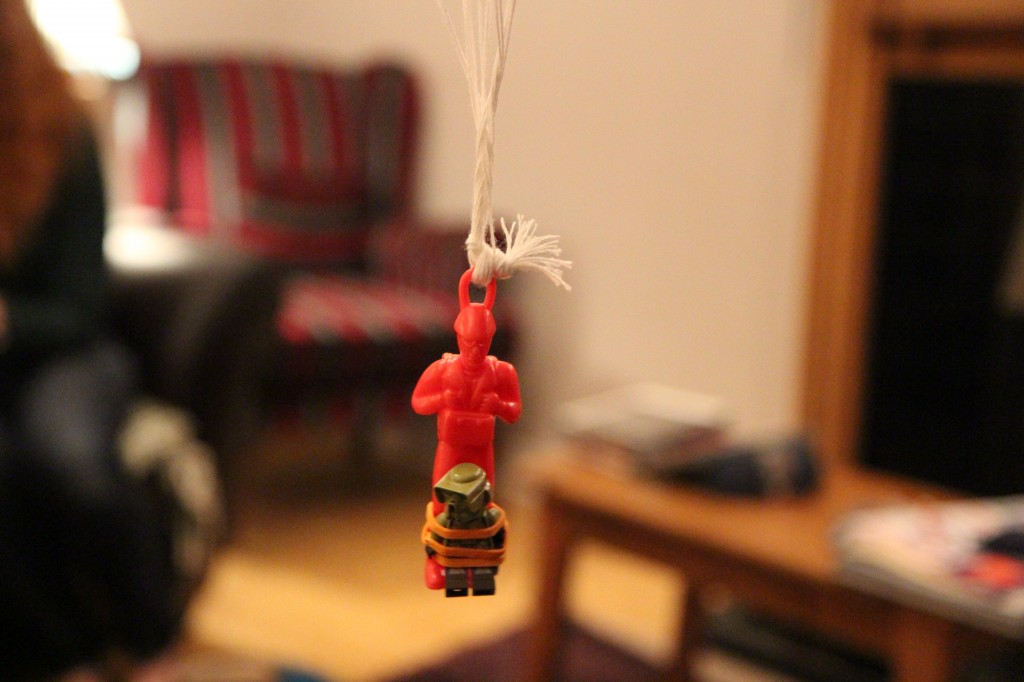 [Looks like a tiny hostage crisis]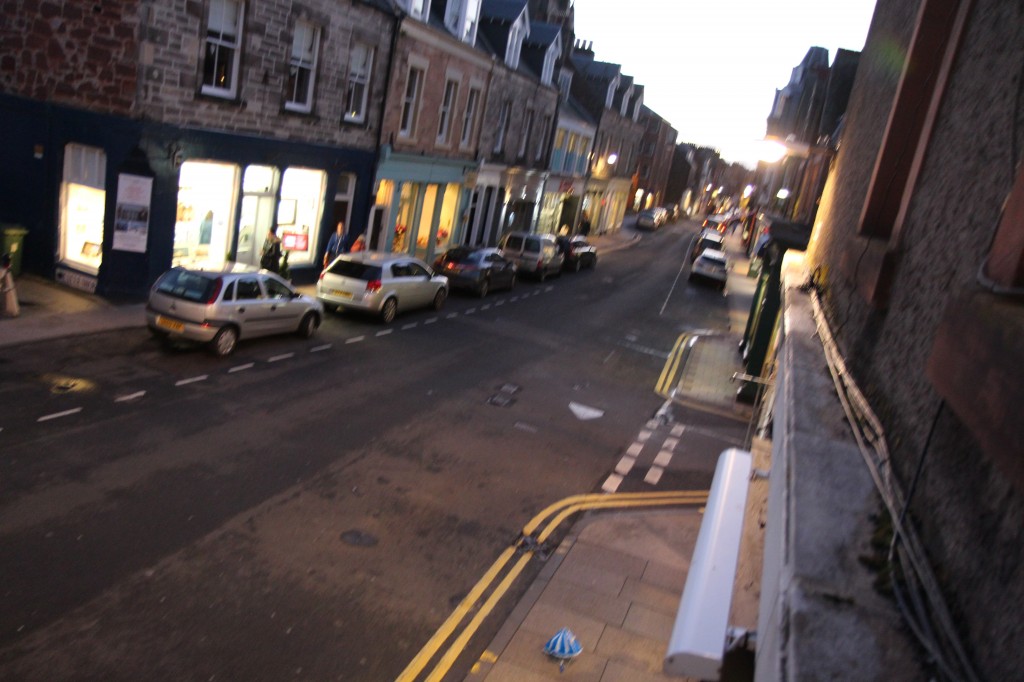 [parachute down and Will is running down the stairs to get his parachute before someone steals that valuable toy.  He was very concerned.]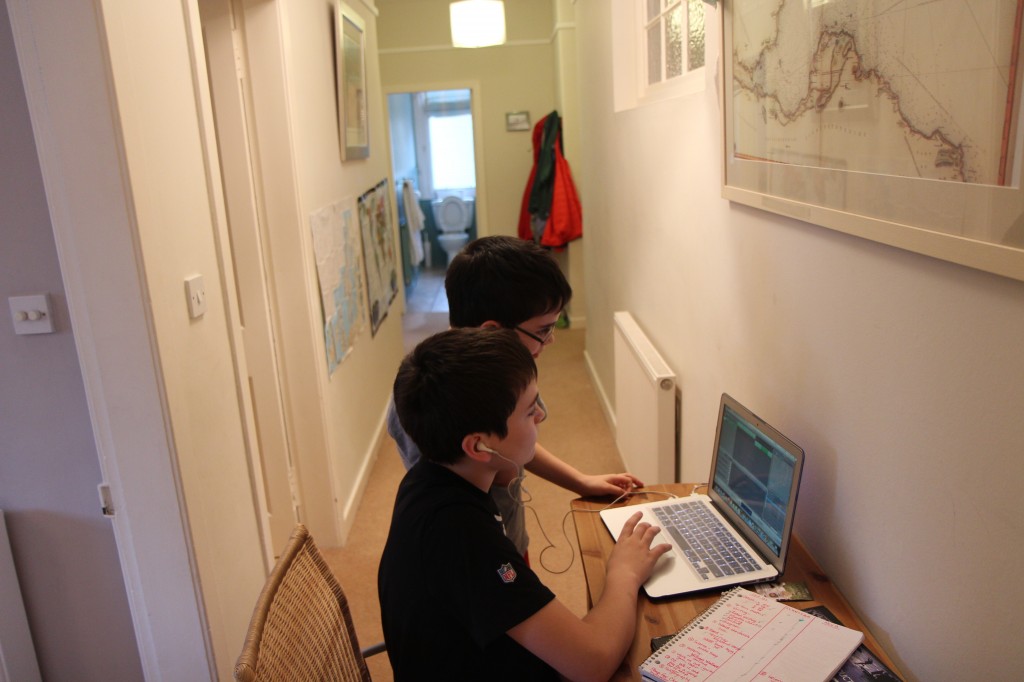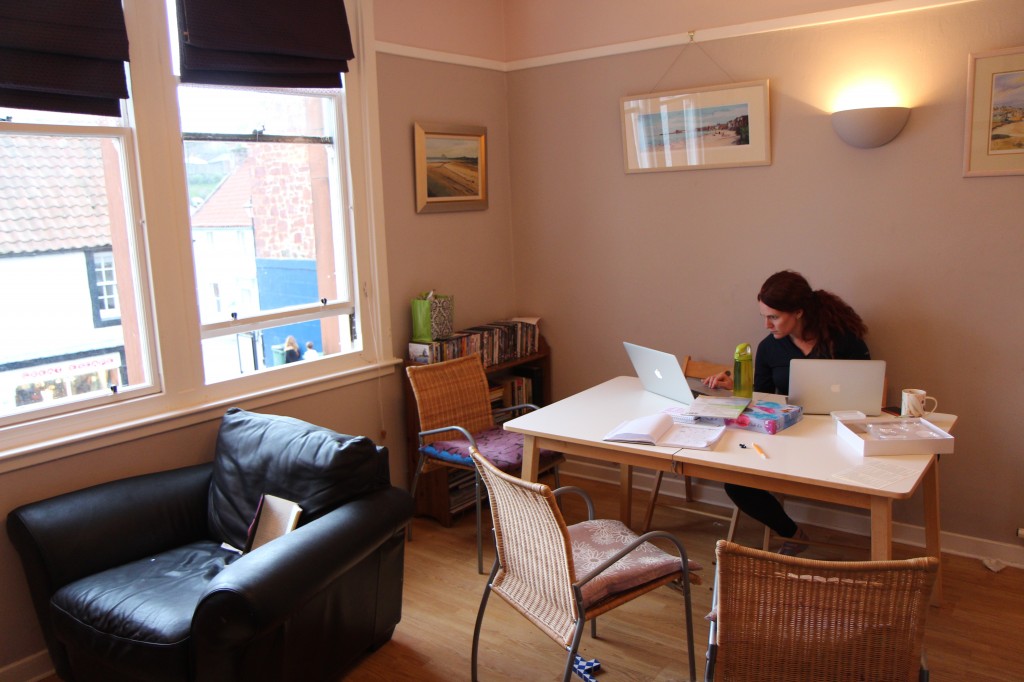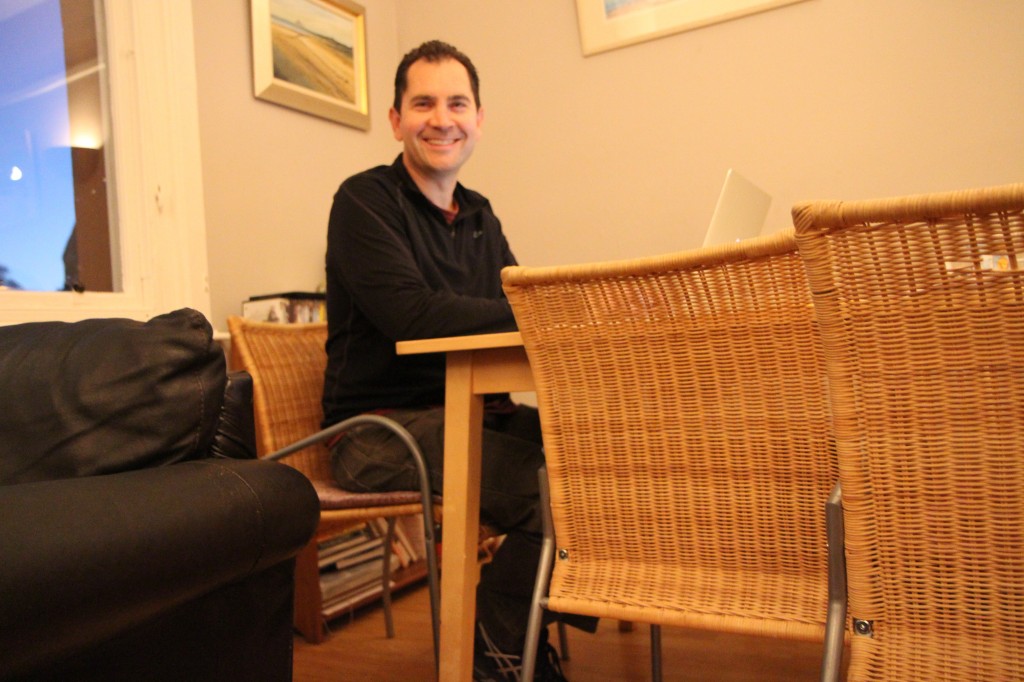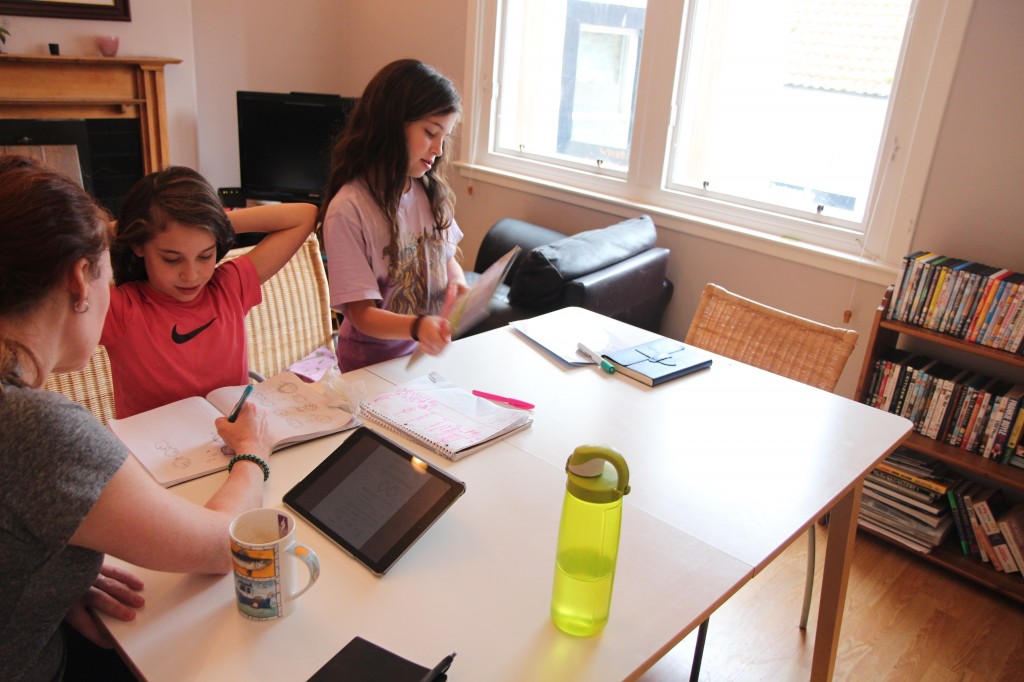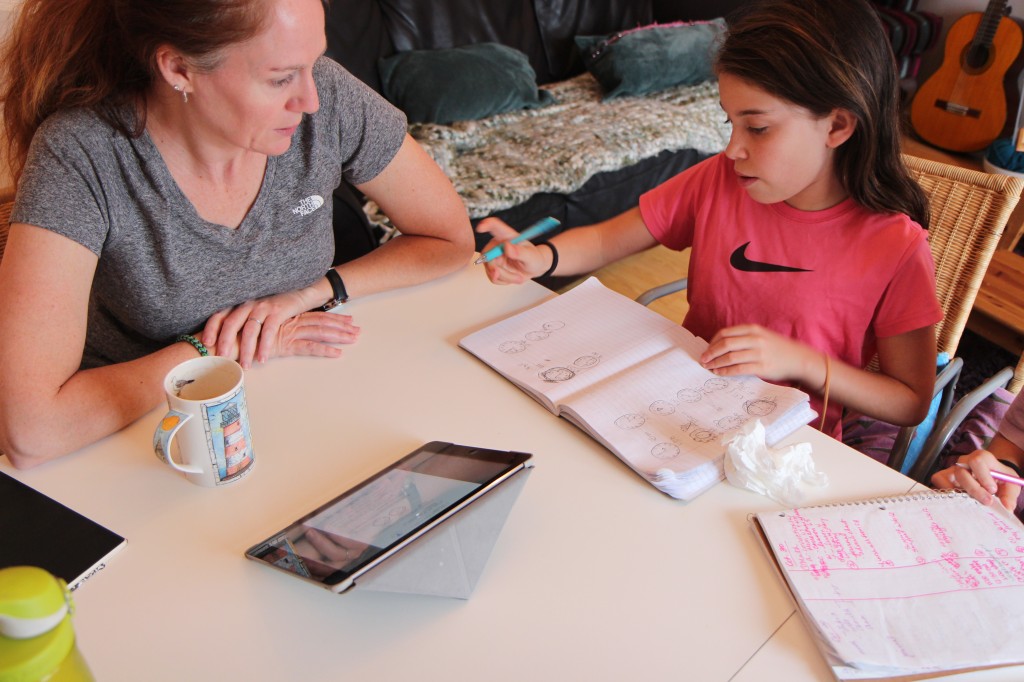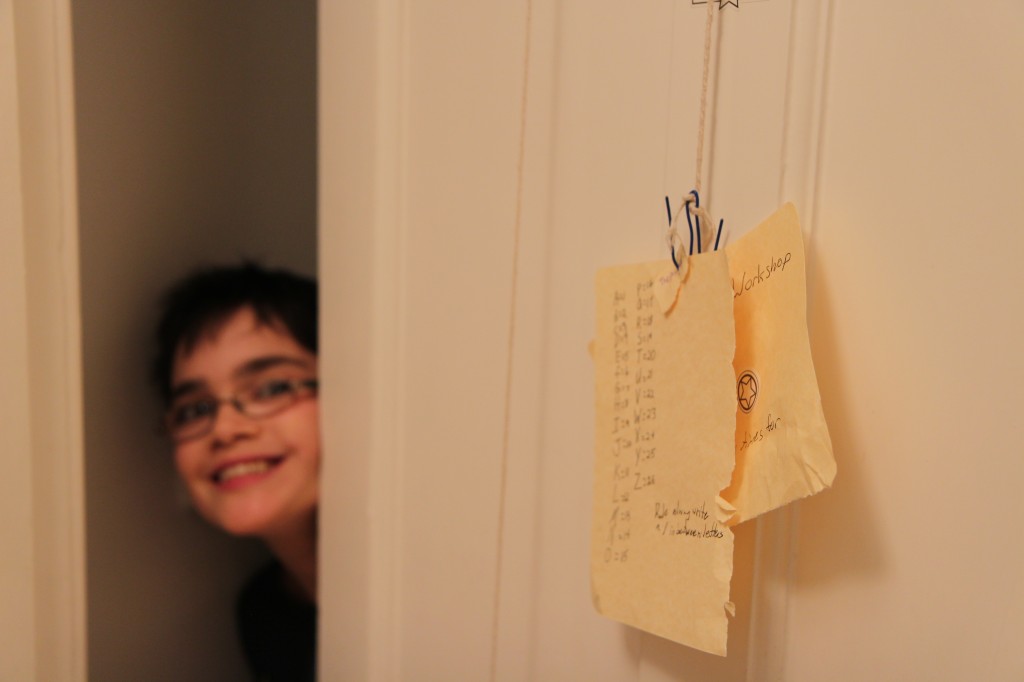 The kids' recesses consist of runs on the nearby beach and scrambling onto rocks at low tide to watch the water swirl up to their feet.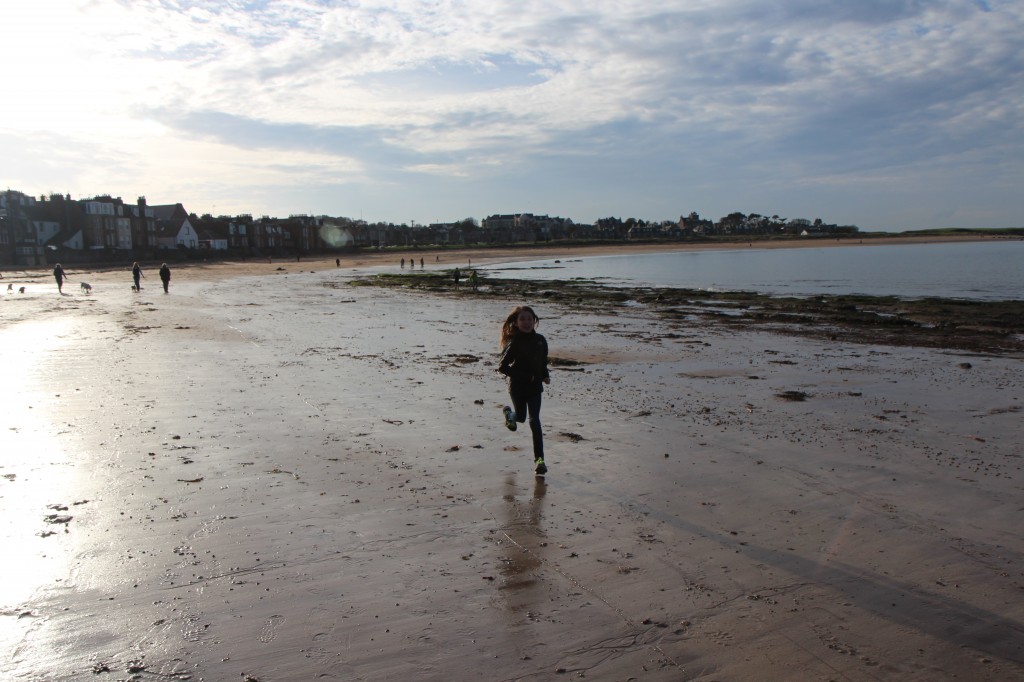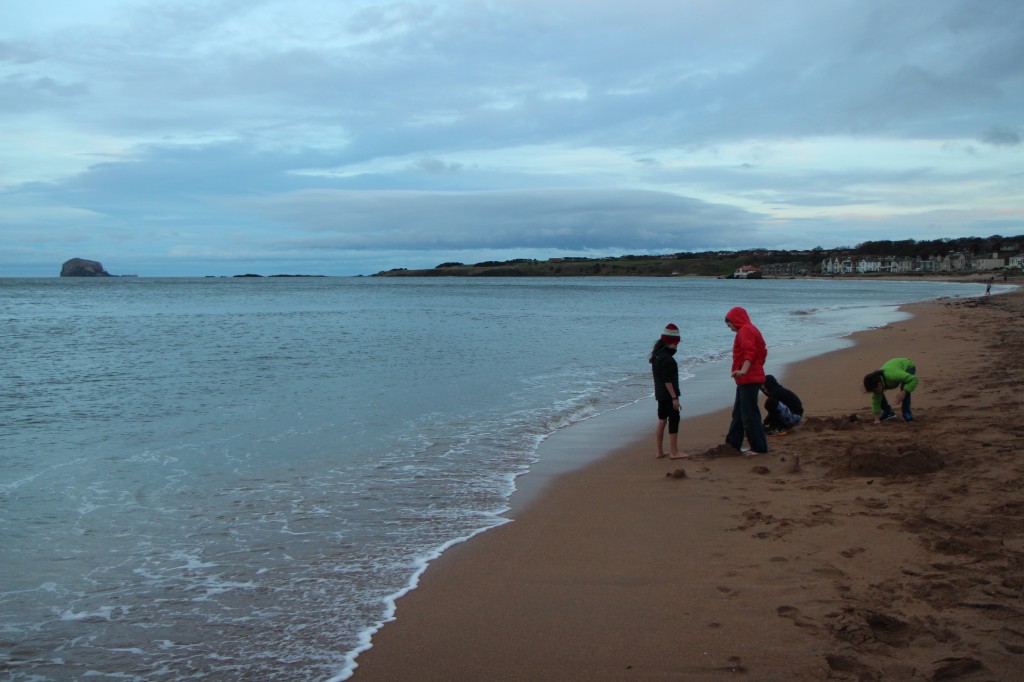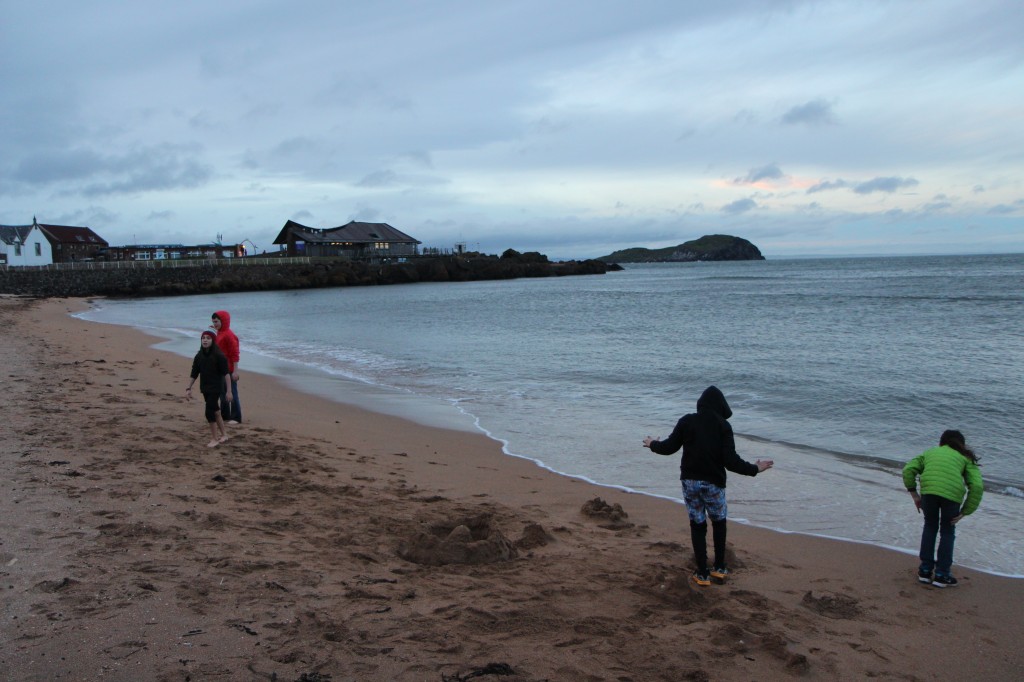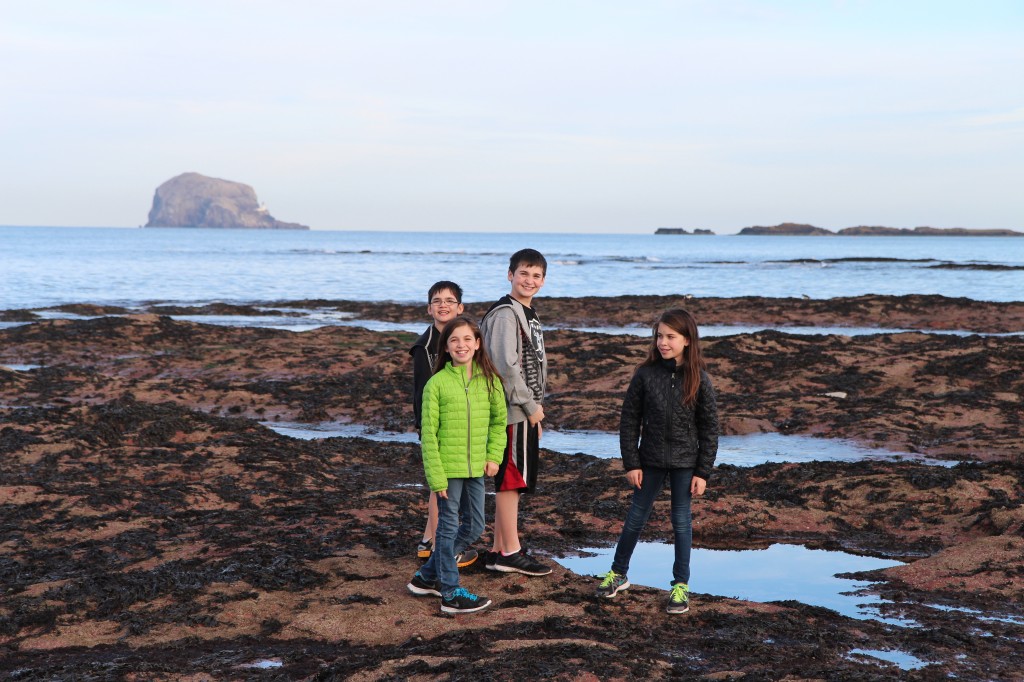 [Bass Rock in the distance]
North Berwick is positioned on a point of the Firth with beaches stretching both directions from "downtown."  The award-winning Scottish Seabird Centre holds the point and provides remote camera views of the sea lions and marine life lolling about on the rock islands off the coast.   The Centre was opened by the English royal family with many plaques to prove it.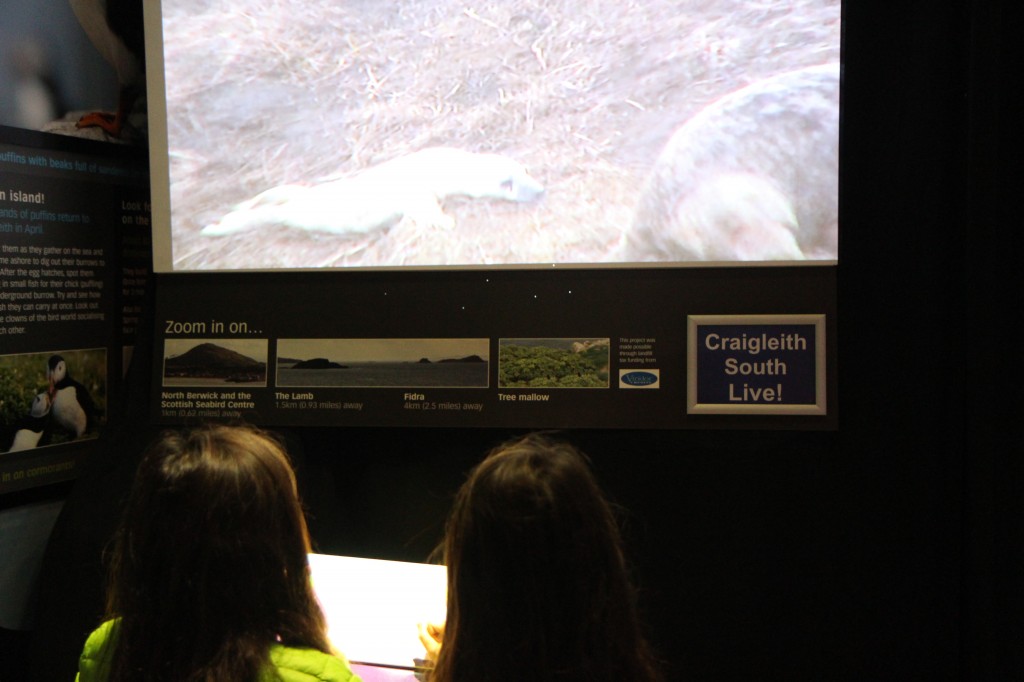 [the girls using the remote camera to watch the baby sea lion]
This Celtic cross shares the point with the Seabird Centre.  The Centre is off to the right.  The cross' inscription reads, "Erected by public subscription in memory of Catherine Watson of Glasgow aged 19 who was drowned in the east bay 27th July 1889 while rescuing a drowning boy.  The child was saved, the brave girl was taken."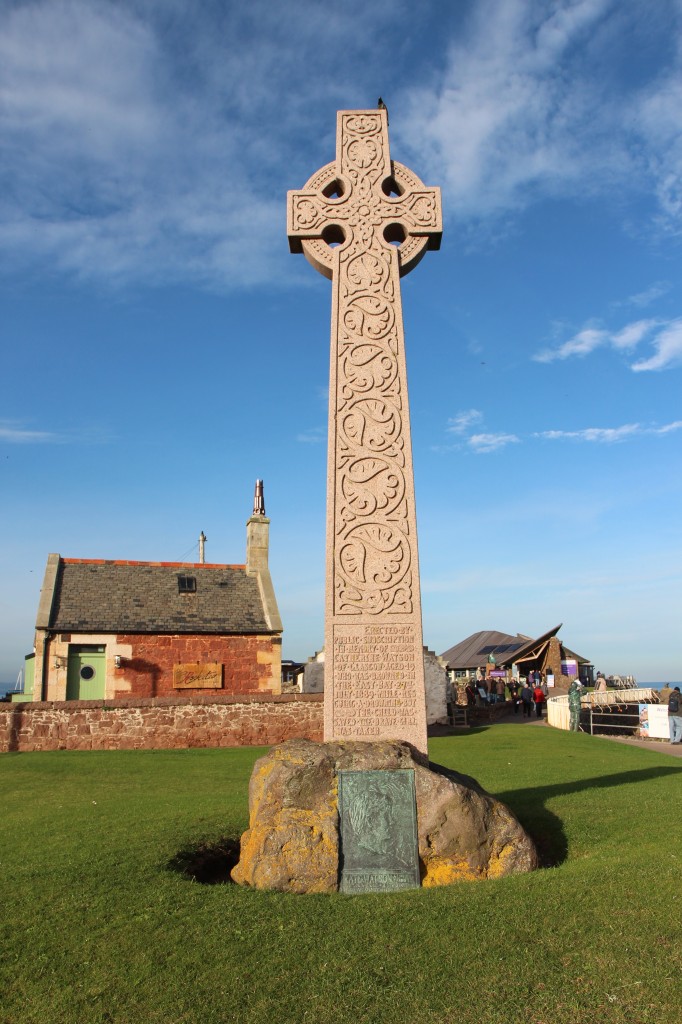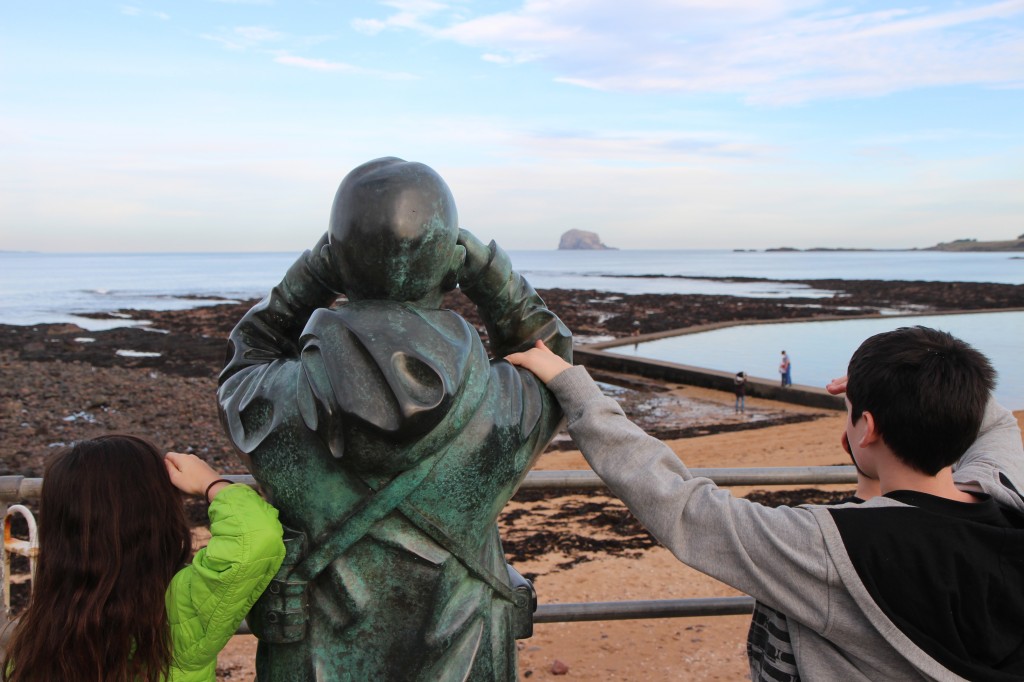 Fidra, on the town's west, is said to be the inspiration for Treasure Island.  Bass Rock stands boxy and tall on the near horizon.  Between the two are Craigleith and The Lamb. The islands are home to sea lions, rabbits, or seabirds such as puffins.  A thin cloud of seabirds wheels permanently above Bass Rock.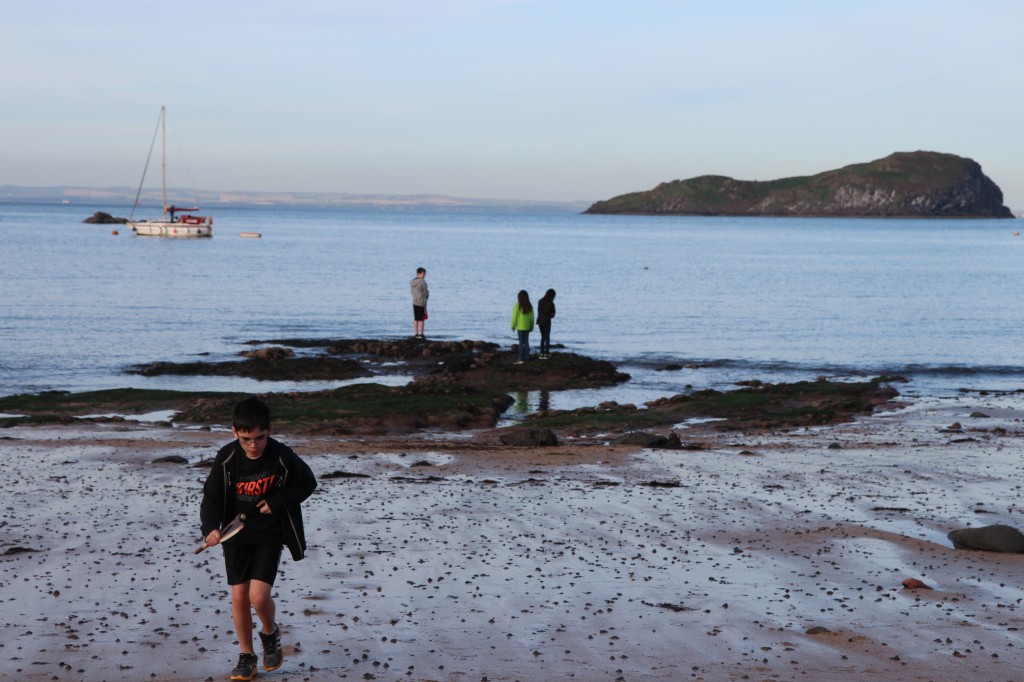 [Craigleith seemingly close enough to swim out to]
Finding a church can often be a real challenge, especially an English-speaking one.  No problem here, and it's across the street.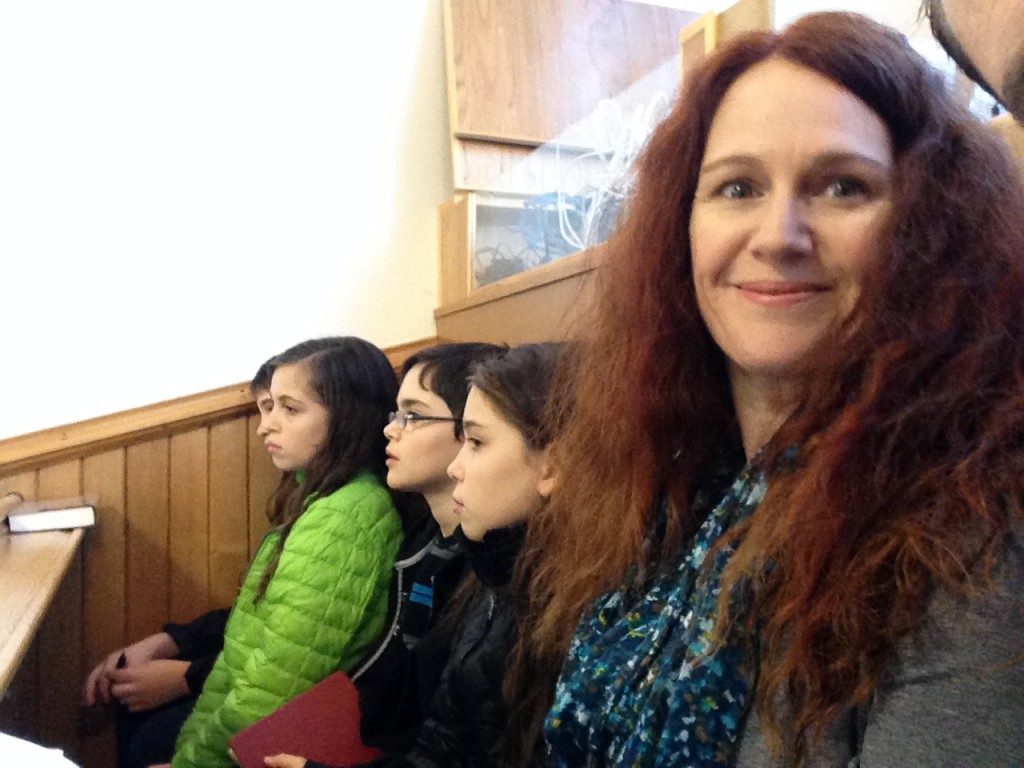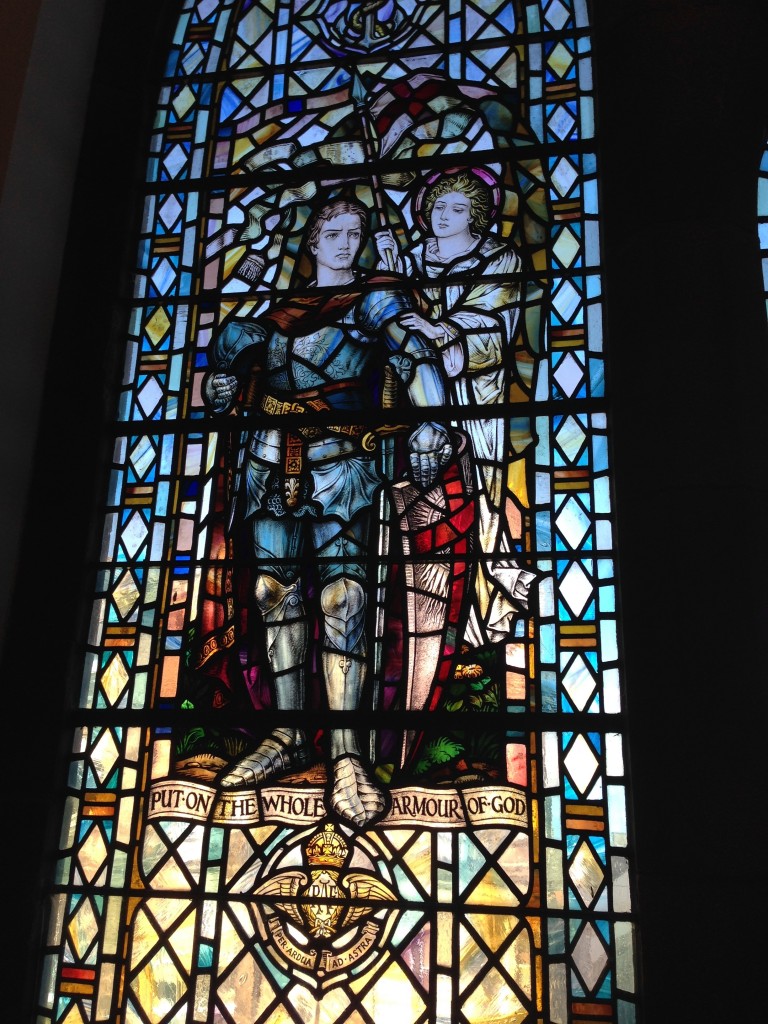 St Andrew Blackadder Parish Church of Scotland not only has a great name but is chock full of friendly people welcoming us to God's house.  We are so blessed to meet welcoming people there, such as Paul & Stacy who are an American and British family.  After spending time in Connecticut, they've found a house in North Berwick and invite us over for lunch before "Messy church".  Kids get a Bible lesson, crafts, exercises, and it all ends with a snack, of course.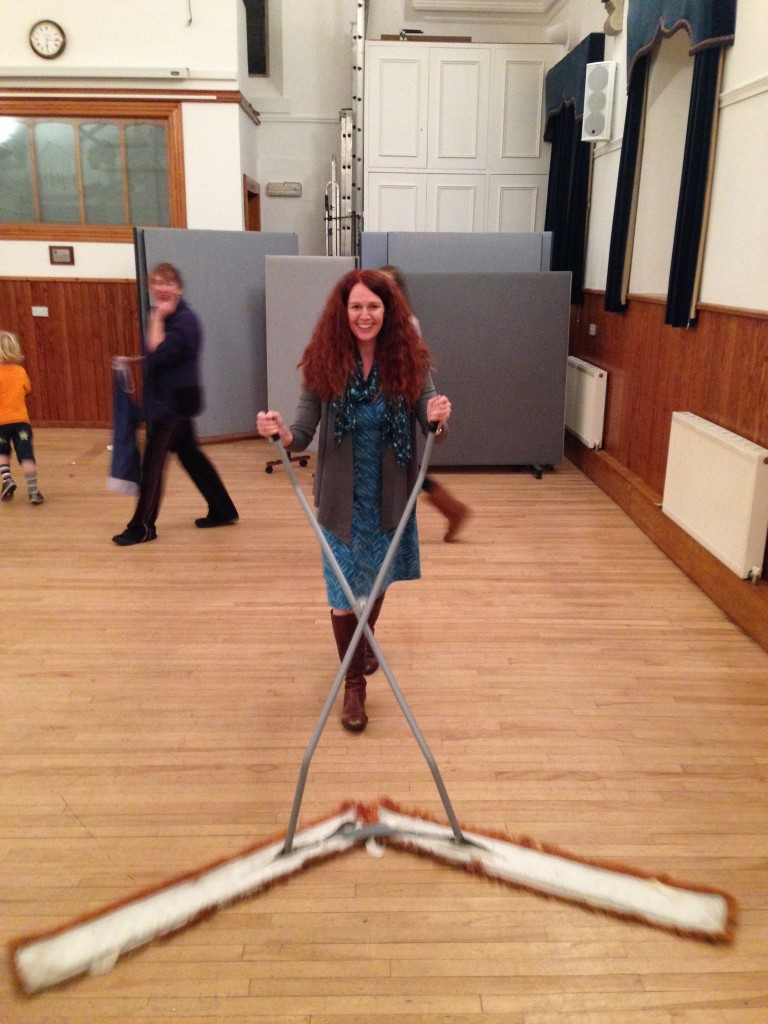 [Lisa getting it done after Messy Church]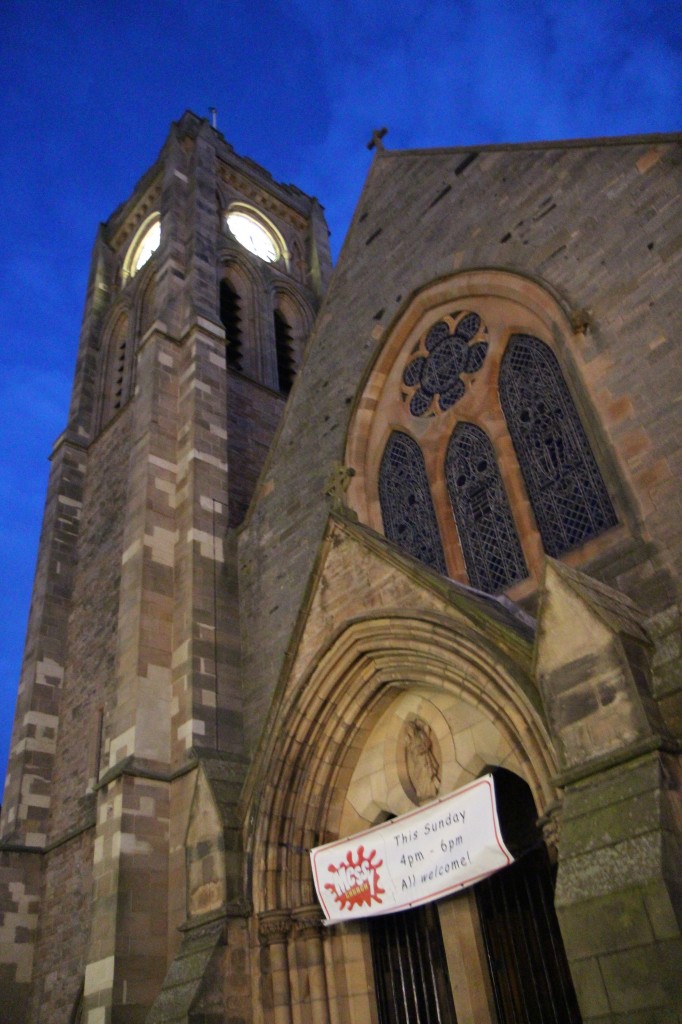 [here's the church and it's also the tower in Will's parachute picture above]
Amongst many topics, Paul and I chat at lunch of American sports, his growing up in British boarding schools, US gun control and of the inspiring ministry of the Scot Alistair Begg in America.  Paul has a brand new Weber grill and we joke that he needed a Yank family to come over and help him properly christen it.  When we tell them how we hope to get the kids to golf a bit while here, they offer to let us borrow their children's clubs.  Paul and Stacy make us want to settle down in North Berwick. 
We are simply brought close here by the people of North Berwick.  It is amazing to behold.  God blessed us here through these wonderful people. 
This is obviously a town, and a country, known for the obscure game of golf.  I know that no one has heard of it around the world… I am not much of a golfer but appreciate the beauty of the game and aspire to be a wee notch above pathetic on the course someday.  The North Berwick West Links golf course claims to be the third oldest in the world and the thirteenth oldest golf club.  It's website states, "Golf has been played over the historic West Links course since the 17th century with the Club being formed in 1832. We continue to play over the same piece of land as they did back then.  With breathtaking views of the Firth of Forth and islands of Bass Rock, Craigleith, Lamb and Fidra, as well as the town of North Berwick itself, there are few places better in the world to play golf!  A true championship links course, having hosted Final Qualifying for The Open Championship and both Gentlemen and Ladies Amateur Championships.  An excellent test of golf awaits you."
The West Links course is frequently listed within the top 100 golf courses in the world. 
We stroll through town and note blue plaques on many of the houses in town.  A closer inspection reveals that each one describes this golf course instructor to a famous club in Edinburgh or this man who designed a golf course in Detroit.  This is a town that loves its golf. 
The kids and I even come across this statue of Ben Sayers down by the West Links course.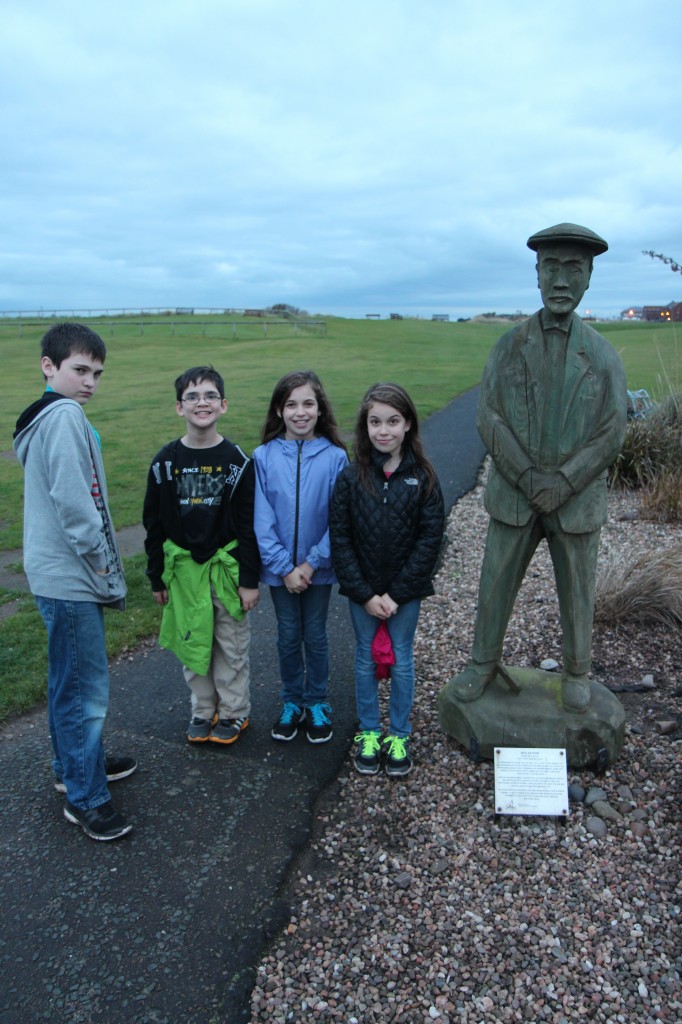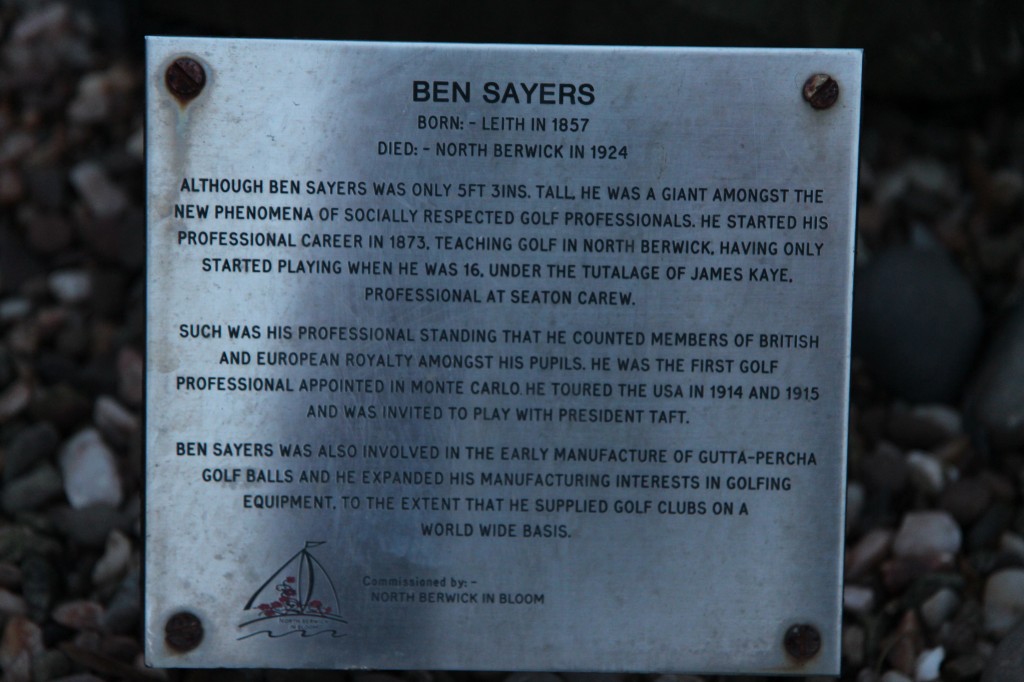 So, my rolling duffel does not contain my sweet golf clubs from the 1980s but perhaps they'd take pity on a traveller.  I sheepishly visit the pro shop with the pro's name emblazoned over the doorway.  They send me to the starter's "shack" to ask about how and when to get a tee time.  I inquire of the man behind the "shack" desk, (it's actually a nice building about 20 yards away from the shop) and he tells me that I can sign up for a tee time and that mornings are usually easier.  A round of golf is not too cheap but reasonable for such an acclaimed course.  When I tell him I don't have any golf shoes and ask if I can somehow rent a pair he pulls out a pair from a cabinet and tells me I can wear them if I'd like.  He makes it all so easy and there's none of the rarefied stuffiness you might expect at a top-notch course.  I get ready to leave and wish him a great day.  And in a line that I share with the family later and we still use on one another, he responds with a smile and a hearty Scottish brogue, "Oh, I always have a guh-RRATE deh!"
I can't help but leave with a smile for the friendliness shown an unknown tourist.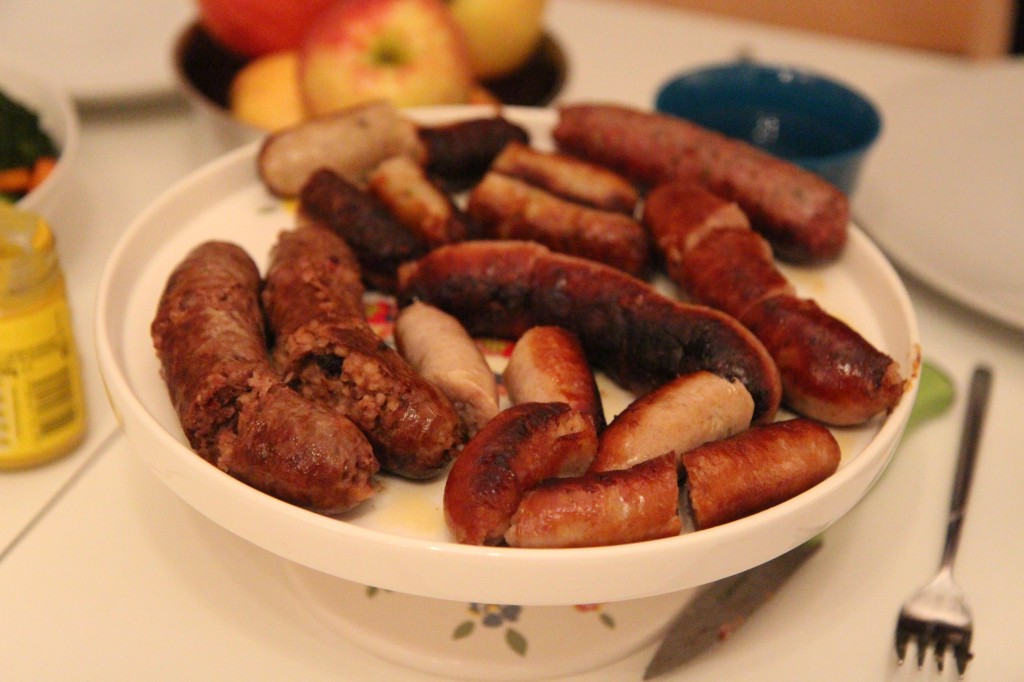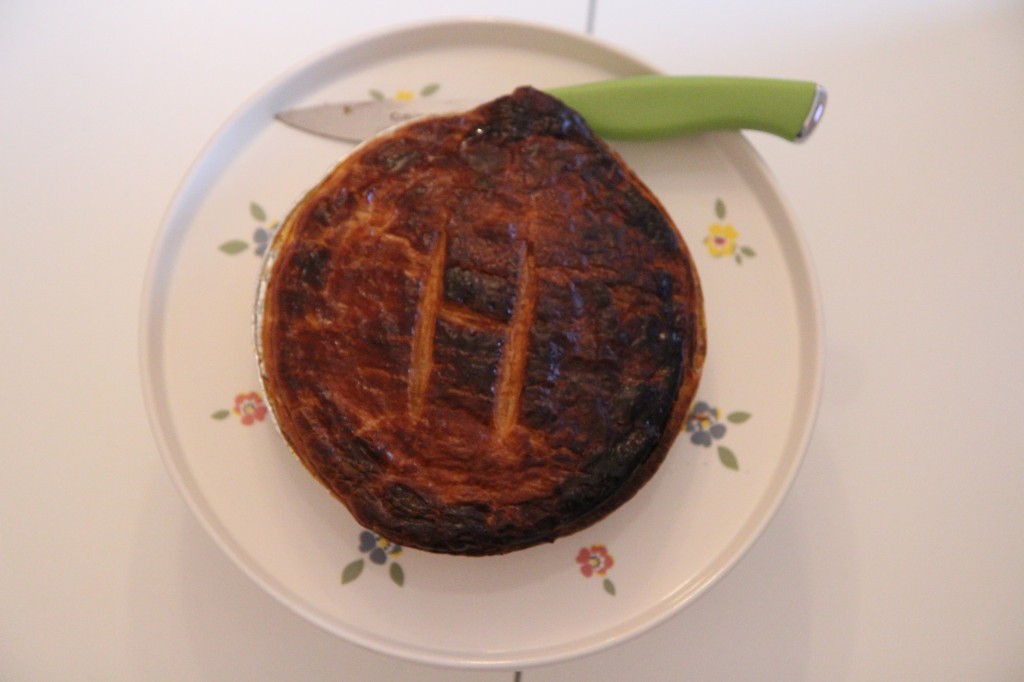 [couldn't resist a few more gratuitous cake stand shots]