If you go for a walk in Bavaria, you might end up in a soft rain.
If you end up in the soft rain, you might see a full rainbow in the mist of the sky.

If you see a rainbow, it may be just as the rain is beginning to taper off.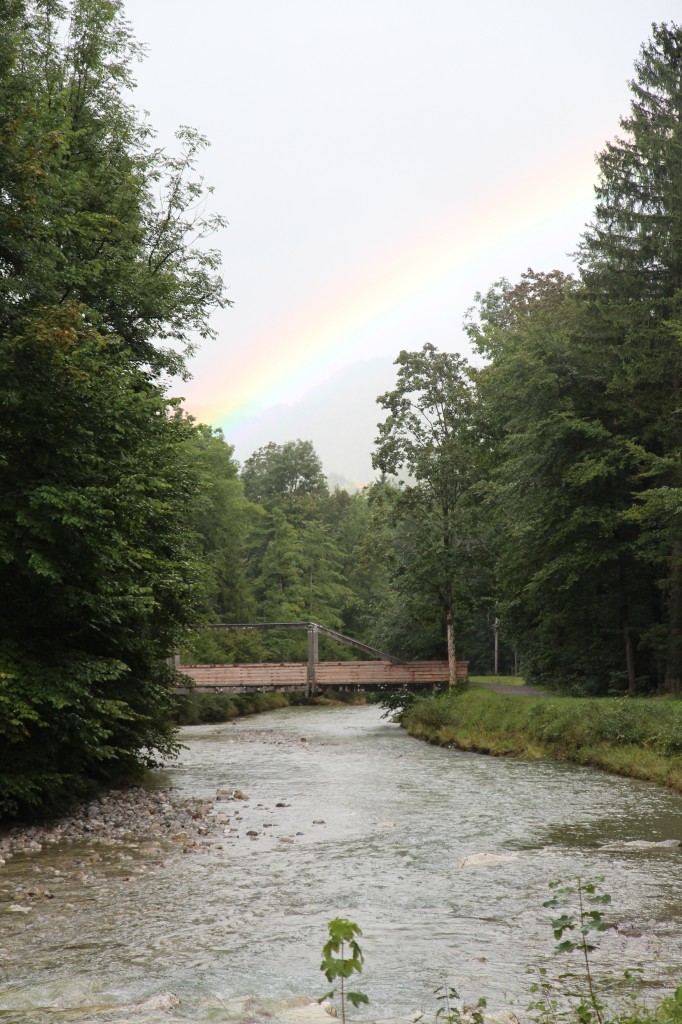 If the rain tapers off, your kids might stop to dig a new canal off the town's main creek.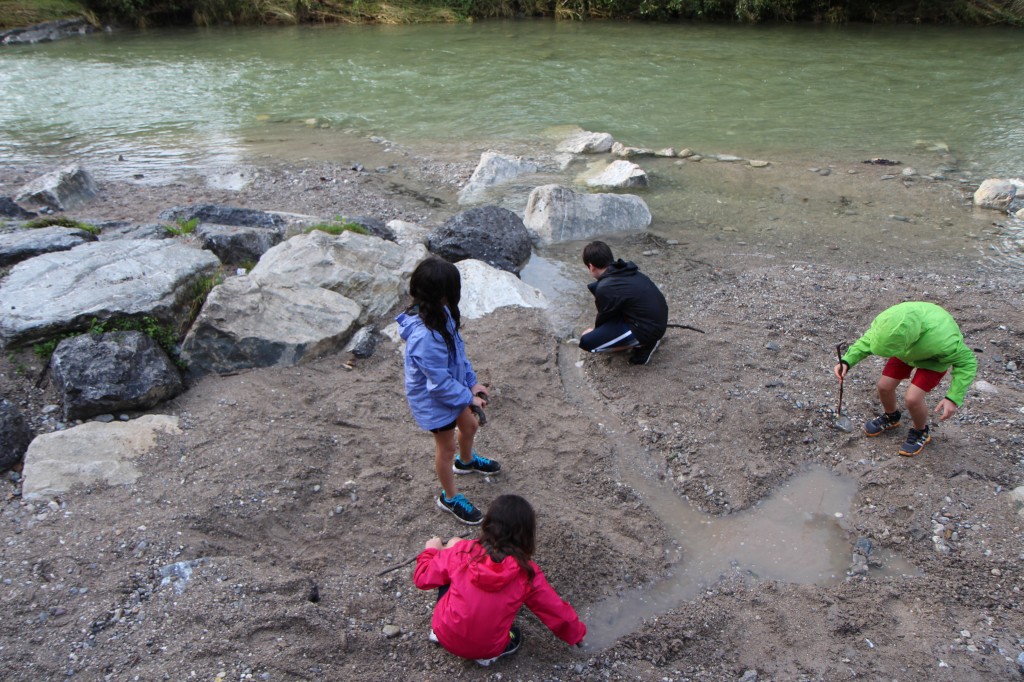 If your kids dig a canal, a dog named Tinkah might come up and sniff you and help you begin a conversation with two lovely Bavarians named Fred & Ellen.
If you meet Fred & Ellen, they may invite you for coffee at their apartment not far from the creek.
[compliments to Laura Numeroff of "If You Give a Mouse a Cookie" fame, of course]
And so we were thrilled to speak a little English with a great couple and to walk with Fred back to the apartment as the aging Tinkah rode in the car with Ellen.  They welcomed us in and broke out a lot of smiles and Apfel-Kirsch juice (Apple & Cherry).  The juice comes from a factory a few kilometers away that presses the apples they bring in from their yard.   Fred offered some to our kids and their eyes got wide when he poured a huge water-glass size cup nearly to the brim.  That first glass didn't stand a chance.  Fred broke out a second big bottle of juice and graciously bent down to pour them more.  The kids polished off that next bottle too.  I think Will had three full glasses and Luke four.  An obvious grandfather, his eyes sparkled and crinkled watching the kids devour the fresh treat and react with joy at the flavors.
Ellen set the table with cups, saucers, sugar and milk.  Then, she came out with a pan full of apple strudel.  I'll admit my mouth began to water as soon as I saw that beauty. The apples in the strudel had been picked from their tree the day prior.
All eight of us settled in at their table.  The kids practiced their manners and diligently fought their elbows' desire to hang out on the table.  Ellen brought out a teapot of tea the kids could handle and coffee for a few of us.  Before long, Luke led the way by asking where the "toiletten" was.  For some reason, the other kids had a similar interest…
Fred & Ellen showered us with openness, generosity and strudel.  We finished off that pan of Viennese apfelstrudel.  They told us about wartime family experiences and shared stories of going to East Germany after the wall came down.  They shared maps and recommendations of cheap restaurants to enjoy (they knew about larger families) in the area and lakes to explore.
We left their welcoming apartment and jaunted down the street with an extra spring in our step.  The sun was shining now.  Then we noticed both of them out on their balcony smiling at us and waving.  We waved back and shouted "Auf Wuedersehn" as one.
Our family conversation on the short walk home was full of praise for their hospitality, their warmth and their grandparently ways. The kids explained how they would one day be grandparents.  Camille would learn about and join the kids in whatever activity they enjoyed.  Luke would have a zip line in his backyard for the kids.  They asked me if I was going to be a good grandpa. I sure hoped so.

In my heart, I held more words unspoken.  I am no longer as comfortable with bold pronouncements of far-off tomorrows.  I don't know if it is the diagnosis of two years ago that adds weight to my thoughts sometimes. Or the hospital walls that held me for a time.  Or simply that years have passed.  I now realize my previous thought-life rested on a foundation of insidious assumptions and easy-going entitlements. I want to guard my heart from meandering back to that place.  I know that I desperately want to be one half of a happily married couple and a grandfather someday.  But I am grateful today to be made newly aware of who holds the answers to my future. I do not want to presume upon His many blessings and his gracious provision while it is called Today.
These days, I endeavor to stay in the "now" more than I did.  It is a constant returning to Today from the thoughts and fears that cloud the future.  I try to count the cost of my decisions, but I feel the sun on my face with a greater intensity these days.  I run from the rain less.  I know that today the Son has risen.  By its light – by His light – I can see today's steps before me. It is more than enough.  I have seen the smallest iota of the goodness of His promises, I remind myself to trust in Him and to not lean on my own understanding.
I know I need forgiveness for my recklessly wandering thoughts and my greedy heart.   Help me to see the beauty before me today.  The rainbow in the misty sky is a promise. The trees breathe life.  Generous people surround me. The rushing river pours itself out and yet it keeps being renewed.  I can stand on his promises.  He came to give us life, and life abundant.  Surely, the best is yet to come.