8 Aug
All you have to do is join the military, accept the risk of getting stranded enroute and the flight's free!
[please forgive the tardy post as we are working through wi-fi access challenges]
The military space-available ("space-A") travel system allows military members (and retirees) and their immediate family to fly free on military aircraft that have extra seats.  If you are active duty, you can sign up as soon as you are on leave.  Then, show up for roll call prior to the flight.  Roll call is a published "show-up" time that occurs anywhere from 2.5 to 4 hours prior to departure.  You must show up at the passenger terminal prior to roll call to have your leave paperwork, military ID cards (for kids 10 and over) and passports checked. At roll call, pax terminal personnel call out the names of who made the cut for the flight.  The list is adjudicated based on what categories travelers are in and the date they signed up for travel.  For instance, a family member returning to Europe to rejoin their military spouse would be in a higher travel category than a military retiree.  When kids are out of school, the demand for space-A flights explodes and many "signed-up" travelers are left without a seat in this game of musical chairs.  If you are manifested onto the flight, you still run the risk of a maintenance issue canceling the flight completely or a maintenance or weather issue causing an in-air divert.  You also run this risk with an airline but the difference is that the US military does not owe a space-A traveler any transportation to their actual destination.  Any subsequent flights will require your action.  Overall, space-A travel is not quite equivalent to the contract one has with an airline ticket but it is a fantastic benefit.
Some aircraft types are more reliable or passenger-friendly than others.  Many aircraft have web seating along the sides of the aircraft (read "uncomfortable" for long flights) or have airline seats similar to what you'd find on a domestic airline.  Some have cruising speeds superior to airliners but others are famously unreliable due to maintenance issues.  Amongst many other types of aircraft, are C-21 Learjets and Army C-12s (King Air aircraft).  Propeller-driven C-130s are sometimes available but require several stops to get to further destinations.  I flew on a C-130 as a cadet and remember a red vertical line inside the cabin illustrating where propeller blade fragments would enter the aircraft during a materiel failure.  Far more prevalent are the KC-135s, KC-10s, C-17s and C-5s.  "Patriot Express" rotators are contract carrier aircraft that depart out of places like BWI airport in Maryland.  The Air Force's Air Mobility Command (AMC) even has its own terminal gate at BWI.  Companies, such as Atlas Air or World Airways, compete for the government contract to carry troops throughout the world.
A wonderful resource to explain the ins and outs of space-A travel is www.spacea.net.


Our family's hope was to maximize our chances of getting a flight by targeting four different East Coast bases—BWI in MD, McGuire in NJ, Andrews in MD and Dover in DE.  We also signed up at a dozen American and European bases in case of contingencies.  The travel schedule is published only 72 hours out.
As early August arrived, we watched carefully for those flights that would be easy to access with rental car return and allow us to arrive in time for our August 9th reservations in Bavaria.  McGuire had two flights on August 8th so we set our sights on that date.  The first flight of the evening was on a C-5, which is famously unreliable.  It is one of the largest aircraft in the world and can carry truly outsized cargo.  Passengers fly in the windowless "upper deck" above the cargo in airline-style seats facing backward.  I write "airline style" because the seats appear to be 1960s-era airline rejects…
On August 8th, we packed our duffels and backpacks at the Witkops' beautiful home.  Frantic searches for a Kindle, boy shoes, jackets, and a T-shirt turned up their respective subjects and a pair of dirty socks in a bookshelf to boot.  We took some photos then loaded up in the rental van.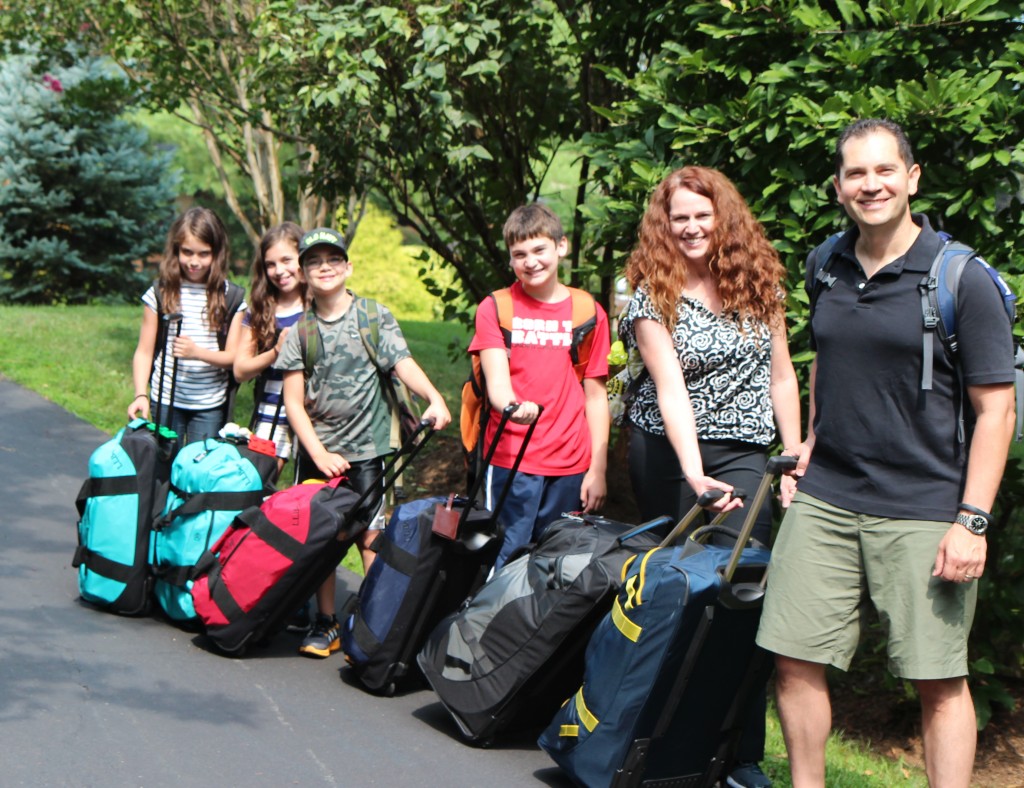 Three different traffic jams on I-95 cut deeply into our planned buffer in NJ.  We finally arrived at the Enterprise location outside McGuire and were grateful for a ride to the pax terminal.  We were fortunate to be the first ones called at roll call as we'd signed up weeks prior and our passports and IDs were checked again.  Our wonderful friends, the Simonsens, picked us up and graciously fed us a quick dinner.  We got just a few minutes with our dear friends, the Prices.  Both families were so kind to look out for us and deliver us back to security.  Our travel documents were checked one last time and we entered the gate area.  Our kids immediately began searching for pre-flight power outlets for their Kindles.
We loaded into one of the two buses that delivered all 73 space-A travelers to that behemoth sitting on that ramp. The passengers were nearly all young families. The C-5 was operated by the West Virginia Air National Guard and at least two loadmasters proudly displayed their WV ball caps.
As a passenger, you board the C-5's "top floor" troop compartment via the longest air stairs walkup you've ever seen.   From the airstairs, we observed the pilots returning to the aircraft with several Papa John's pizzas for the crew.  The troop compartment looks like it was taken from a Soviet-era warship.  Lisa termed its aroma as being "old gym".  Perhaps Old Spice is taking notes for their next men's grooming product.   Loud, motorized sounds were likely related to the stabilizer repositioning, the flaps being set, the APU (auxiliary power unit that supplies aircraft power prior to engine operation) operating and who knows what else.  Lisa looked to be wondering if she should be very concerned or mildly terrified.  With its maintenance reputation, I'll admit to being somewhat dubious we would actually takeoff.  The loadmasters provided the requisite safety briefs including descriptions of both emergency oxygen systems.  But we taxied out smoothly and took off with no issues.  We were on our way!
Soon after takeoff, the loadmasters turned the lights down low, made sure the cabin was warm and the passengers settled in for the short night of an eastbound crossing.  Sleeping bags and loveys were quickly deployed by many families.  We kept our earplugs in due to the deafening engine noise inside the aircraft.  You had to lean within a few inches of someone's ear to be heard.  Water was available in huge, plastic jugs tied to a metal railing. To fill your water bottle you stood on a large, metal grate suspended over the cargo floor some twenty feet below.   The kids slept well.  Lisa and I slept the best we could.  A few hours into the flight, the aircraft began to increasingly rumble.  The aircraft began to moderately pitch up and down due to turbulence and the loadmasters shouted for people to "buckle up".  I was distinctly aware that we had our whole family tucked along the spine of this beast over the dark North Atlantic.  I'd experienced the feeling of remoteness over the ocean many times before but it had been barely a passing thought when I'd been a member of the crew and had radar and weather information at my fingertips.  The underlying uneasiness made me think of the intrepid crews and passengers that crossed the Atlantic by ship over the centuries.  I found myself praying that we'd find our way safely through these thunderstorms and make our destination of Ramstein Air Base without a divert.  Ramstein is just outside Kaiserslautern and about 90 minutes southwest of Frankfurt.
After a total flight duration of about 8.5 hours, we landed safely and exited the aircraft to enjoy the cool, fresh air of Germany on our faces.  The horizon was studded with rolling, tree-covered hills and the sky held grey and white clouds.
It was a gorgeous day to be in Germany and we were so grateful for the free flight!