Forget Spring in Paris, Portland is Glorious!
Are you surprised to hear that we're writing from Portland, Oregon? We are. Gladly, we will share with you the days in between, but first we must recount for you some present blessings.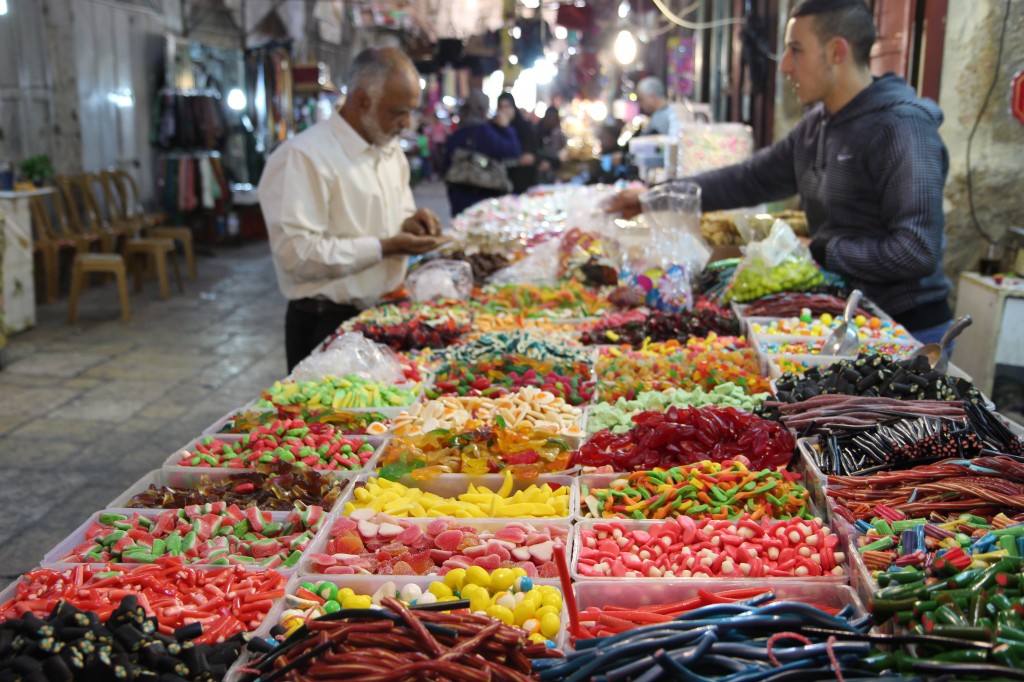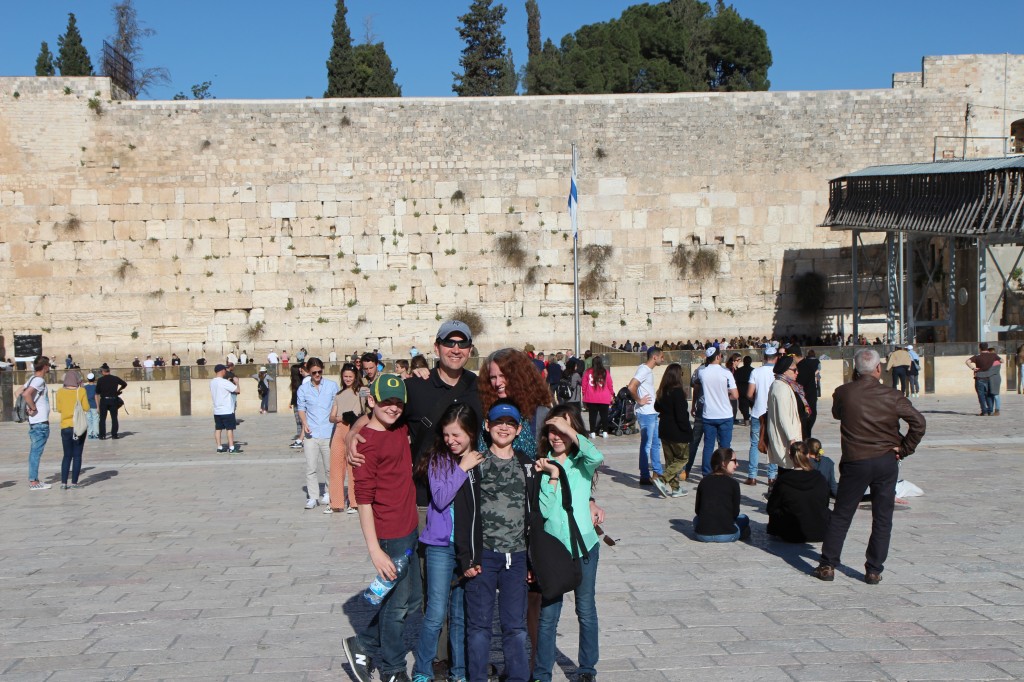 [Jerusalem Old City and Western Wall]
On April 1, we were in Jerusalem when the bloodwork results revealed numbers where there should not have been numbers.  My adrenaline rushed through my body as even I could tell this wasn't what I'd hoped to see.  It was the kind of heart pounding you get moments after swerving to narrowly avoid a highway collision.  We spoke with our NJ multiple myeloma specialist at midnight Israel time and he encouraged us to return to the States for treatment. He asked if travel was the priority, we responded that Brent's health was the priority. The remission that we enjoyed had come to an end and Brent needed treatment soonish. Now became the time to enjoy a new season, but we had to adjust our plans and expectations.
As we celebrated Holy Week in Israel, we wrestled with disappointment that the grand adventure was changing drastically.  Part of us was dazed at the head-spinning change of direction and another part determined to relish the Holy City before we left.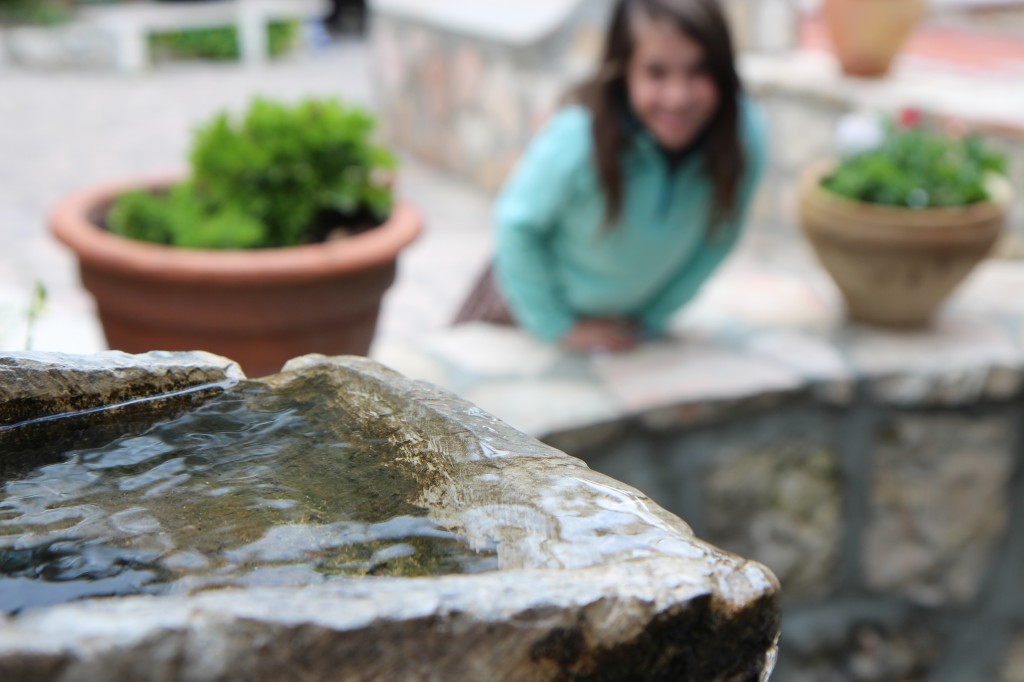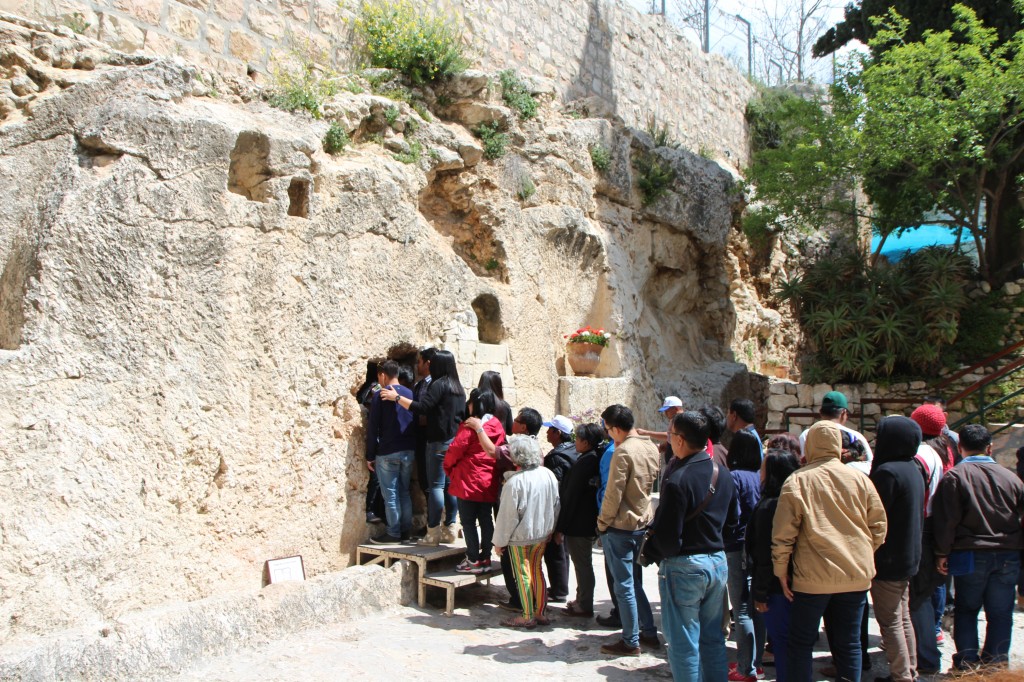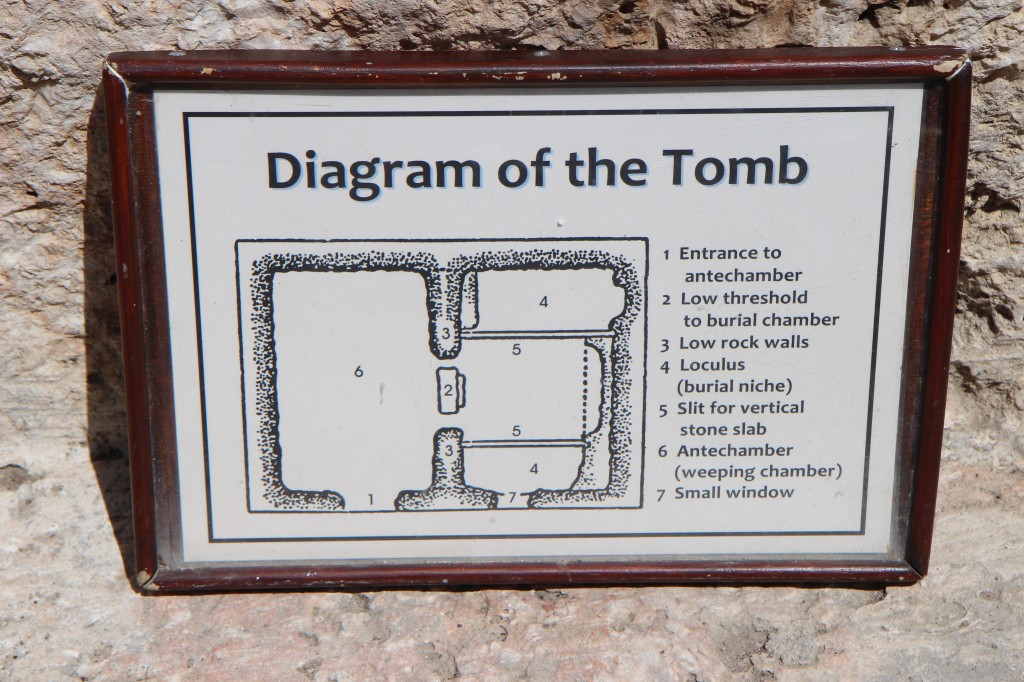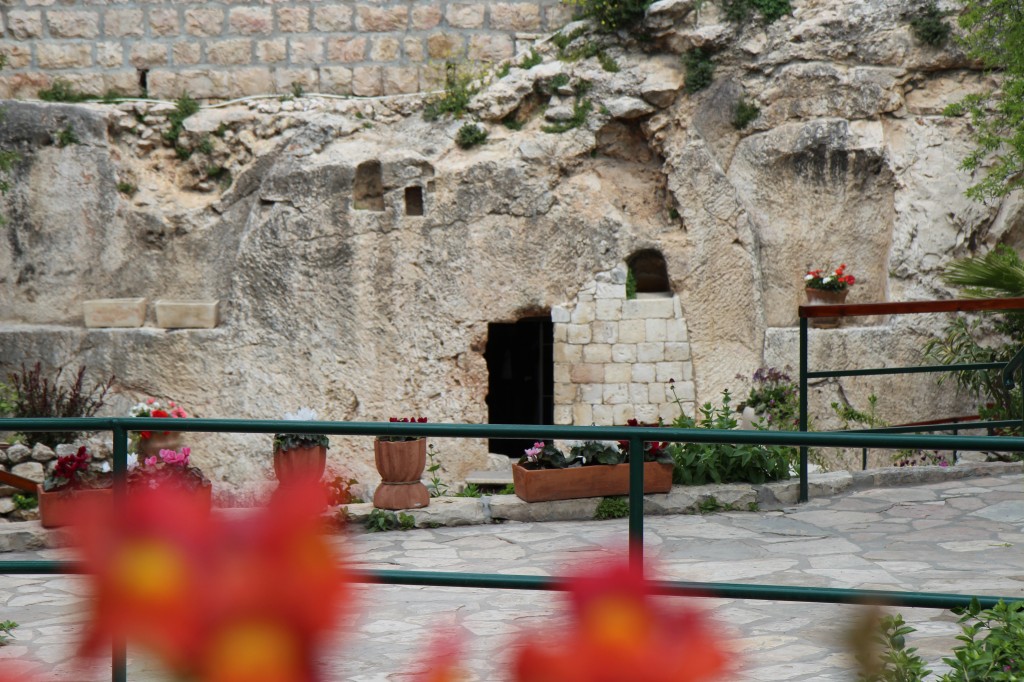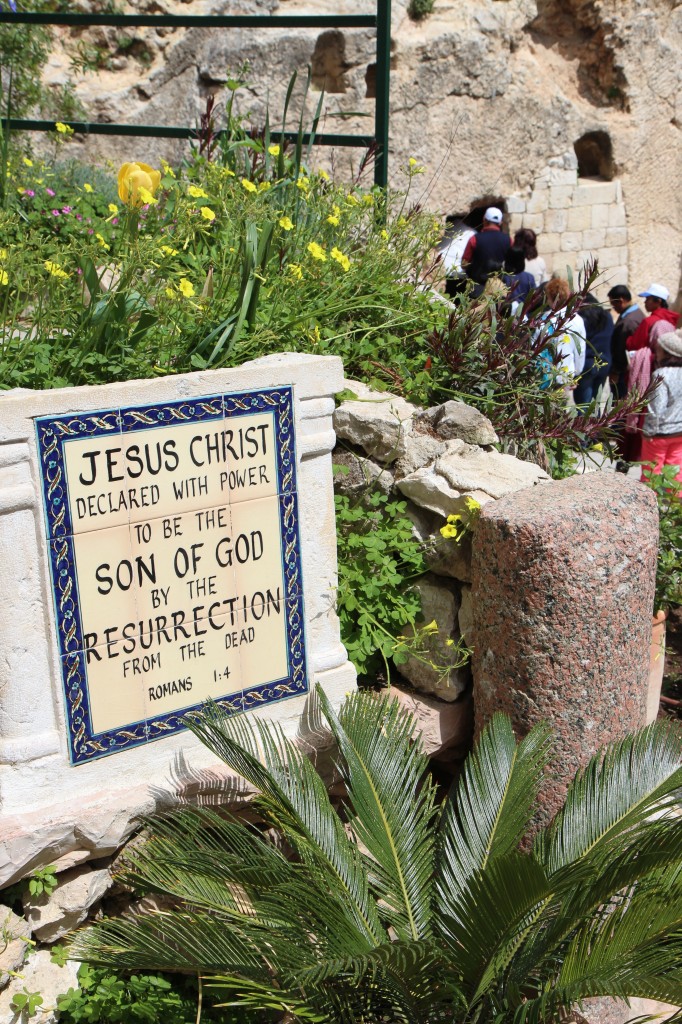 [Incredible experience at the Garden Tomb]
We cancelled plane tickets and hotel rooms and booked new ones. Imagine our surprise when we attempted to cancel our tickets out of Jerusalem only to find that they had already been cancelled by the airline! Too bad they hadn't informed us! In this case, it worked out — $1800 back in our account. Thank God for the international credit card's trip insurance, they refunded the tickets to Thailand, the most expensive of our trip (~$2000). We had not yet booked the home in Thailand. And, the hotel in Dubai: Hotwire plans to reimburse – how wonderful. 
The kids have grasped the vision of this trip but also show the signs of homesickness.  Ana had begun to ask how long the next travel day would be—especially the distance we'd be dragging our bags.  They were amazed that Daddy used to do "bag drags" when on Air Force missions.  Will had explained to his aunt that he had a dilemma.  'Auntie, I love this trip and want to see Australia and Hawaii but I miss my toys and friends in the USA."  Once we announced the news, the kids were thrilled to hear we'd be heading back home.  Luke brought up that we could return next summer to pick up the trip in Israel and complete our trip by hitting our planned stops in Dubai, Thailand, Vietnam, Australia, Japan, and Hawaii. 
The girls are making plans for the horse they want to get for their backyard.  All the kids have conspired on zip lines and trampolines and X-boxes. 
We bought discount Easy Jet tickets out of Tel Aviv to Paris for about $120 per person, not bad for five days notice. Lisa's brother gave us miles to get from Paris to NYC – $75 each. American Airlines was the most luxurious flight we'd had all year. Despite an Air Traffic Control Strike in Paris, our flight was part of the 40% not cancelled. We made it to the USA.
Arriving in New Jersey eight months to the day from our departure from New Jersey, we sensed God's presence even in this unplanned-by-us trip. Our friends helped us with the equipment for Brent's lab work, picked us up at the airport, and lent us a car. We stayed at two friends' houses, had more friends offer their homes and had three other car offers. We enjoyed food with some friends, the kids had sleep overs, and we visited other friends. DC's Cherry Blossoms bloomed and the weather warmed. These visits were breath and hugs and love. As a bonus, everyone spoke English and the shops accepted dollars. 
In some ways, this adventure has felt like what we'd imagine a spacewalk to be.  The astronaut's views are spectacular, the experience once-in-a-lifetime.  A unique perspective is gained among an orbit far outside of normal, daily life.  But the astronaut must be most interested in that mother ship.  That traveler is tethered to that all-important ticket home by a thin lifeline or a maneuverable jetpack. Your notes, calls, emails and this blog have been our lifeline back to you and our "home" nation, family and friends.  We've missed you so much and are so glad to be back to give you hugs.  We also relish the new friends we've made along the way and hope to see them again in the USA.  God has blessed us richly. 
We've loved being back among the quick-draw smiles and frequent waves of strangers in America.  The churches here seem full, and there's a high standard of common kindness.  There's never anything like home.  Of course, people are people all over the world.  But it sure is helpful to be able to read the signs and speak the same language as the people around you.  Our eyes are readjusting to giant fridges, vanity license plates, funny car stickers, ice in drinks, water-in-the-fridge door, dryers, utility costs that make us forget to turn off the lights, cheap gas, supermarkets and parking lots so big they need their own zip code, baseball caps, public transit seen as an exotic adventure, cars the size of boats, Tex-mex food, pickup trucks, 'the customer's the king' attitude, cowboy hats, the crush of over-scheduled kid activities, a pervasive optimism, lower taxes, cupholders, more large families, loads of free wifi, plentiful water fountains, streets without bakeries, drive-thru coffee joints, men in cargo shorts and tennis shoes, moms in yoga pants and the American flag everywhere. 
As we visited Dr Siegel in New Jersey, he reminded us that Brent's disease is the high-risk version and that we should act appropriately. Unfortunately, he didn't have a "silver bullet" but he was hopeful our new doctor in Oregon had some ideas. We reserved an appointment with our new doctor in Portland before leaving his office. We were glad to be seen and have access to good care.
Again, with one week's notice, we bought more plane tickets. Brent needed to start treatment and couldn't until he saw Dr. Emma Scott here in Portland. Five of us were traveling to Oregon while Brent hustled to Ft Worth to get the car and stuff ready to travel to Oregon.  He'd need to get our enormous cargo box and old mini-van's load out of Texas to the great Northwest.  He ordered a rack to be able to attach the box to the top of his sedan and make preparations for the 3+ day drive to OR.  Then, we received a call from Dr Scott's staff that we had an earlier appointment and Brent would not have time to make the drive.  We didn't yet know how we were going to get the car to OR but had kind offers of help.  The tickets to Oregon were cheap and we know the airline lost money on them since they overbooked and had to offer seven people $300 vouchers so that the rest of us could stay on that flight. Scattered throughout the plane, we five sat in our $200 seats with gratitude that we were getting to Oregon. Simultaneously, Brent flew courtesy of a pilot friend's pass to Dallas despite severe thunderstorms. Again, we were blessed.
While Brent was boarding his flight to Dallas, a friend called to say that he was buying tickets to fly to Dallas and drive the car to Portland for us. Folks, that's over 21 hours of pure drive time. Wow.
After a long day, in the late evening, Brent's mom fetched Lisa and the kids from the airport in a mini van we purchased at a below market rate from Brent's uncle. We love our new van and in many ways it is nicer than the mini van we totaled last summer. It's also not totaled. Wow again.
Tuesday night, flying on another mileage ticket gifted by our brother, Brent joined us in Portland. Can this possibly be a move that is permanent? Could we be coming, dare we say, home? Our ex-military minds are struggling to grasp this idea. The beauty of this city is extraordinary.
Our new oncologist seems bright and kind. She speaks with more frankness about the statistics of Brent's myeloma. She encouraged us to consider an allogeneic (donor) transplant and gave us the expected immediate treatment plan. So, we started treatment a couple Thursdays ago and begin praying about the allo- transplant.
During our first weeks here, we are enjoying Grandma's generous hospitality. The kids are delighted with some of their old toys and clothes. Meanwhile, we've used two tanks of gas traveling the city looking at neighborhoods and one tank of gas waiting in the DEQ line for an emissions inspection. We have some seemingly big decisions in front of us. Where in Portland should we live? Do we rent? Do we buy? When do we get to try the world famous Voodoo Donuts?
While on our trip, we had decided that Lisa would return to work part time and the kids would attend a private school in Portland. Wow again. How is it that God would have changed our hearts in advance of our new circumstances?
So, you see, while sadness weaves itself into this story, hope remains. We had hoped this day would not have ever arrived. We can't see more than a step in front of us. Even so, we know God is here and we are here! Three thousand years ago, King David experienced what we are experiencing.
"You hem me in, behind and before, and lay your hand upon me." and "…in your book were written, every one of them, the days formed for me, when as yet there were none." Psalm 139
How good to know and to see that we are not alone!
What a difference a month makes.  The blog has lagged behind real time partly by design but primarily due to trip planning, illnesses and the actual daily adventures of life on the road.  We have so many more stories to tell.  We earnestly hope you'll keep reading and keep us in your prayers. 
Our heads spin with reflections from the Big Trip and new goals as we scour the websites for a house, practice the potential commutes as we learn our city, shine up the resumes for the job search, continue to teach the kids and unpack the suitcases from the road.
Life is precious and though there are clouds, a bright Son pokes right through them.  Hope burns through ready and dazzling every time we remember we lift our eyes to Him. 
We now have a signed contract on a house and hope to close about June 23rd!  We would never have guessed that we'd be buying house so soon but rents are very high here in this hot housing market. 
The Legos and plastic horses are still everywhere!
Psalm 27….Wait for the Lord, Be strong and let your heart take courage. Wait for the Lord.