We are learning, bit by bit, about how to tour.  Every guidebook—or Trip Advisor post— has its own perspective.  We've found Rick Steves' books to be spot-on with what he covers.  But he has little interest in kid travel, or animals.  His books excel in the arts, music, history and architecture.  But sometimes certain people want to know about those Lippizaners in Vienna or just where the great playgrounds are.
We also have to resist—and that's the royal "we"—the urge to be entranced by the locally famous fill-in-the-blank and feel the need to see everything recommended by the guidebook while I am nearby.  Lisa has caught me out on this one many times and I'm getting better…  This trip emphasizes a microcosm of our personalities as Lisa is often happy to be home while I can be gripped by the wanderlust and the yearn for adventure.  We are often such grace-giving counterpoints and balances to each other, aren't we, in our loved ones?
I am of those who do not want to go to bed early.  I was reminded of Hemingway's short story "A Clean, Well-lighted Place".  I think we read it in high school. 
"I am one of those who like to stay late at the cafe," the older waiter said. "With all those who do not want to go to bed. With all those who need a light for the night."
Anybody else like that?
So we're getting wiser at sightseeing. Even I can learn slowly.  I tend to jot down the list of the maximum possible highlights of a location.  Then we pick only some of these rather than have each of us become seduced by the 87 "can't miss" sights of that area.  Here's a rough example of one.  Now, I've moved it onto Evernote so maybe Lisa can actually read my chickenscratch.  Our main focuses are the education of the small people and our family's experience.  Thus, we are light on the sit-down restaurants and far more into the hiking, museums and music and climbing up the high points to get the view.  We are doing a lot of schooling and writing on the road but really there's only so much you get done in a given day, especially with little attention spans and our own energy levels that can only take so much consecutive touring!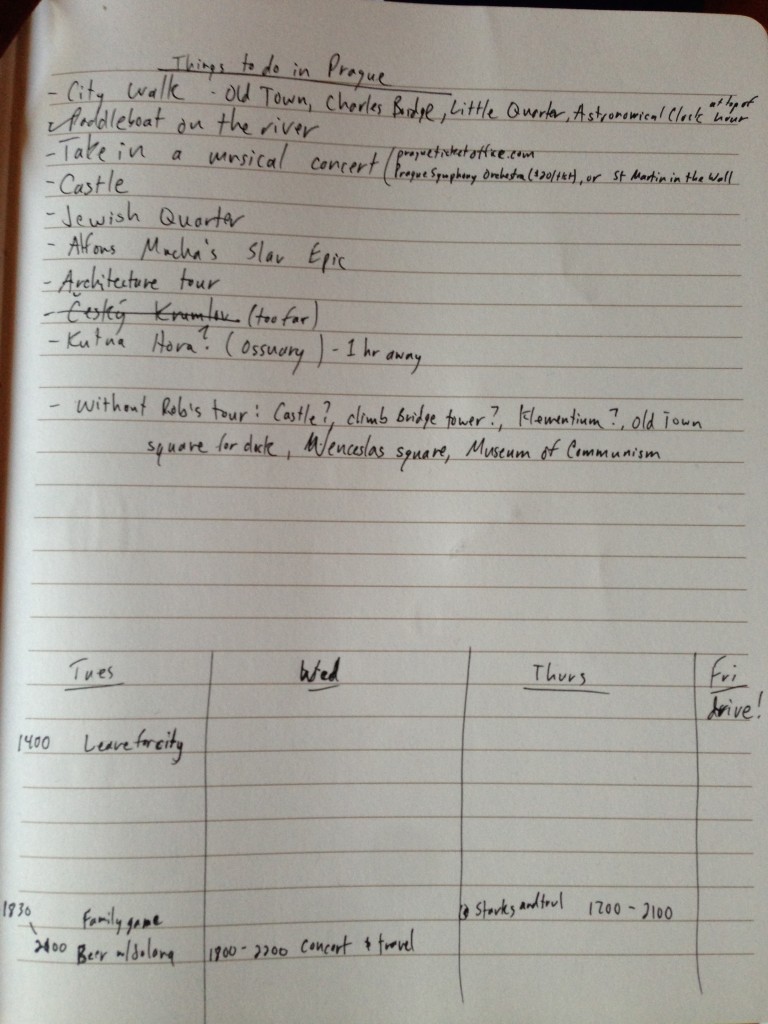 Alfons Mucha was an influential Czech Art Nouveau artist and contributed to a rising Czech nationalism in the 1930s.  As soon as the Nazis invaded in 1939, Mucha was one of the first people the Gestapo grabbed and interrogated.  He fell ill to pneumonia during the interrogation time and never recovered.  His twenty enormous paintings are called the Slav Epic and were kept in a warehouse on the outskirts of town for years.  But they've now been brought into a great museum in the city and are an immersive experience.  We wander through them and try to guess, as a family, what is going in each painting before we read the synopsis.  I suppose, it's a kind of Fisher-Price art appreciation course.  His canvases are something like 20 feet by 30 feet and tell the various stories of the Slav people through the centuries.  In each work, the eyes draw you in.  The history is difficult for us to place in context but his images are unforgettable.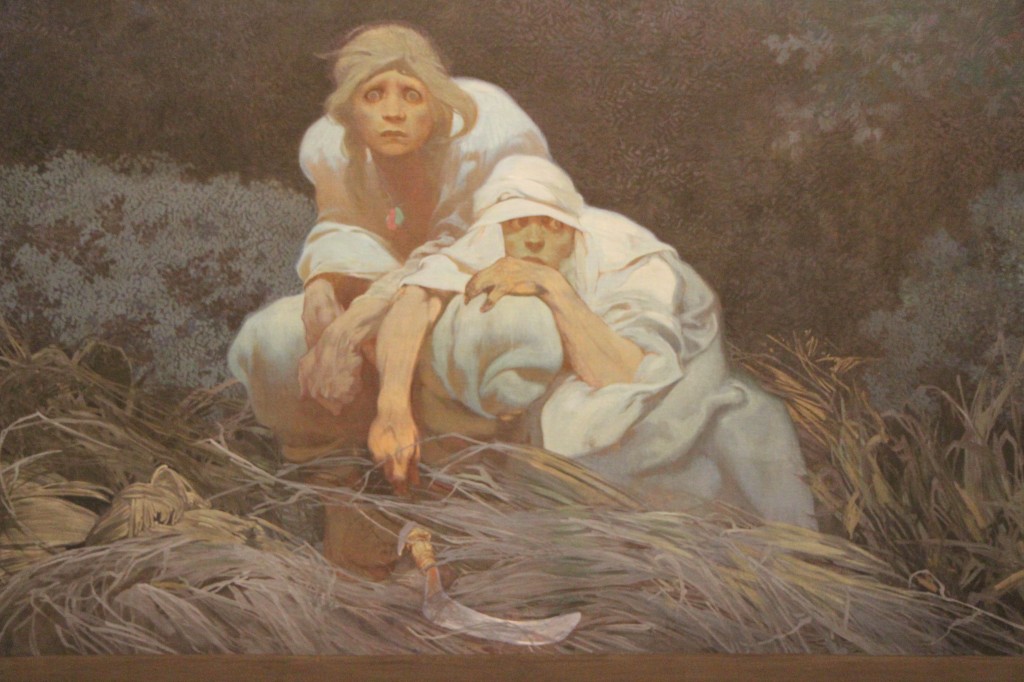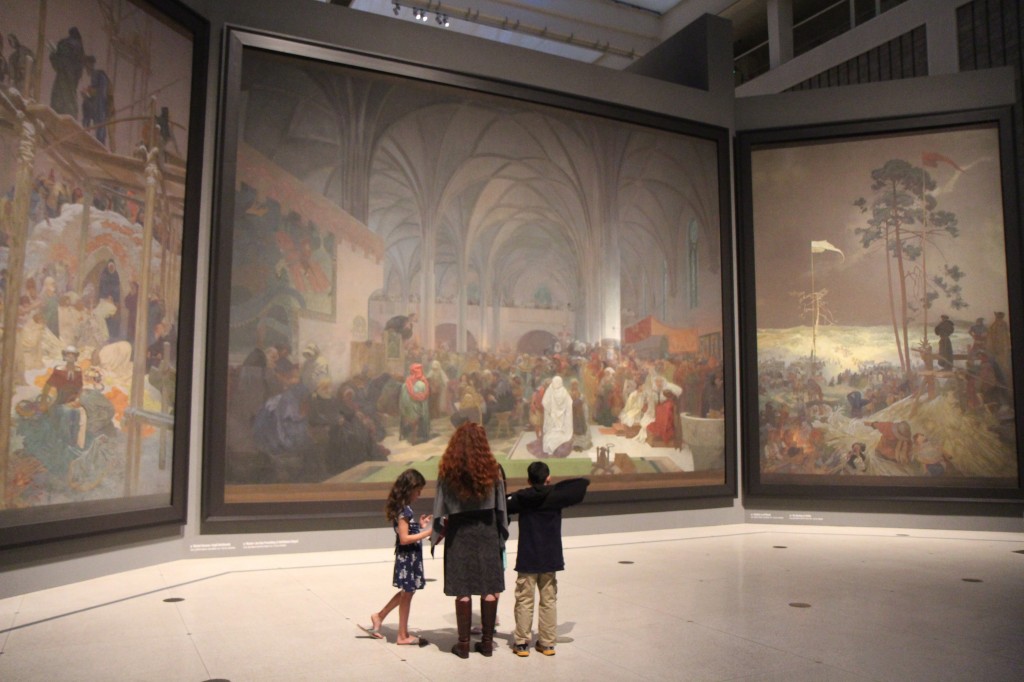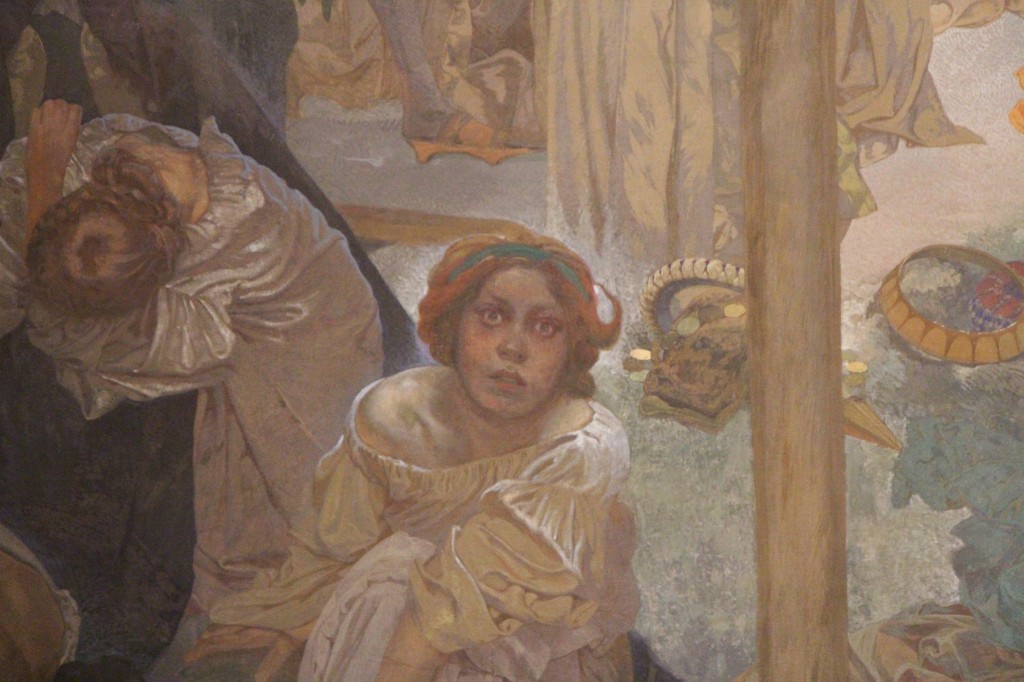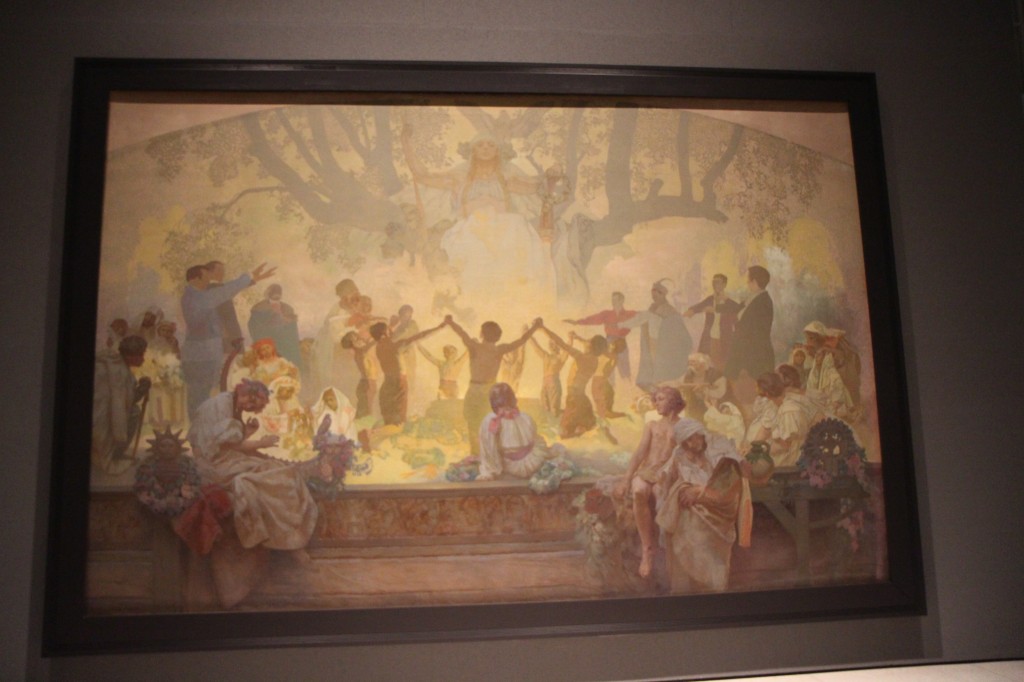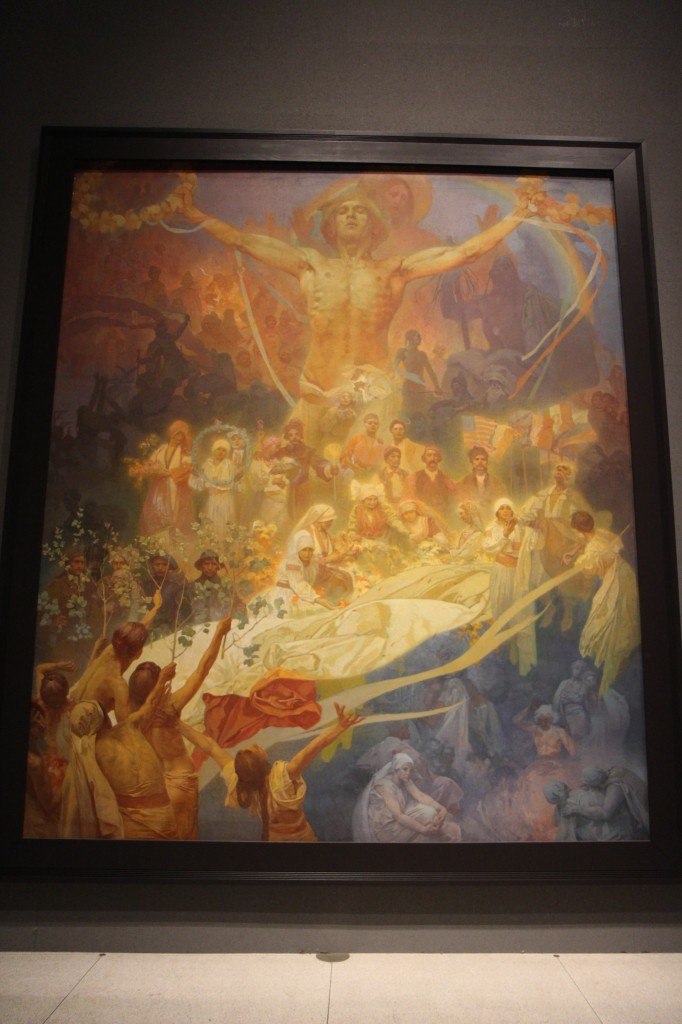 Prague is today a city of 1.3 million people and justifiably famous for its beer.  The city is well known for escaping WWII relatively unscathed.  The result is a Central European city with a rich heritage of architectural styles on display from the centuries.   
We wanted to take in some of Prague's architecture and learn from a local pro.  Once again, Trip Advisor came in handy as we discovered Rob's Free Architecture Tour.   Free city walks populate the touring marking in many European cities (and some in the US as well).  We'd never heard of them before this trip but they are a great way to learn about the city you are visiting from a real-life, local expert.  The tours are often outfits that employ college students.  To supplement their income or just to enjoy a career switch, some of these pros put out their own shingle and wield their expertise gained through years of edutaining travelers. 
We were thrilled to find Rob and set up a tour with him.  Our family was his largest group of the season.  He kept the whole family engaged, even the smaller people, and knew when to point out a bench for sitting.  Our hours with him just ran by and he was a complete pro.  Prague is Central Europe's richest city.  The city, like Rome, continues to be built upon slowly rising sedimentary layers of itself.  Today's basements were often original first floors in the oldest parts of the city.  Ancient windows are now at or below street level. 
I am tempted to scare you that I will break down each style in dry, painstaking detail but we know that just isn't going to happen.  For one thing, I'm far too impatient, and your knowledge likely exceeds mine.    
"And now," cried Max, "let the wild rumpus start!"                                      —Where the Wild Things Are
So, let the wild oversimplifications begin!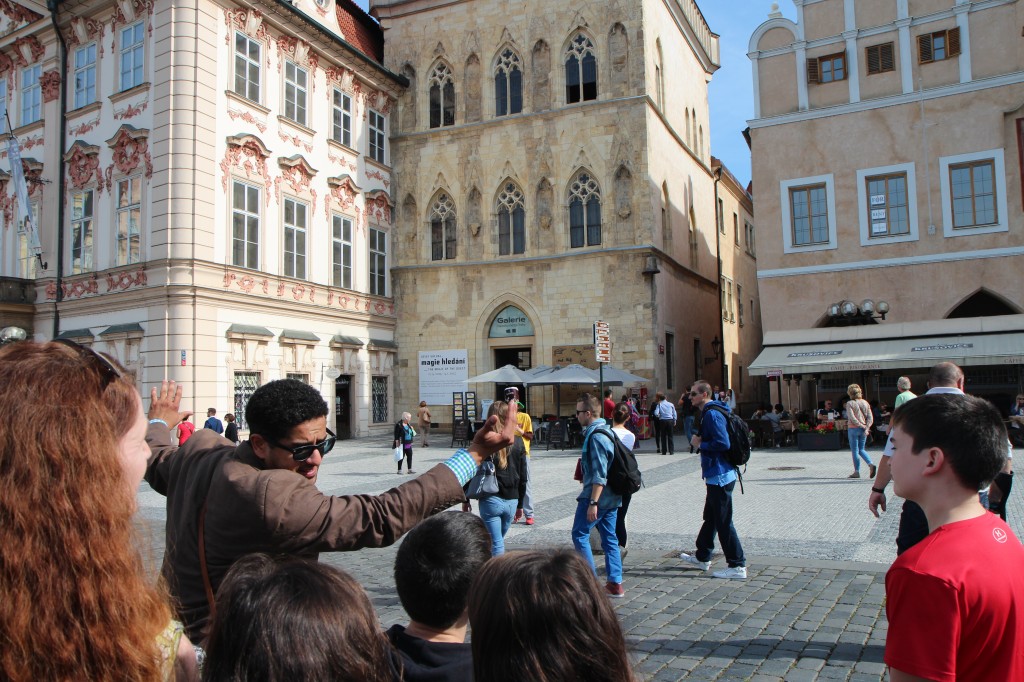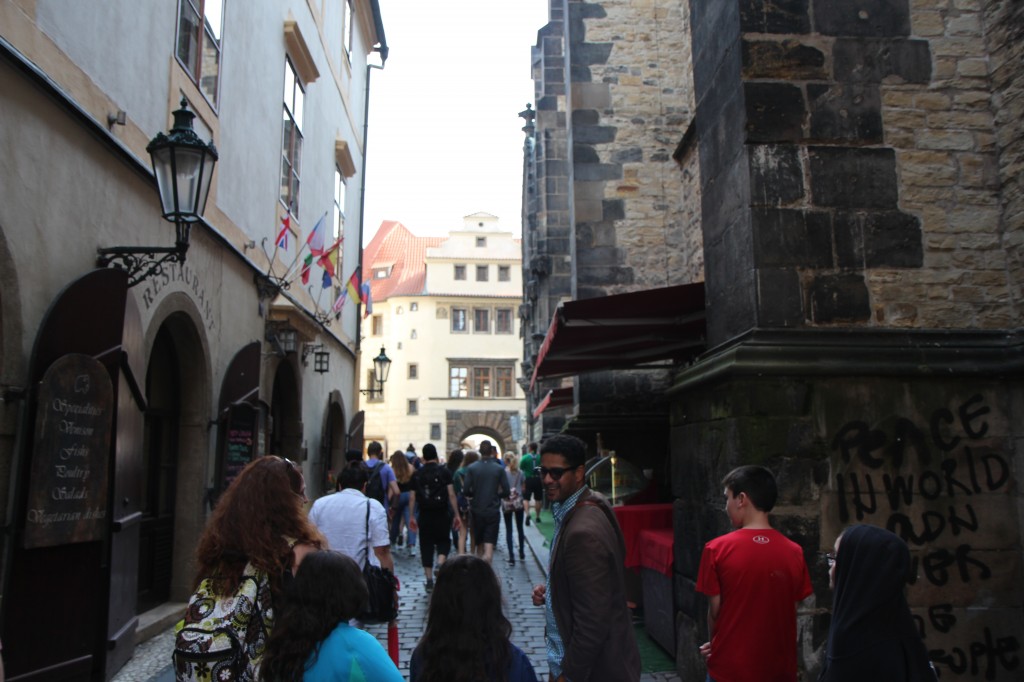 We learned to look for:
Romanesque—meaning "descended from Roman"…starting anywhere from 6th to 10th century and in use until 12 century…dead giveaway is the ubiquitous rounded arch…massively thick walls and low arches employed to support weight…simple, sturdy, low-technology design
Gothic—grew out of the iterative approach to improvements achieved by the end of the Romanesque period…officially begun in France in 12th century…an architect rebuilt an Abbey in Northern France for the French King and successfully employed the structurally supporting methods of pointed arches, ribbed vaulted ceilings, and flying buttresses with the purpose of supporting high ceilings and huge windows to suffuse the interior with light…others saw this design and its influence spread throughout Europe…classically seen in the four-pointed towers of cathedral high towers…teenagers who love black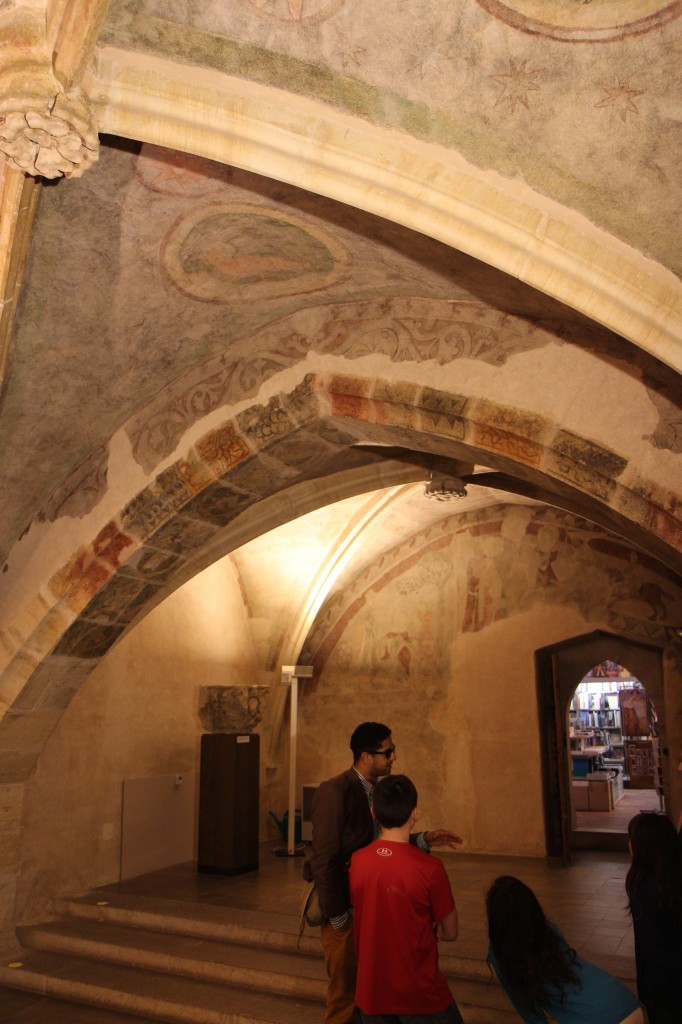 [early Gothic ribbed ceiling.  This is actually a floor that has slowly raised over the years so that we are standing near the top of what used to be a high ceiling.]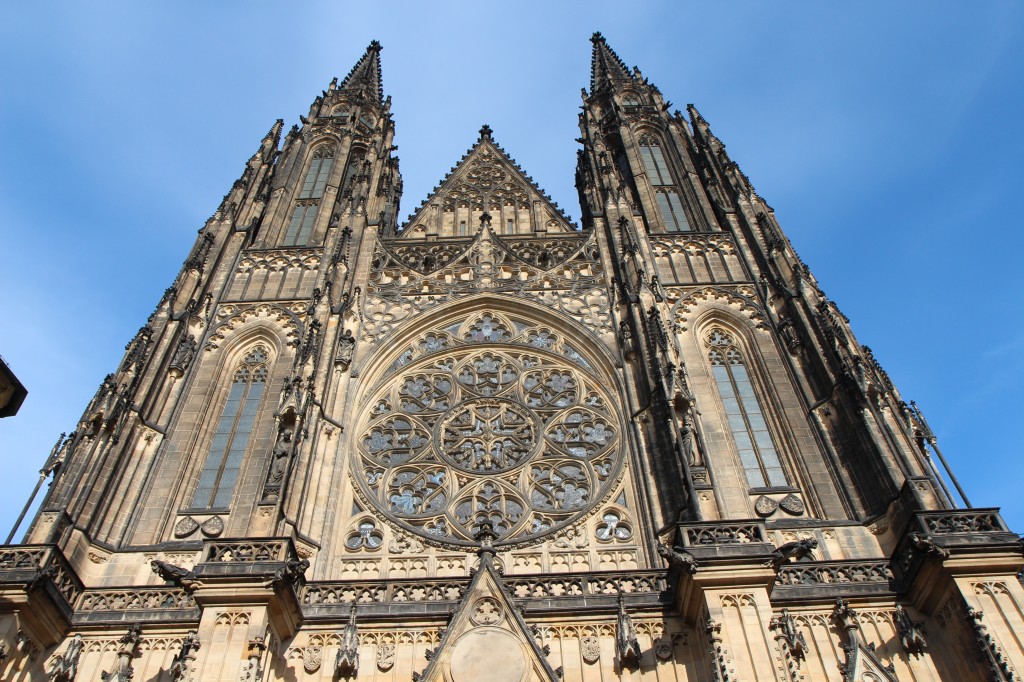 [St Vitus cathedral on Castle Hill]
Renaissance—from 15th to 17th century…grew out of the wealth of Italian plutocracy and a blend of religious and secular forces…emphasis on symmetry and revitalizing the designs of classical antiquity (Greeks and Romans)…bring on the columns and rows of windows!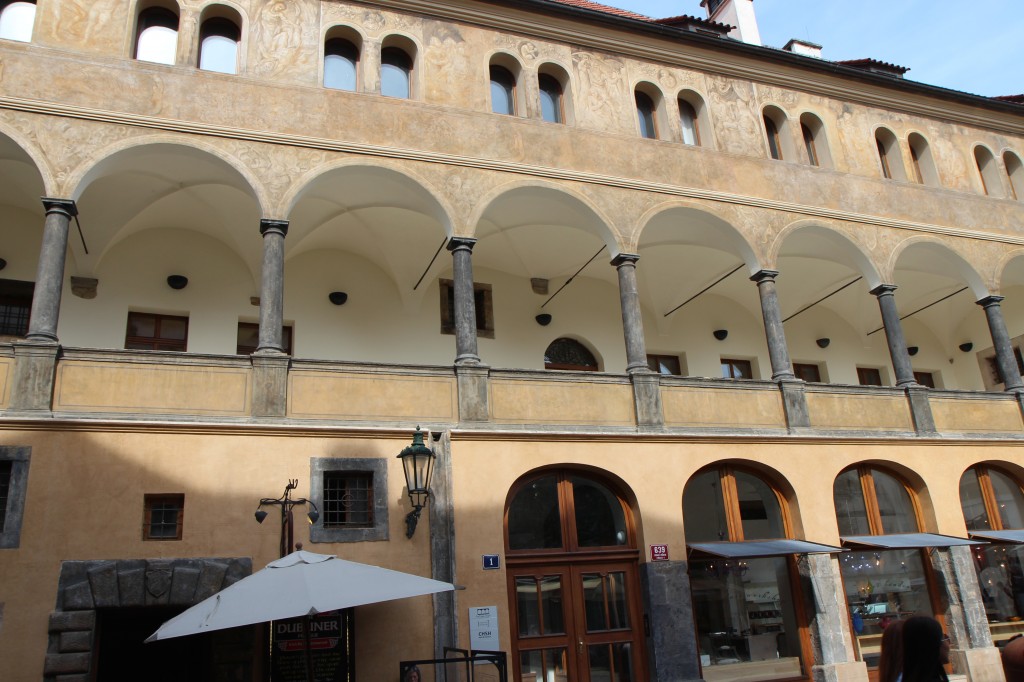 Baroque—begun in 16th century Italy and evolved until about 1800…a product of the Catholic Church's Counter-Reformation as it sought to illustrate the glory of the Church and to reform itself in the face of Protestant challenges…richly sculpted surfaces…includes 3D sculptures, people coming out of the walls or ceilings (we saw a cherub's leg coming out of ceiling at Linderhof palace in Bavaria)…visual illusions where a sculpture leans into, or out of, a painted frame (gold on black)…onion domes…one of the favored elements is chubby cherubs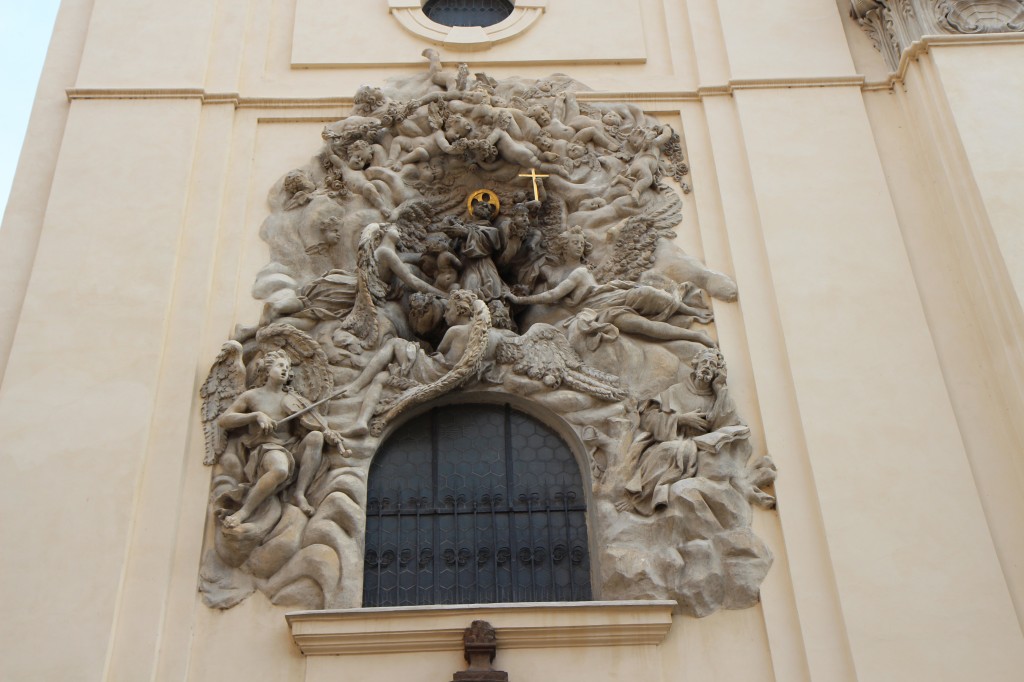 Art Nouveau—balconies with flourishes…designs of plants, flowers, leaves…dead giveaway—building exteriors with sculptures of disembodied, idealized women's faces staring out at you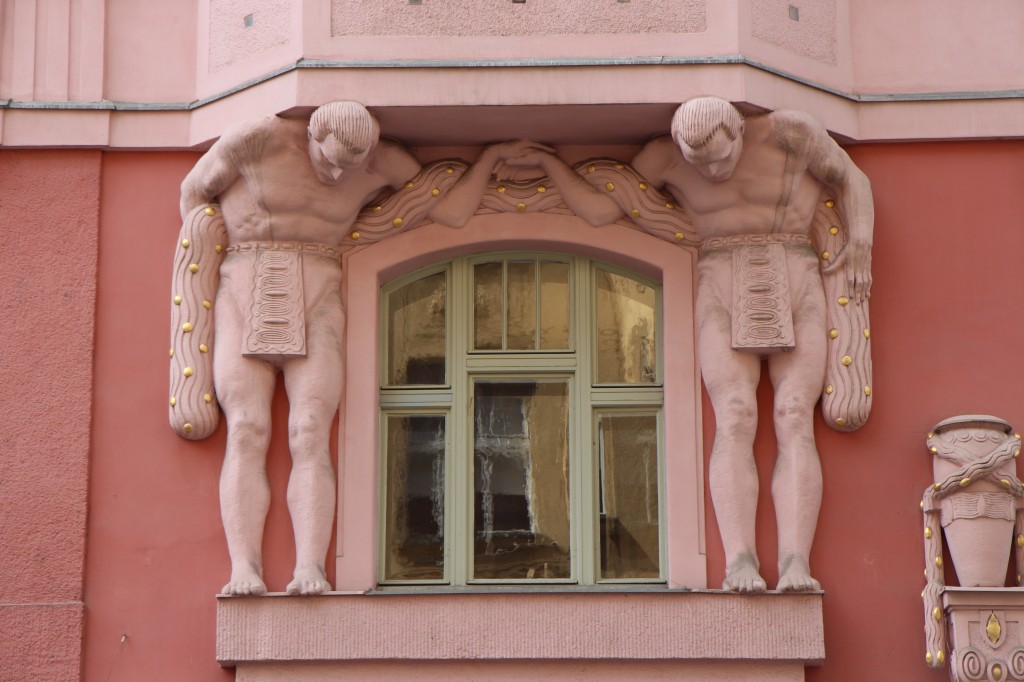 [a stange, pink iteration of Art Nouveau]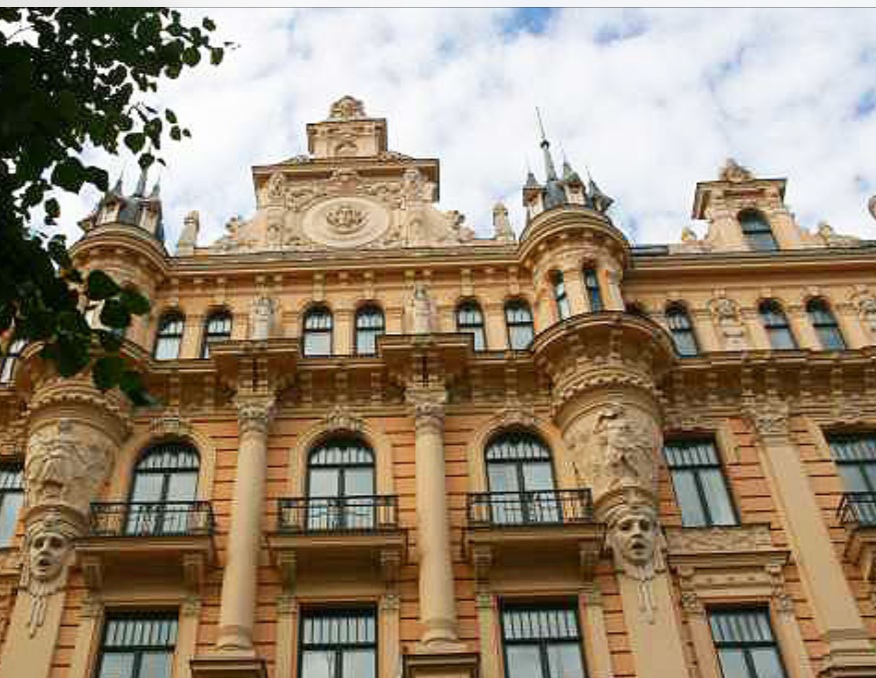 [one of the kids' images they found for study]
Soviet-era (socialist classicism)—ugly as sin but functional…low ceilings for efficient heating and cooling…affordable and Rob tells us he (along with thousands of other Prague citizens) grew up in these type of communities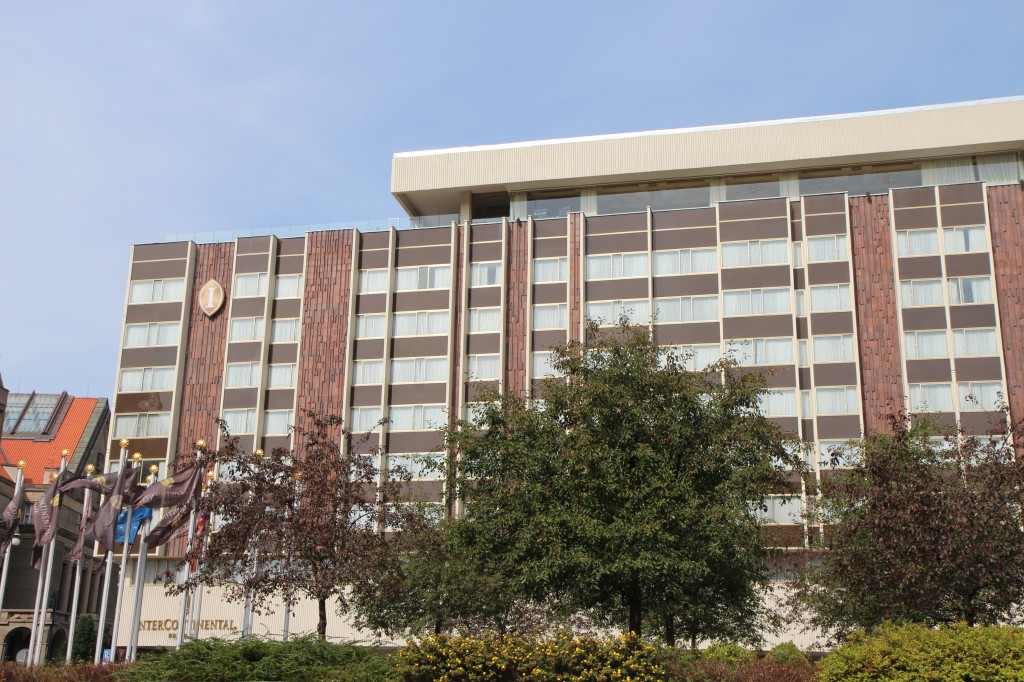 Much of these styles and designs start in Italy.  Does everything start in the Italy, or China? 
Rob points out the peerless Jewish quarter and its museums.  The Jewish museum is actually five different synagogues.  The Old Jewish cemetery rises 10 to 12 feet above the street.  The Prague Jews were required to be buried in the ghetto and the Jewish faith does not allow remains to be moved.  So they had to stack people in 12 layers.  This cemetery dates to the 15th century.  There are thought to be over 100,000 people buried here in a surprisingly small space.  Gravestones were installed to point toward the entry to the cemetery.  As it filled, the yard's entry was moved through the centuries resulting in gravemarkers pointing in many different directions.  We learn of the tradition that priestly descendants, are not allowed to enter a cemetery because they would become unclean.  These tribes' dead, including the Cohens and Levines, are buried at the fringes of the cemetery so that their loved ones can stand outside the cemetery to honor their forebears.  Some Jews would pay admission to the museum that overlooks the cemetery then enter the men's room and open the window so they could be as close as possible to their family's grave and pay their respects!  
The museum has a superlative collection of Jewish artifacts and history because Hitler sought to collect all Jewish history and communal objects in this city—in one place.  After a successful "Final Solution", he hoped to put all the "decadent" history of the Jewish people into one museum.  We run out of time but wish for more time to take in the scope of Jewish history here.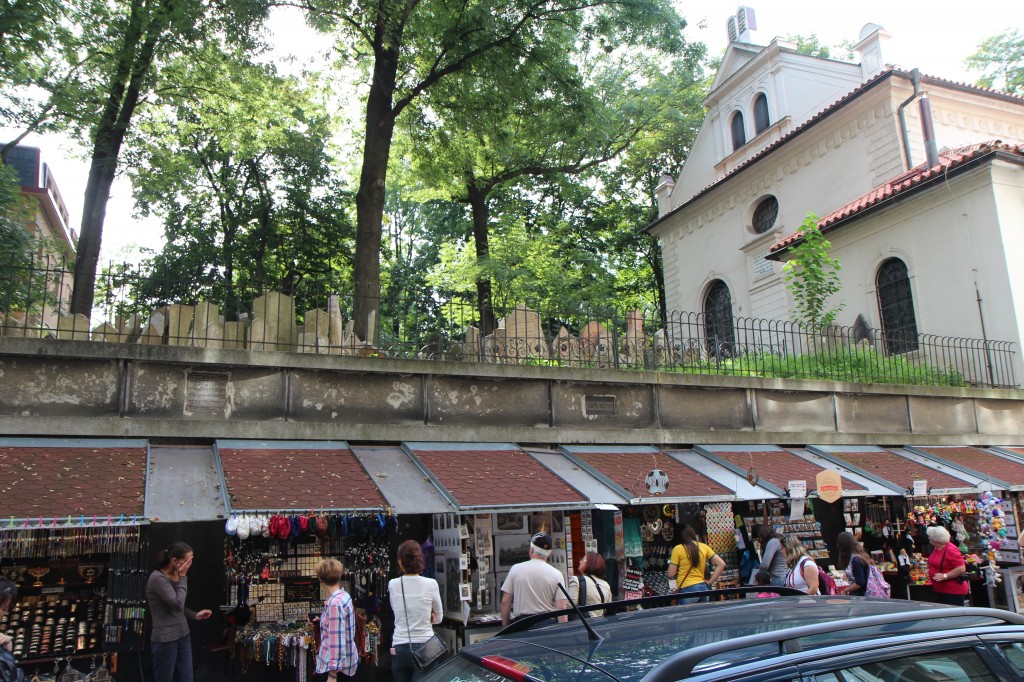 [pic taken from street level–below the headstones]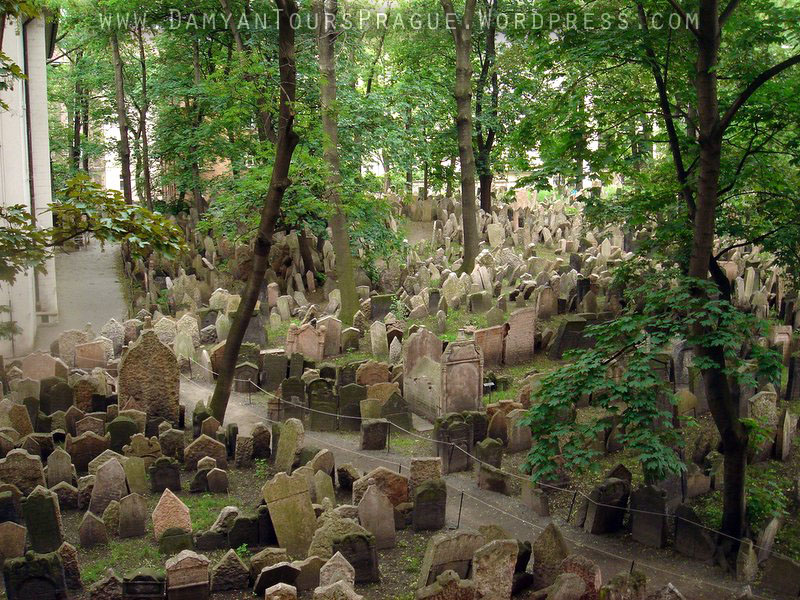 [online image showing the view from above]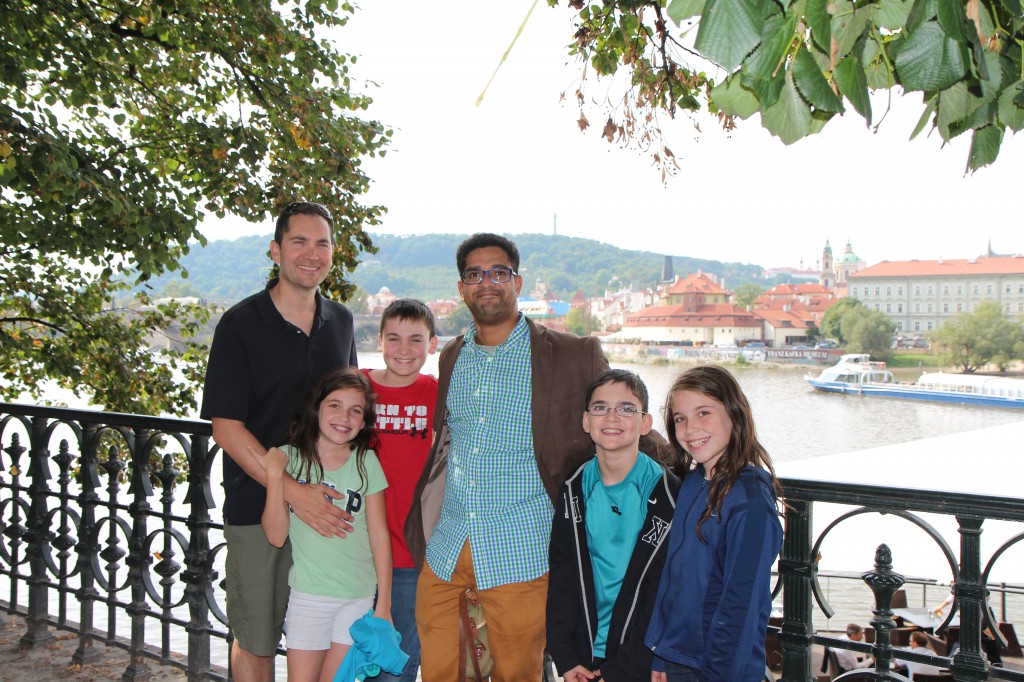 After the tour, we let the kids' minds unwind with a snack overlooking the river and a park of swans.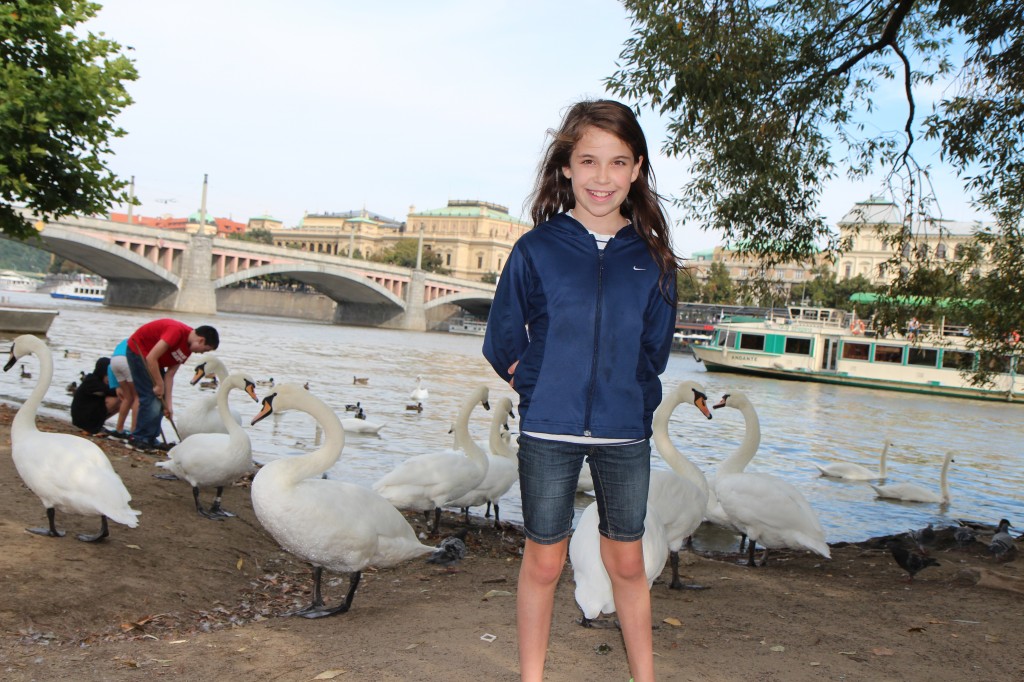 Suffice it to say that the kids have spent several hours drawing and researching various architectural styles for school.  Their knowledge of this subject is better than mine has ever been. 
We also found the famed Astronomical Clock in Prague's Old Town Square.  The square is a potpourri of locals, food carts, street performers, tourists, newlyweds every 15 minutes, aggressive Segway salesmen and inspiring architecture.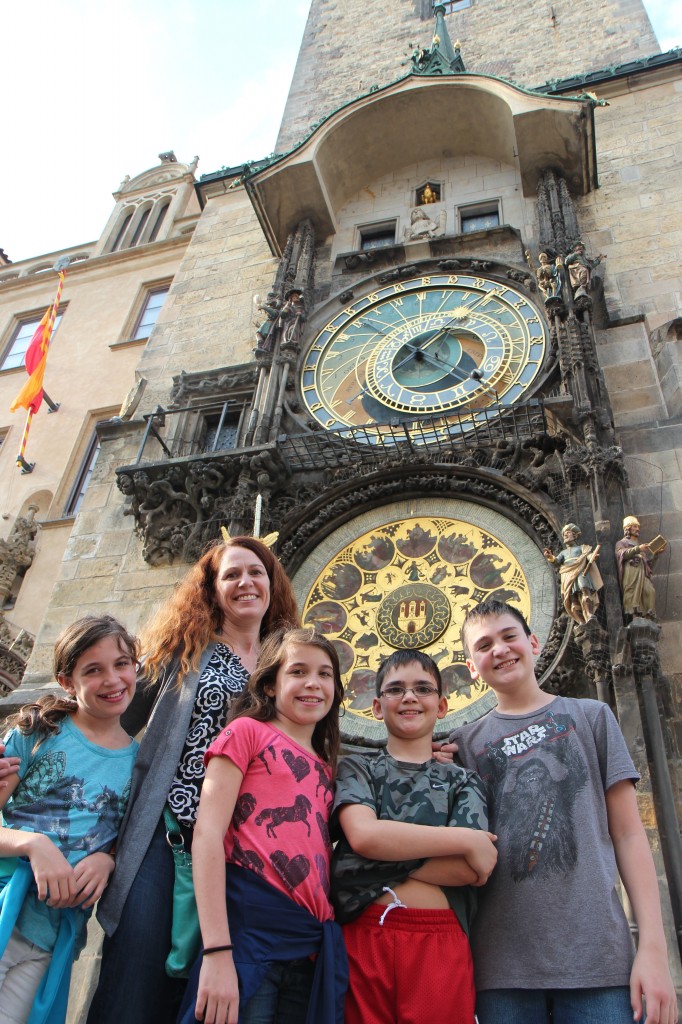 Who knew there was such a thing as a seven-person bicycle?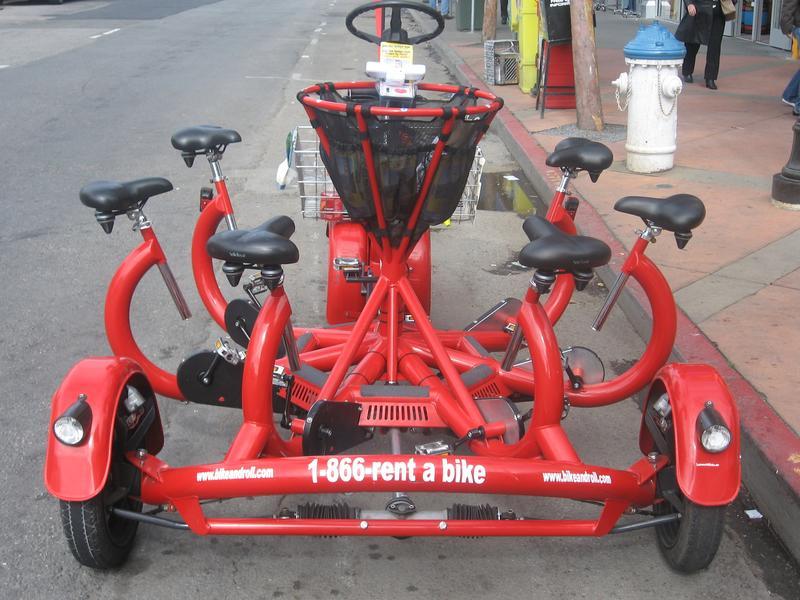 The Astronomical Clock was installed in 1410 and is the world's oldest working clock.  It doesn't understand daylight savings time but it does list all the zodiac symbols and has scenes of agricultural life through the seasons.  The clock shows the time and the phases of the moon.  A smaller hand points to the Czech saint associated with each day of the year.  In Czech Republic, one essentially has two birthdays:  the day you are born, and the day of your named saint.  At the top of each hour, a skeleton representing death turns over a hourglass, pulls a chain and the show begins.  The apostles parade by in windows that open above.  Politically incorrect figures of Turks and Jews flank the motion or move themselves.   At the end of the show, a rooster crows.   We are meant to be reminded of the passing of time and the inevitability of death.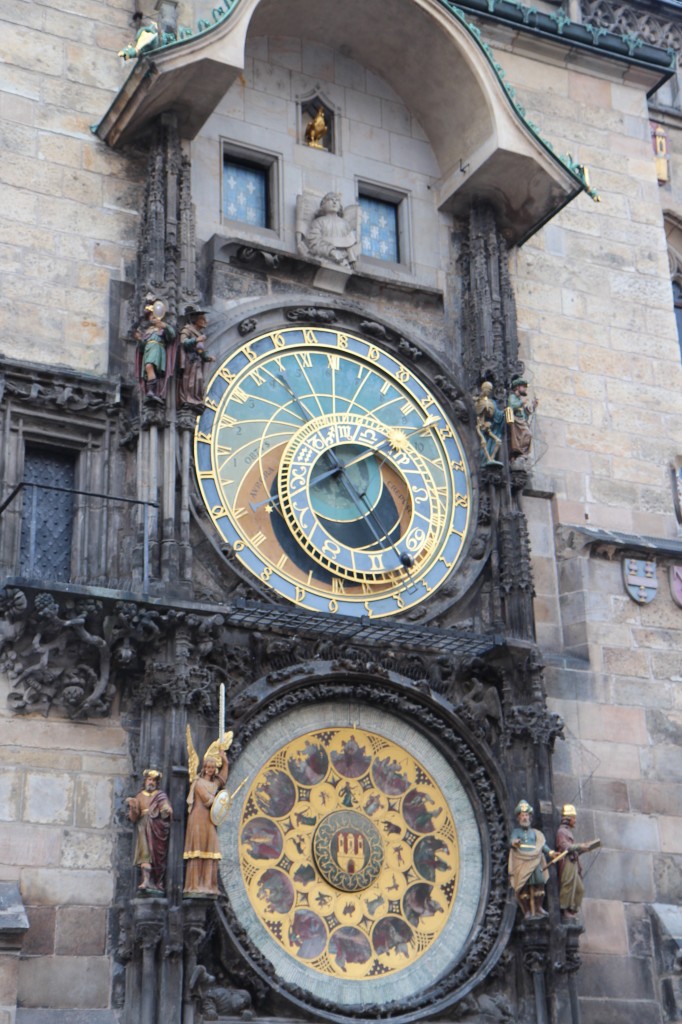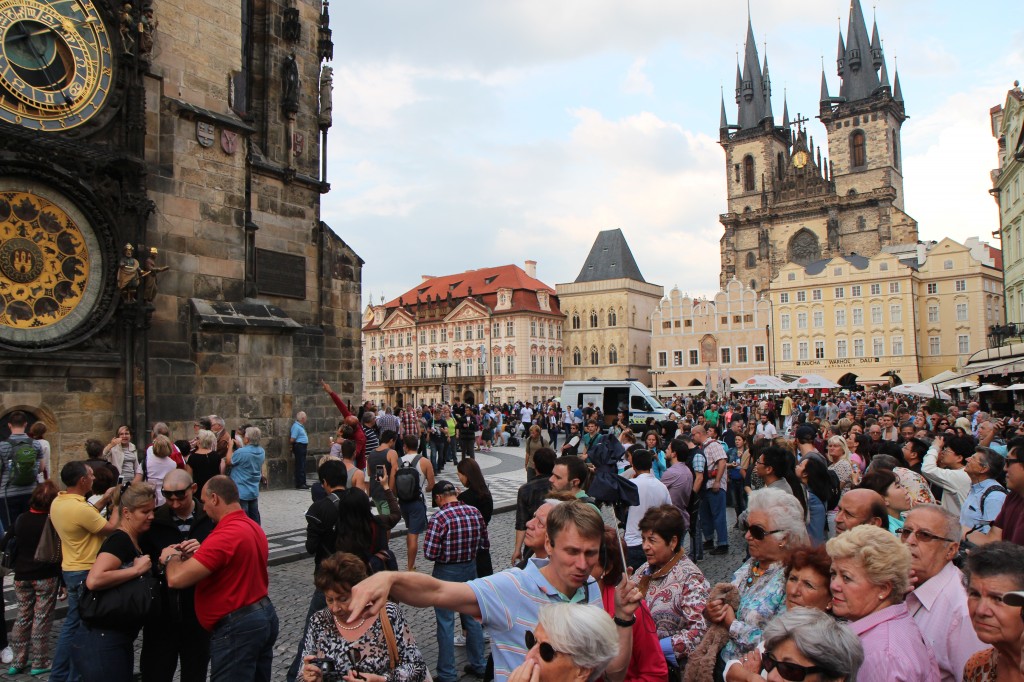 [it is never a dull sight around the clock at the top of the hour]
A Portguese speaking couple observes your family and tells us we are blessed.  This was especially sweet because for three weeks we had been surrounded by challenging languages:  Hungarian, Polish, Slavakian, and now Czech.  Lisa doesn't speak Portguese, but she understands it best of any foreign language.  And the simple words the couple used were fully decipherable.  The only language in the world other than English that would have been readily understood.
We sidestepped the newlyweds that marry at the nearby City Hall every 15 minutes or so and climb up to the top of the Clock Tower.  A beautiful scene but the kids are enthralled by a street performer wearing a kilt who is drawing a crowd with a bull whip show and dirty jokes.  Nice.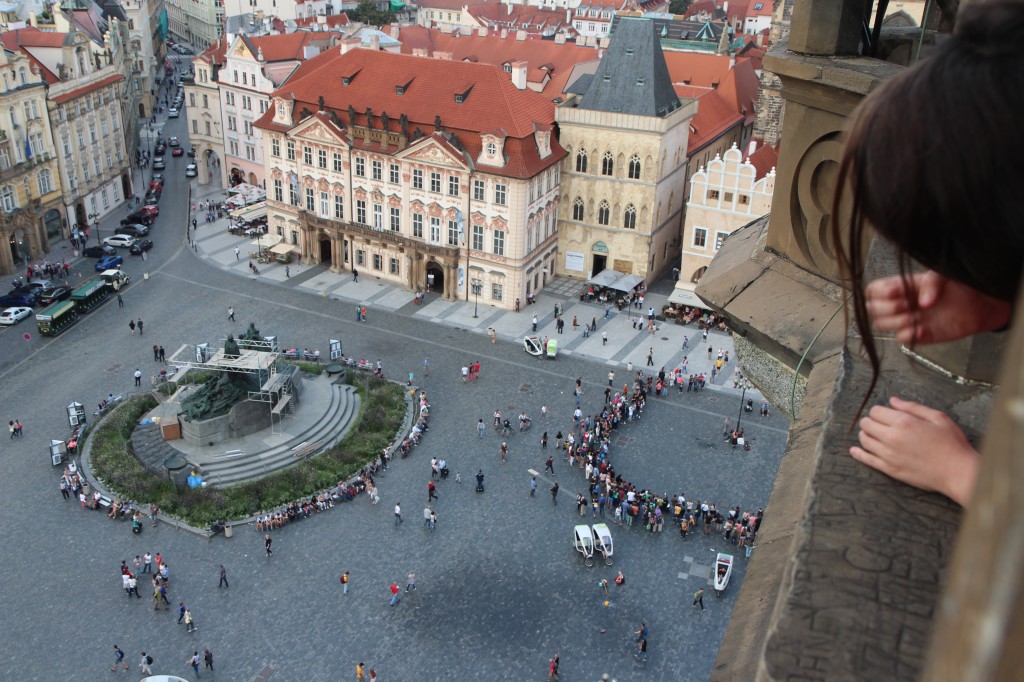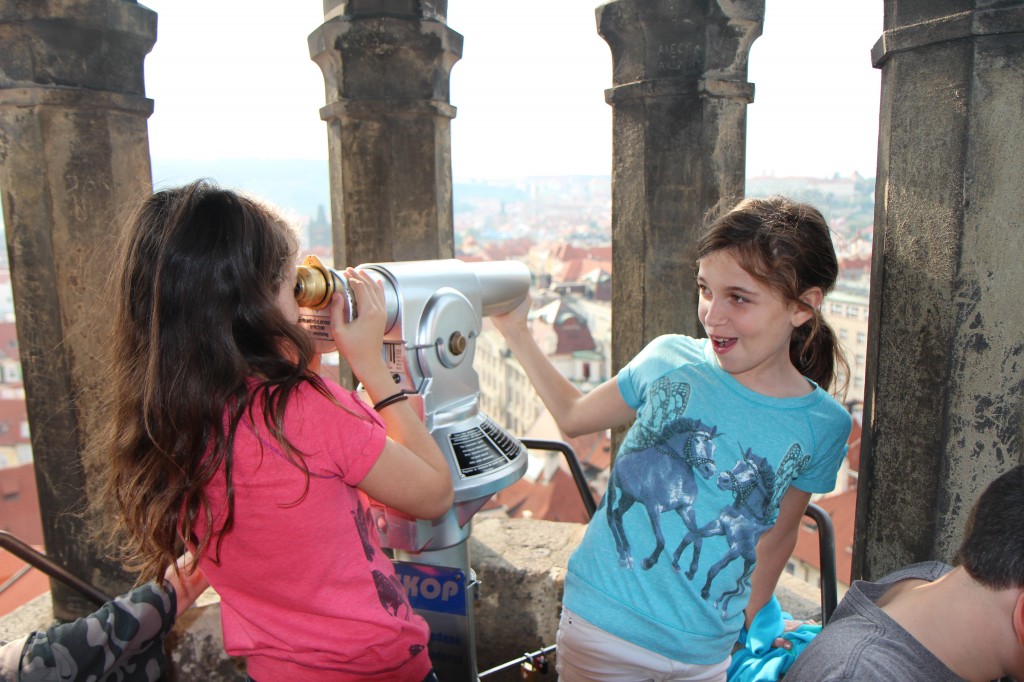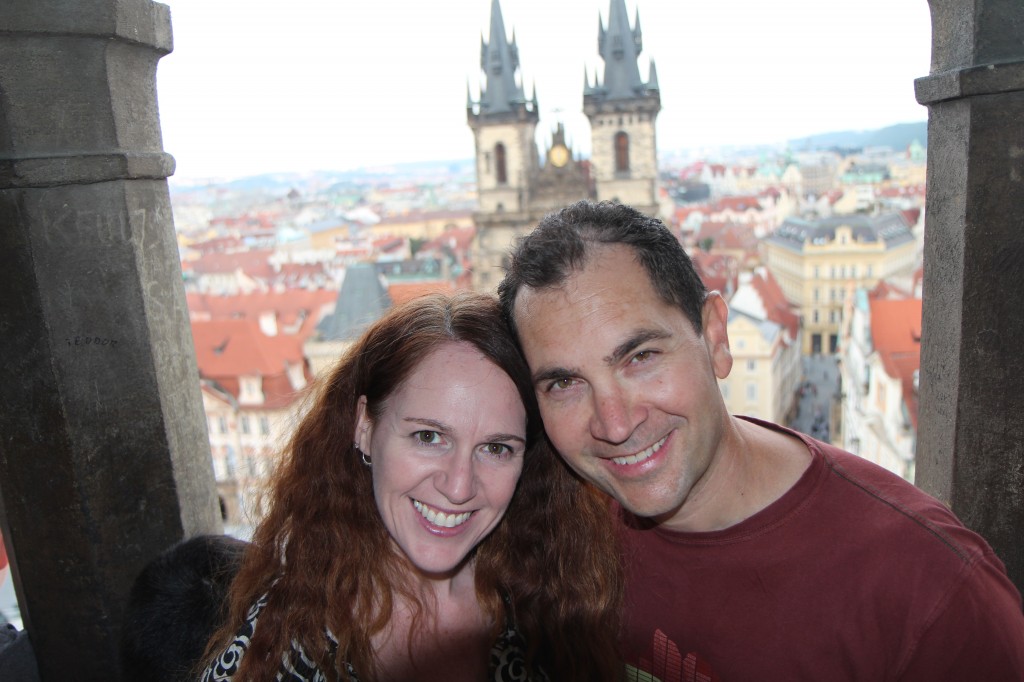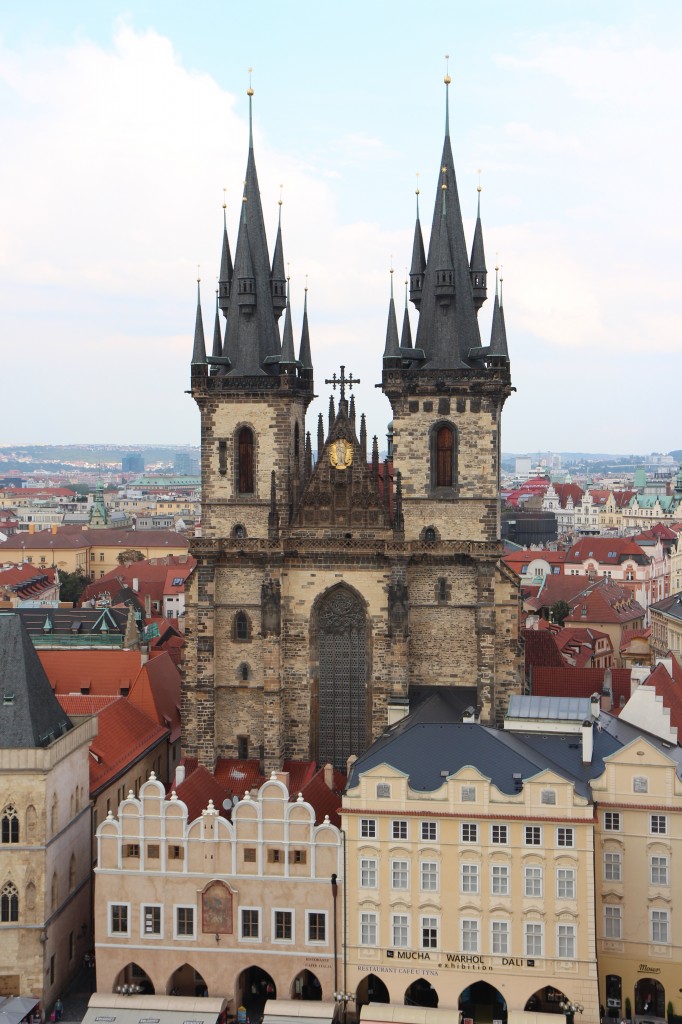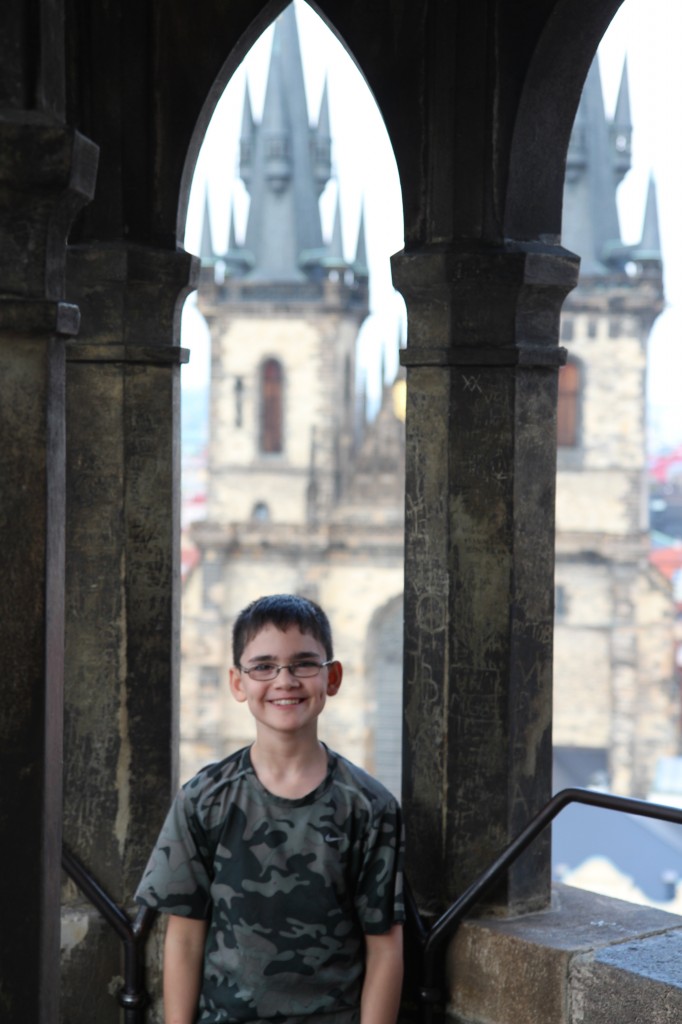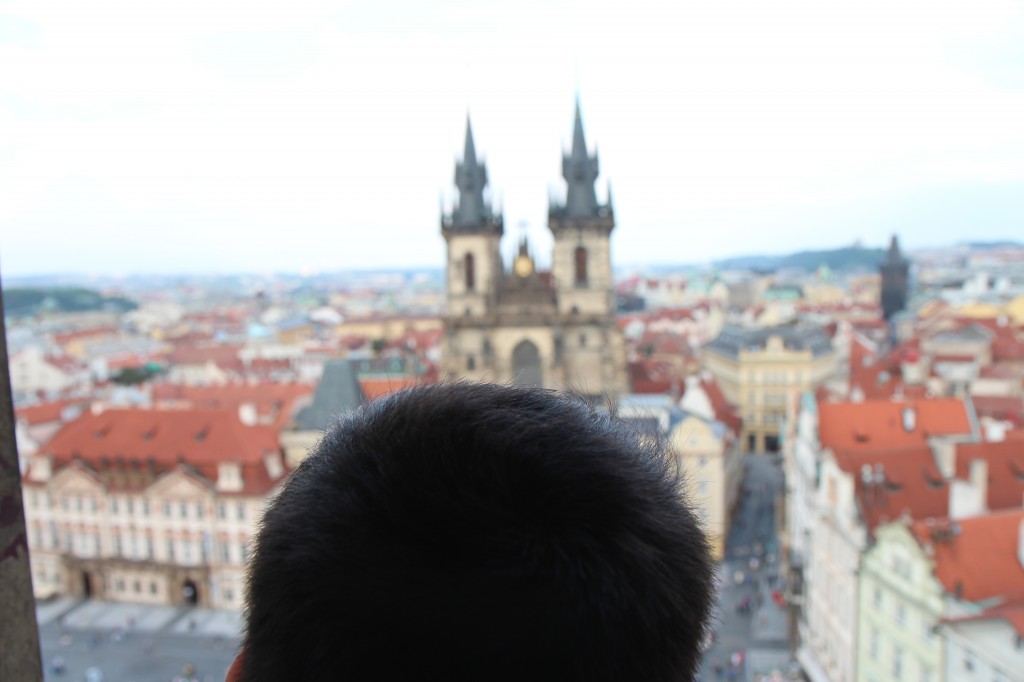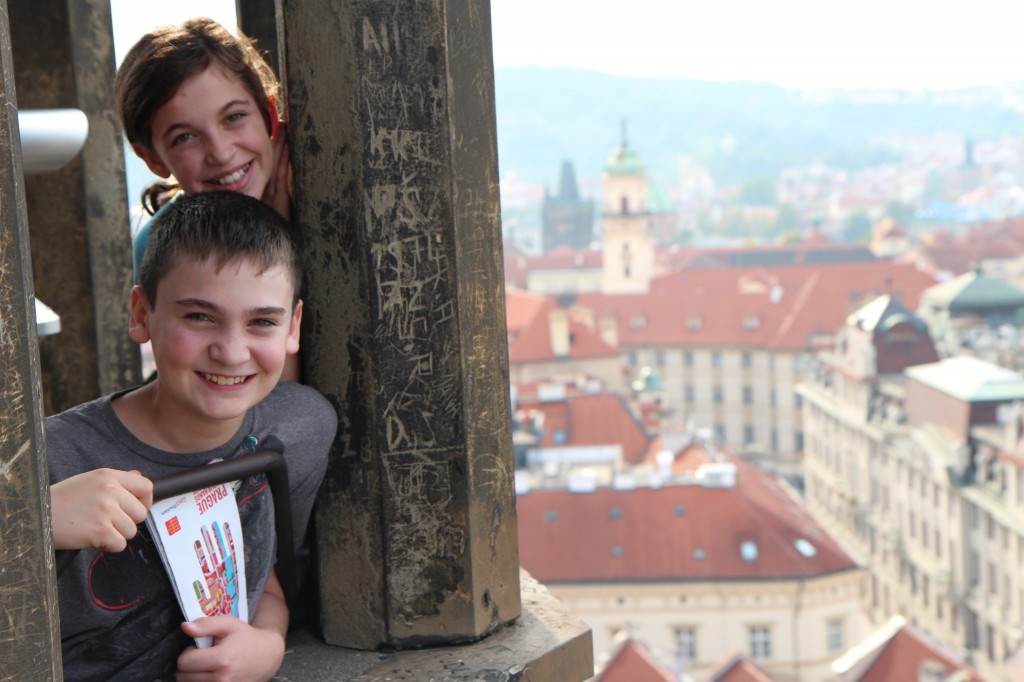 An enormous statue and display of Jans Hus dominates one half of the square.  He bears several similarities to Martin Luther.  He also was a monk, a professor, inspired many followers including a religious order and prompted the Church to reform.  But Hus predates Luther by 100 years and his fate was to be burned at the stake.  His followers are called Hussites and still have churches in Prague.
We finish the day by departing the train and leave the station into a cool evening.  We cannot seem to find our car.  A few minutes into our search, Camille looks up at me and plaintively asks, "Dad, are we going to be okay?"  After a few false starts and fruitless leads of searching we put it together.   Parking was such a problem arriving at the station that we had driven further than we'd originally planned to find a spot.  We ended up entering a different station than we'd originally planned for because the stations are so close together.  We get back on the train, go to the next station and dash about to find the car in the dark.  Ah, much better.  Nice job, Dad!  Anybody ever done anything like that? 
You can't do it all perfectly, that is for sure.  But, hey kids, who wants to talk Gothic arches?