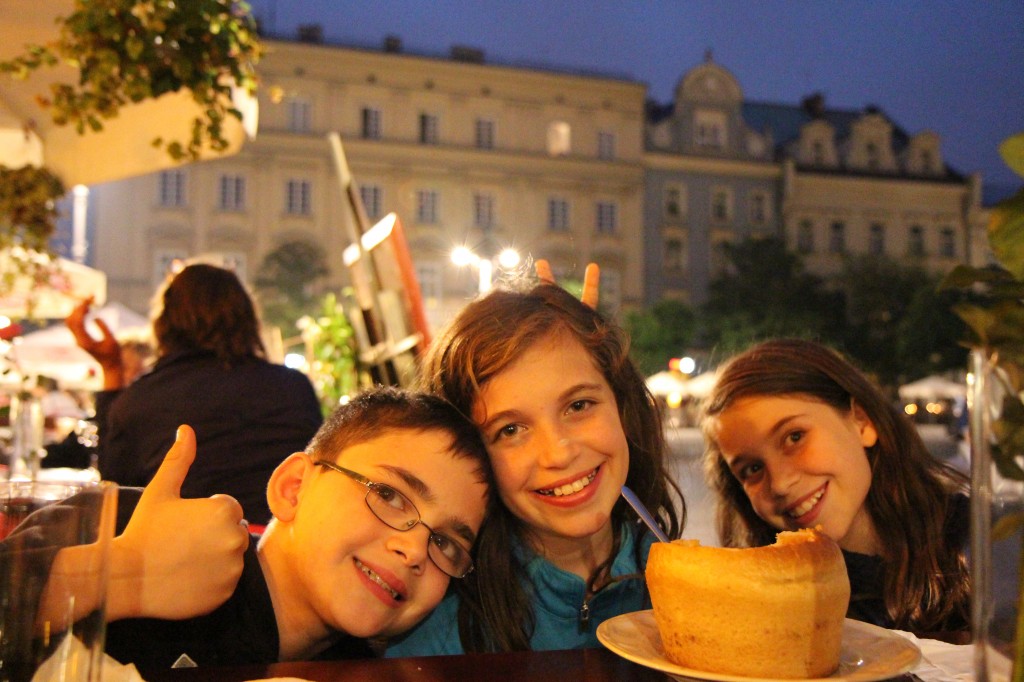 I first visited Krakow on an Air Force mission with my good friend Bruce and loved this huge square.  Krakow's main market square is the largest in Europe and was laid out in the mid 13th century.  It is the perfect place to get a squareside table and do some people watching.  
This is a rare way for us to turn the tables since our family gets its share of attention over here.  I'm not sure why we draw some attention; it might be the spectacle of us wheeling around our rolling duffels, or the fact that we have more than two kids,  or because we are often talking in loud American accents or because we are frequently energetically wielding Lego Star Wars figures or plastic horses.   It's hard to tell.  
The square is so large that street musicians can set up at various parts of the square without infringing on each other's territory.  The horse-drawn carriages roll by slowly with their tourist passengers.  The girls point out to me which horses have blue ribbons on and which have white or red.  I hadn't noticed this crucial fact!
A cover band is playing at the cafe across from ours.  Every song seems to be an American classic rock tune from the 60s or 70s. 
A bit of a rainy evening can't keep down this square.  Everyone just scrunches in under the umbrellas and pulls the heaters in closer.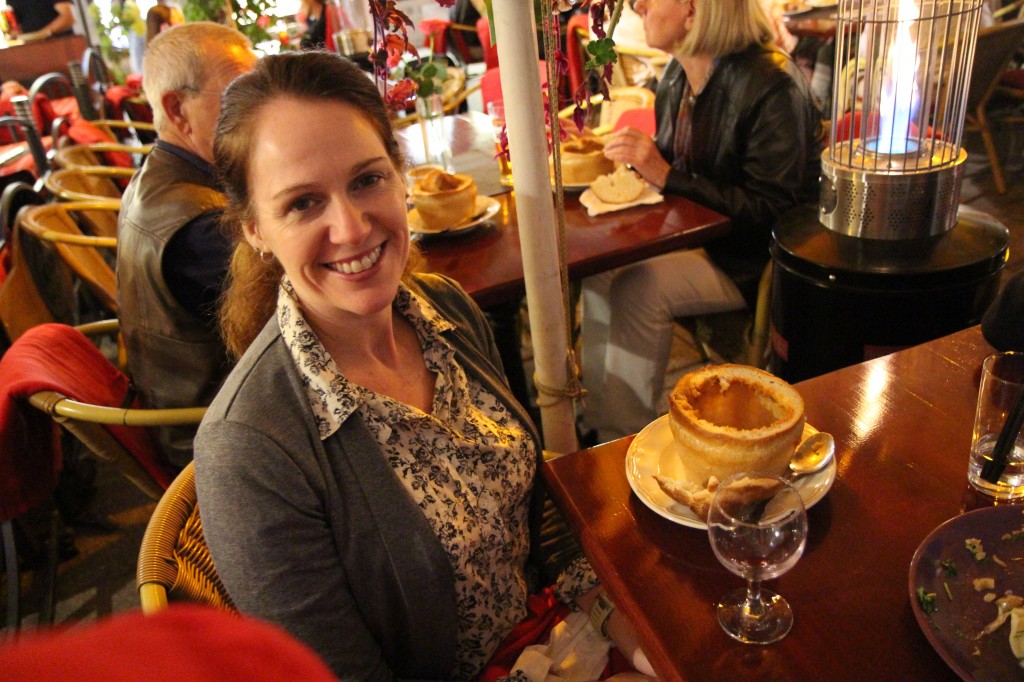 We took a short stroll around the square and enjoyed a little gelato.  I'm tempted to write "delicious gelato", but I've decided that when you say "gelato" the word "delicious" is just redundant.  By the way, stracciatella gelato is the kind with the delicate chocolate flakes that crunch then melt in your mouth.  Wow. 
St Mary's church dominates the square.  Thirteenth century Tartar raids destroyed the church and this one was rebuilt and consecrated in 1320.  The unusual towers of differing heights were completed in the 15th century.  The northern tower was raised to 80 meters high and made a watchtower for the city.  One of the city traditions to listen for is that the hourly bugle call breaks off mid-melody.  This is done in honor of the mythical trumpeter who was shot with an arrow in the neck in mid-call attempting to belatedly warn the city of attacking Mongols.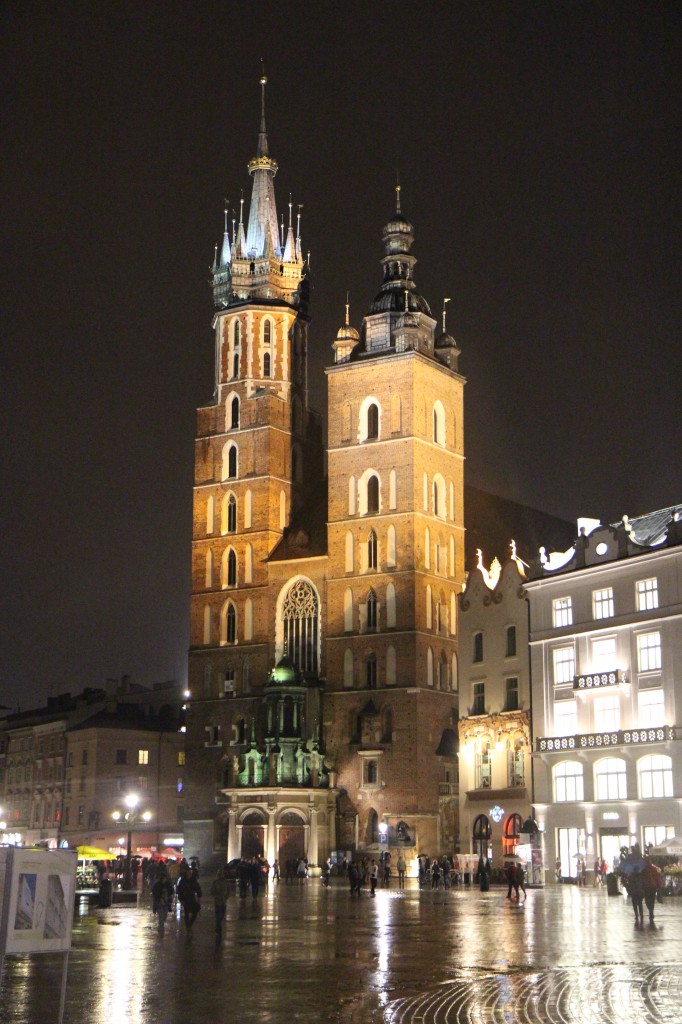 Cloth Hall is the covered row of stalls that I remembered visiting when I came here back in 2005.  Unsurprisingly, it is still here. Intricately carved wooden plates and toys fill the walls of the booths.  I find the exact type of wooden fire truck with telescoping ladder that I brought back for the kids when they were babies.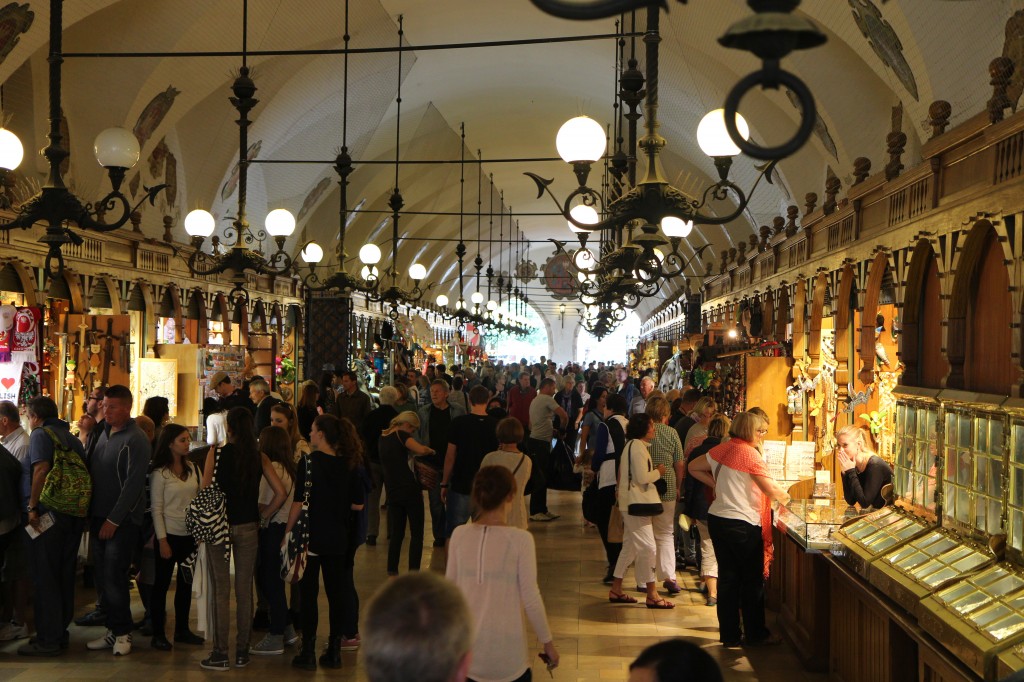 Lisa ends up talking to a lady manning a stall who seems glad to talk with an American.  She really wants to visit Las Vegas.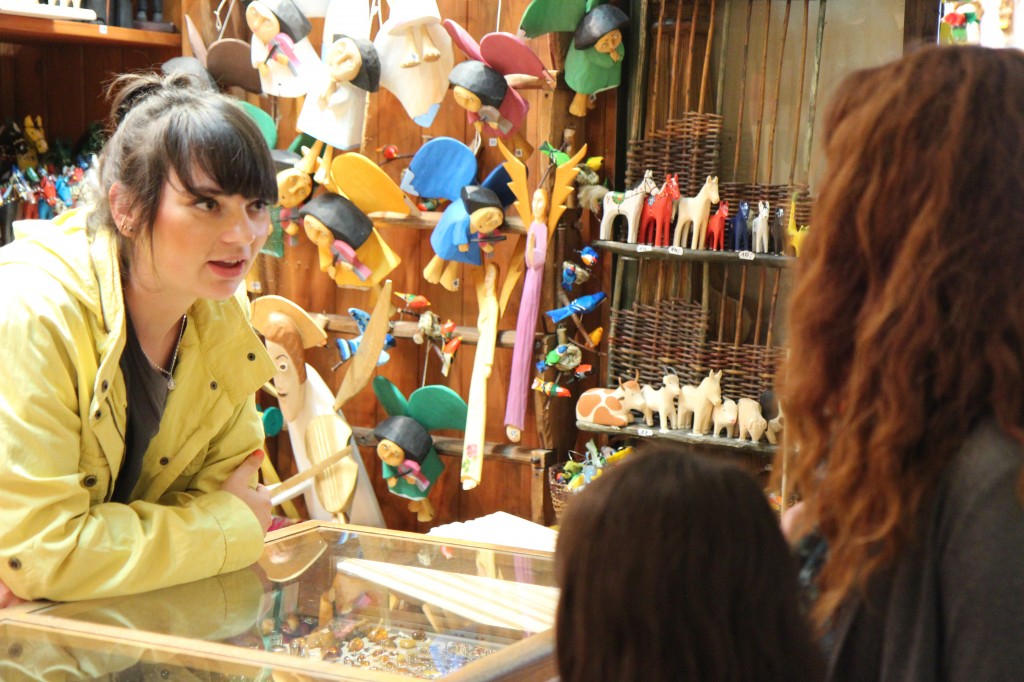 We've enjoyed how everyone seems to know Texas.  Of course, from Hollywood and the movies, California is famous and so is New York.  People know about and love Orlando.  Several folks have told us they really want to visit Vegas.
The boys discover some weapons they cannot live without.  Doesn't everyone need a sword and axe when they are traveling?  Once we kick them out of the crowd in the middle of the shops and over to a corner—a swashbuckling brother time erupts.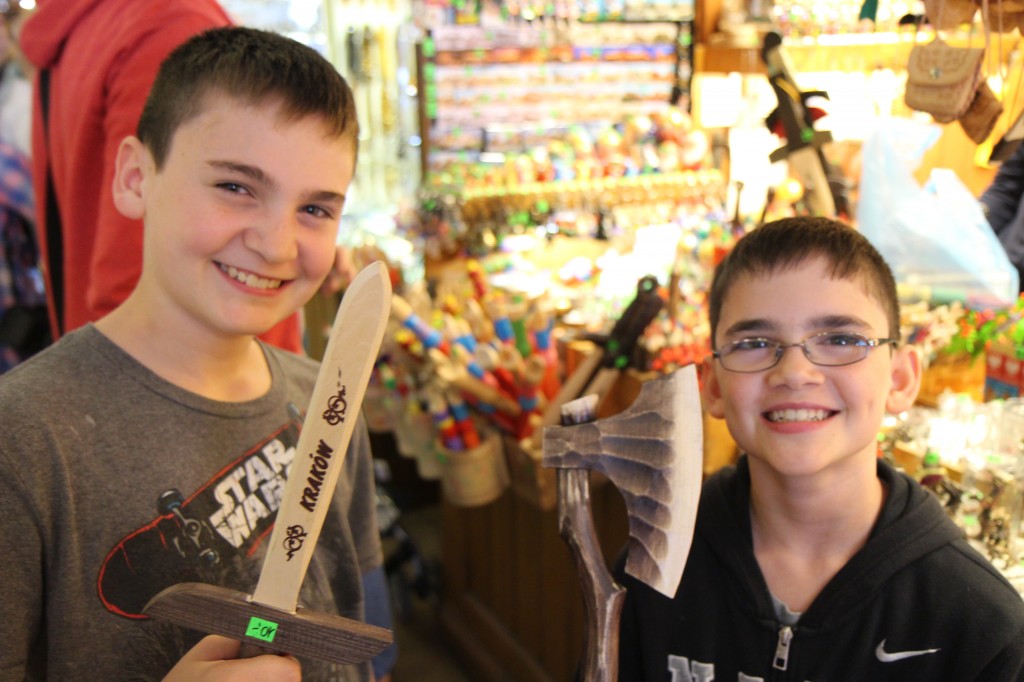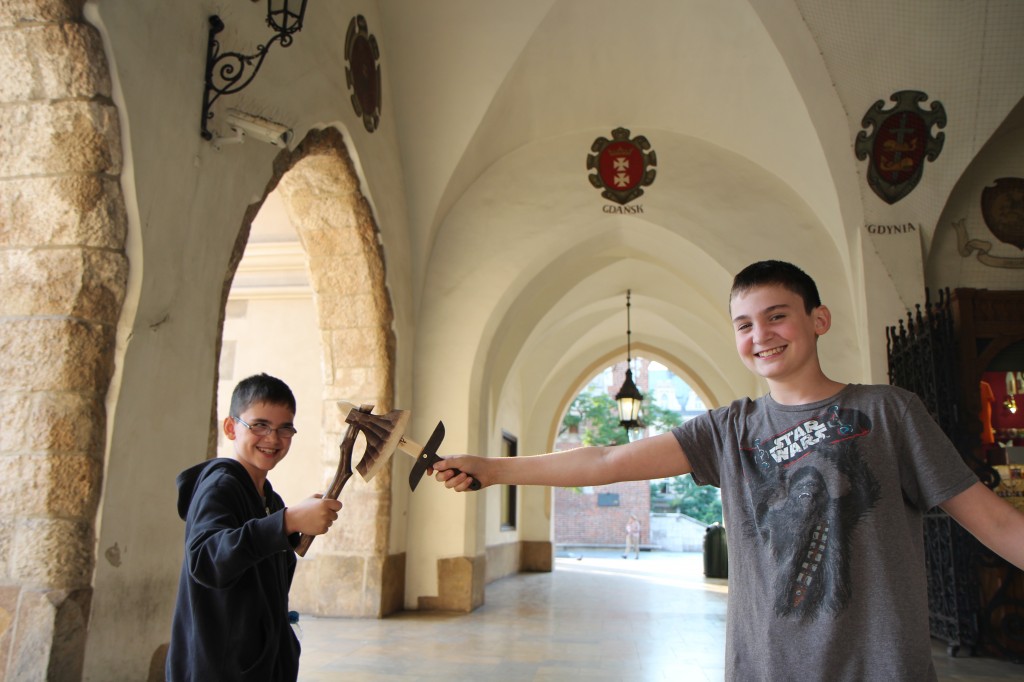 We return to the square on another day to visit the Rynek underground museum, located directly beneath the market square.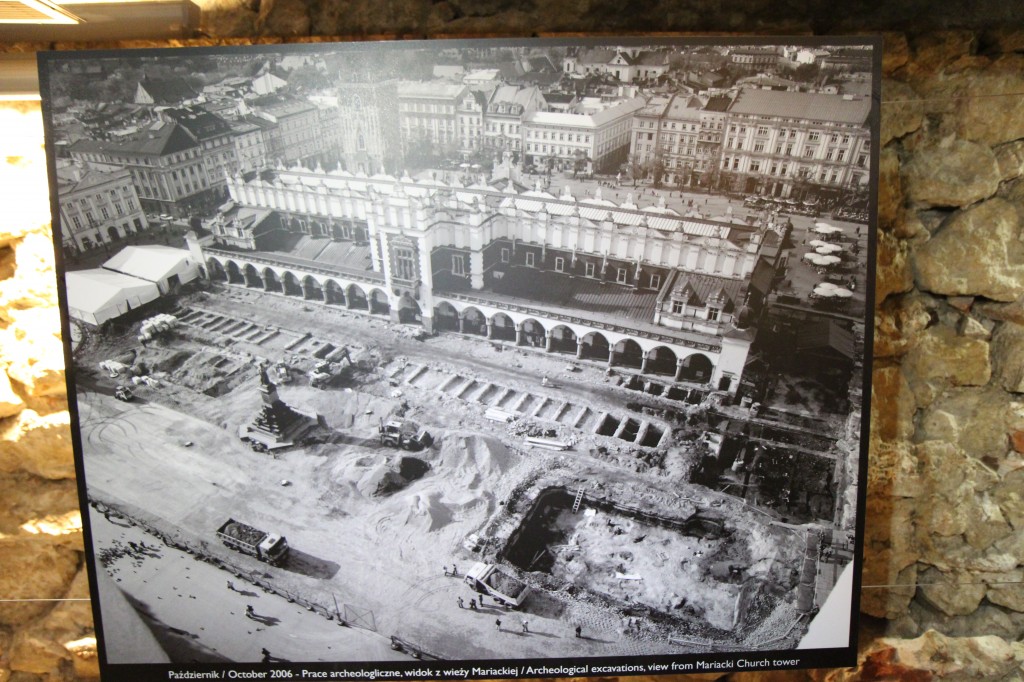 Accidentally discovered a few years back, the museum shows what life was like centuries ago here.  This picture shows the recent excavation.  Cemeteries dating back to the 11th century were discovered beneath the square.  People that were thought to be vampires were buried with their hands and feet bound and decapitated to keep them from returning to the world.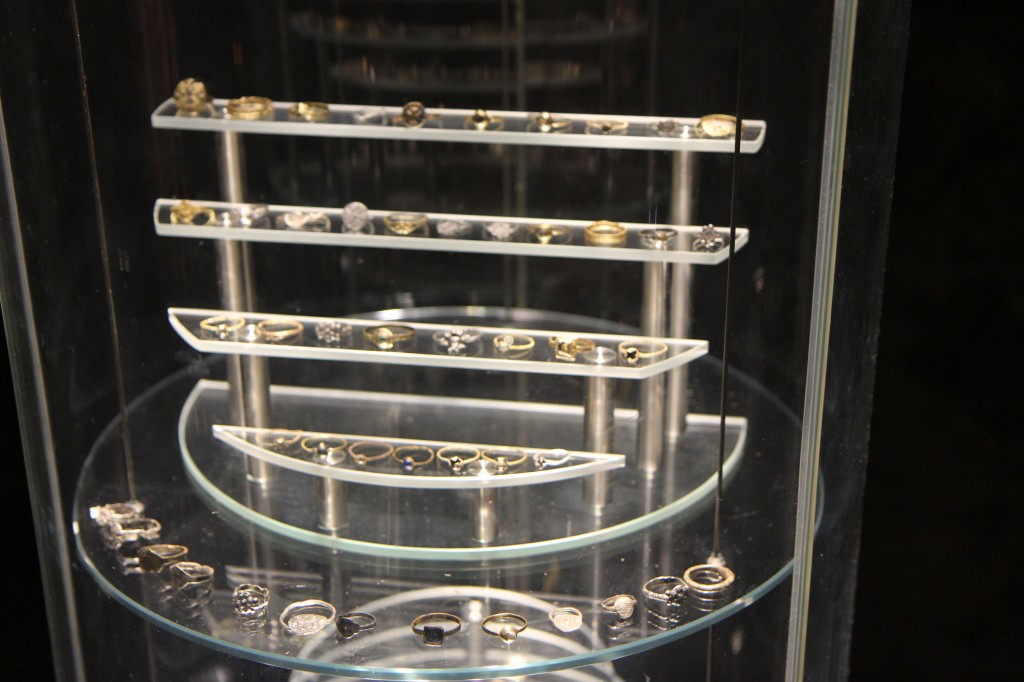 Archaeologists found like items clustered together.  The artifacts were found beneath the stalls where ancient shopkeepers sold them.  Jewelry, toys (dice can be seen here), knives, blacksmith items such as horseshoes and their nails are each displayed.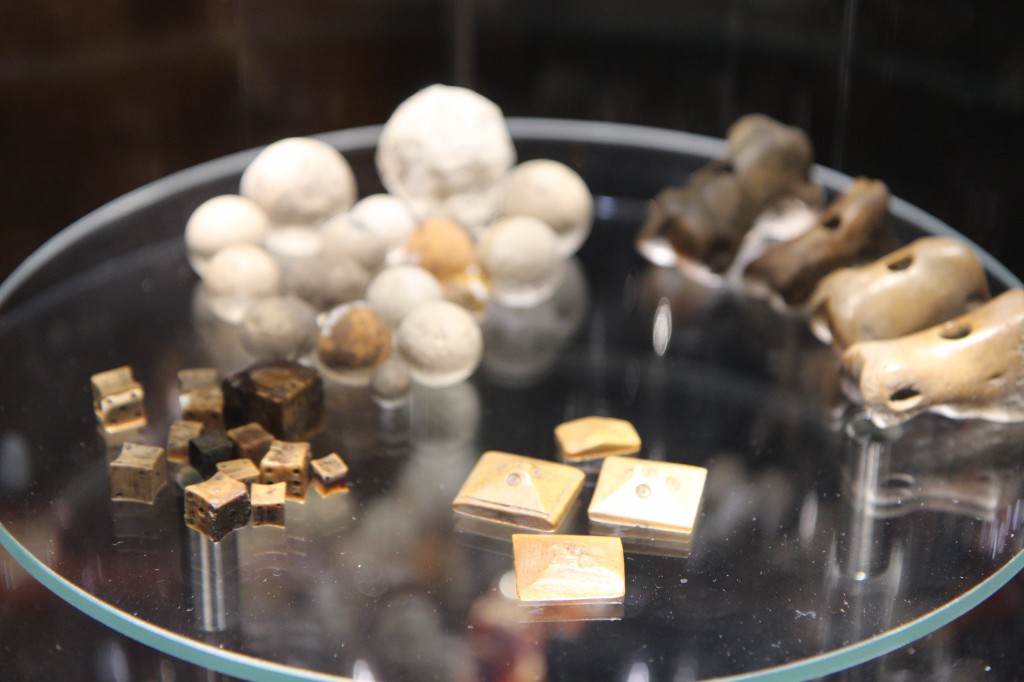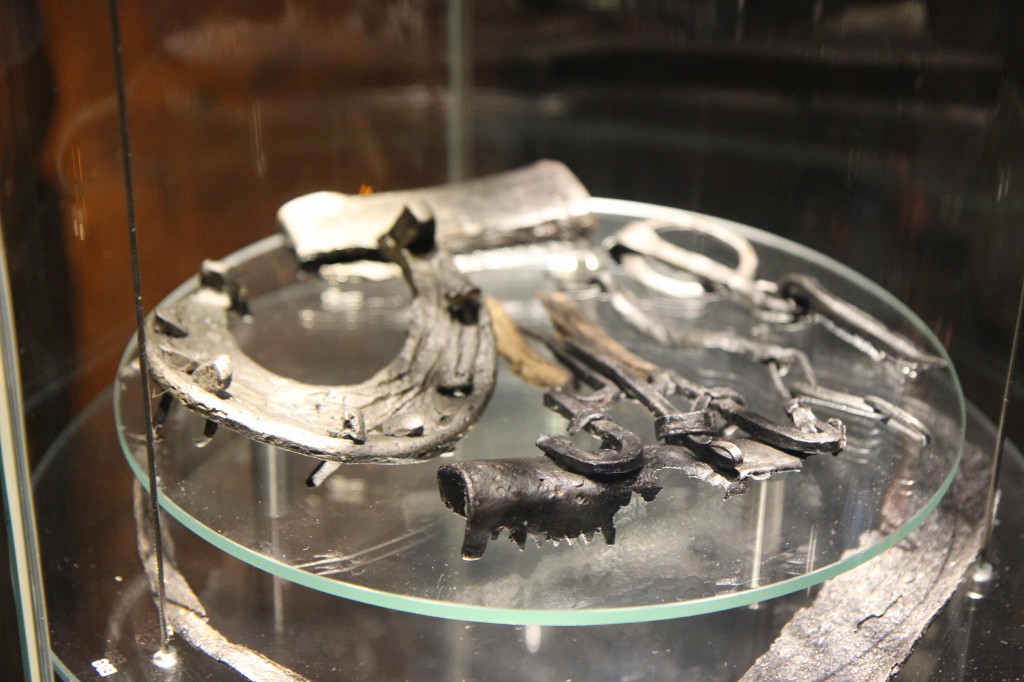 We'd been wanting to get on a family bike ride.  The zip bike places where you can jump on a bike after swiping your credit card are only set up for one bike per card.  And we discover that three of us have legs that are too short for these bikes.  Though that doesn't stop some of us from sitting on them in the racks…  We find a few bike stores, but none have four bikes small enough for our tiny tribe.  Close to the square though we try another store.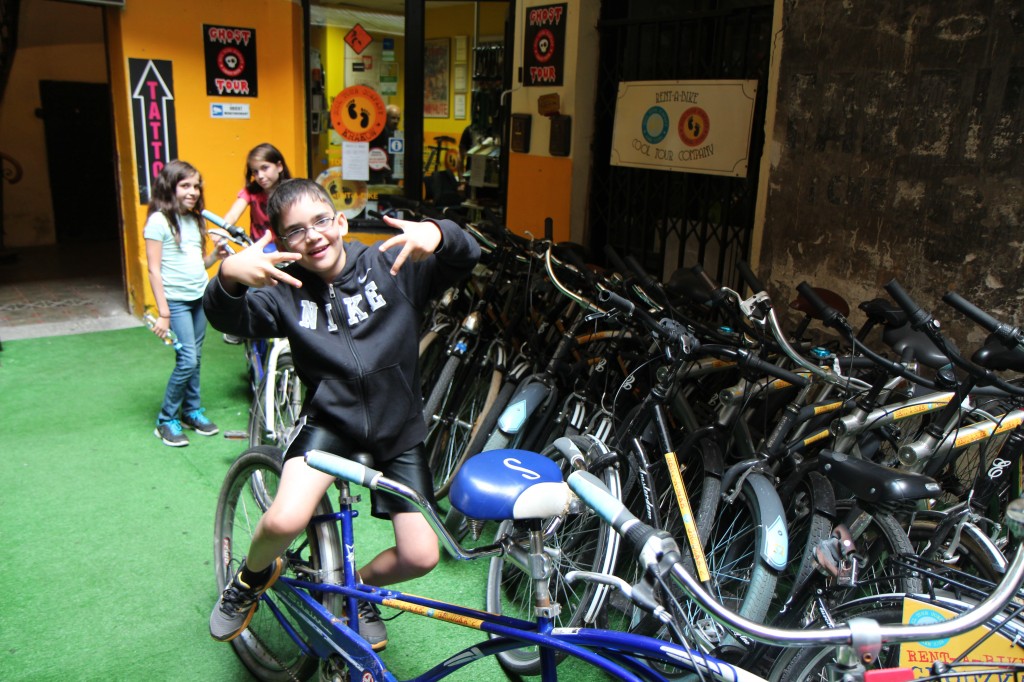 The smallest of our kids do not fit on most of their bikes either but they have tandem bikes and two smaller bikes.  We lower the seats all the way down and the kids' tiptoes can juuuuuust touch the ground.  It'll have to work. 
We maneuver the bikes out of the narrow alley of the store and point the bikes towards the square.  Then we load them up and try to balance the bikes carefully with the extra, fidgety weight in the back.  I have Will and Lisa takes turns with the girls in back.  We pedal slowly and enter the square scaring pigeons out of our way, and a few pedestrians. 
The bikes have bells on the handlebars to warn others and Lisa is hitting hers like a hamster drinking from his water bottle.  Will keeps leaning out from around me to see better.  I try to explain the danger of going over but every parent knows that's only going to work to a limited degree.  If daddy can make it happen and there's no crash then it must be working and I want to see ahead!  Can't blame him.  The tandem bikes list from side to side and you have to start on the brakes earlier with all that extra mass on the bike.
We escape the square through an even more crowded, cobblestone street.  Then, we enter our goal of the path around the old, walled city.  The path has been put in where the moat used to be.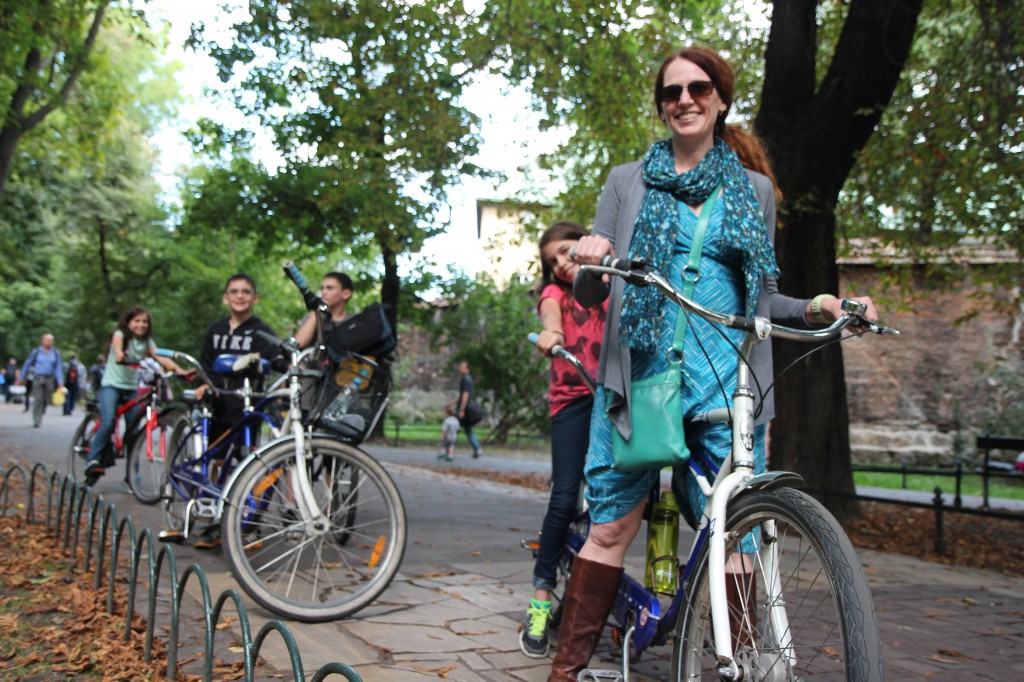 Our bikes have more room here to wander on the path beneath the trees.  Sometimes it feels like I'm pedaling a sailboat that is leaning this way or that.  What a blast!  Simply gorgeous day and experience.  No major casualties.  
Back at the farmhouse later, the kids find their way often to the gazebo in the backyard next to the alpacas.  They sit in there, talking and playing together.  Later, we hear they have devised the KAII.  I may have to flee the NSA after revealing this but it is the Kids' Association of Intelligence & Information.  Its primary purpose is hidden in great secrecy.  But it is clear that you have to have your card badge with you all at times.  If you lose it, you are not allowed into the gazebo for a week.  The card badge is torn piece of paper about 2 inches by 3 inches and decorated in pencil scribblings.  The cards have special facts on them such as birthdate, hobbies and favorite animals and their special symbol (squiggly lines and roman numerals).   Each person gets a title such as Admiral of the Black Fist, General of the Calvary,  Captain of the Commanding Legion.  Ana was also the Journalist and Caller of the Pegasus.   Big Brother somehow gets the title of Commander in Chief.  He says this is not a problem, even though it was self-appointed and that everyone's equal.  These reassurances fall on deaf ears and a discussion breaks out.    
I later find several of their card badges laying around the house. 
In a matter of a day or so, it appears the KIAA has gone deep, deep underground—so deep that we don't hear any more talk of it.  They are quite clandestine. 
By the way, I've had to spend quite a bit of time researching this Schengen issue.  If you recall, this is the visa issue the immigration official had warned us about when we first landed in Germany.   The Schengen agreement includes 26 nations.  As an American, you can spend up to 90 days out of any 180 day rolling window in this area.  If you come and go from the Schengen countries, this can be challenging to plan your visits so there's even visa calculator websites that have popped up. 
A few backpacking-type travel websites say that you can probably go over by a few days or weeks as long as you depart the Schengen area from countries such as Spain, Greece or France.  They are a bit more lax.  But in general, travelers are warned not to exceed the Schengen time.  Not only is it against the law but you can be deported, or forced to change flights, or be forced to get visas for any future European travel. 
One way to stay past the 90 days is to obtain a long-stay visa from a given country.  You can get one of these from France, Italy or Spain. Germany also has a short-term work visa.  You often have to prove that you have an income and/or enough assets to cover your stay.  They want to see back records and letters from employers amongst other pleasantries.  I called and emailed the US Embassy in London to get some clarification and advice but they were not too interested.   The real challenge with these long-term visas is that they are intended to be pursued months and months before you leave your home country.  You send in your passport to them.  Hmmm.  How's that sound for a pretty dodgy idea when you're already traveling? 
We had a breakthrough when research revealed that the US has a bilateral agreement from 1949 with France that predates the 1994 Schengen agreement.  I found a State Dept website which lists the US treaties in force. This treaty allows an American to spend 90 days out of 180 in France above and beyond any Schengen time (the original 90 out of 180 days).  This is true even though the Schengen area includes France—quite confusing.  I had to email a few French consulates to get a thorough answer to this confusing immigration question.   Poland also has a bilateral agreement with the US. 
It now seems we have a way ahead and can annoy the Europeans with more latitude!